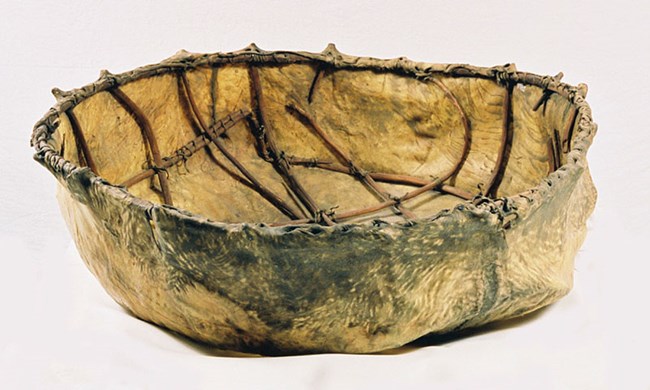 Jim Bridger, Jedediah Smith, and John Colter. Legendary fur traders - also known as Mountain Men - who once passed through the Bighorn Canyon area. Specifically, each of these men looked forward to reaching the mouth of Bighorn Canyon. That meant they had made it across the Bad Pass Trail. Now it was time to build boats, head north and eventually eastward to St. Louis.
Building Bullboats
The trappers, having packed valuable furs over the rugged uplands, defending themselves against hostiles and even a grizzly bear on one notable occasion, prepared for yet another perilous journey. Upon arrival at the Bighorn River, sharpshooters would be sent out to kill buffalo on the plains to the northeast. The hides "stretched over a green willow frame, were dried over a slow fire, and the seams water-proofed with elk tallow." The finished craft was about 18 feet long and 5 ½ feet wide. It was pointed at both ends, round bottomed and drew about 1 ½ feet of water.
The bullboat, as it was called, was not very maneuverable and it didn't take long for the hides to become water soaked. But they did serve their purpose in getting to the trading posts along the Yellowstone and the upper Missouri. One fur expedition brought $50,000 worth of furs over the Bad Pass Trail and down the Bighorn River, passing over this ground.
The Fur Trade
The beaver fur trade was an exceedingly profitable enterprise from 1810-1840. The whims of fashion then demanded silk hats rather than the close cut beaver hats for the fashionable in Europe and the eastern United States. The beaver fur trade was past, but it had been "the first and foremost business of the American wilderness."
Rugged and self-sufficient individuals, that braved the unknown, gathering the untouched resources, the mountain men were the first to push back the frontier. But they eventually disappeared like the wisps of smoke from their campfires. Their rowdy laughter drifted across the stage called "the west" that was now set for the next waves of gold seekers, cattlemen, farmers and what we see now...recreationists.
Tales Around A Campfire
When the sounds of the campground across the Afterbay drift off for the night, and the lonely coyote sings over the hill, who can say that they still don't gather just beneath the canyon. To swap tales around a campfire. Or to anticipate reaching civilization for that short time which they could stand it, before they needed to return to the wilderness they loved so much. Their legacy is ours.