Mason-Lovell Ranch Part Two - A Cruel Winter To The End Of An Era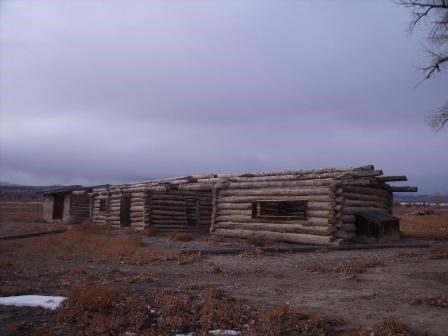 The Harsh Winter of 1886-87
By late 1886 there were nearly 900,000 cattle spread all across Wyoming. Cattle outfits had overstocked the range in search of greater profits. When the harsh winter of 1886-87 roared through, everything changed. Hurricane blizzards, were followed by an unceasing bitter and cruel cold, followed by even heavier snows. Thousands of cattle died because they were unable to get to water as the ground was froze solid for months.
The weather took a terrible toll on the open range. The M-L lost half of their cattle, with losses numbering over 10,000. Yet the M-L had come away relatively unscathed compared to other open range outfits. It is estimated that the average ranch operation in Wyoming lost 75% of their cattle during the winter of 1886-87.
In the years that followed the winter of 1886-87, Lovell began to restock the range with the financial backing of Mason. The M-L herd once again grew into the tens of thousands. Even after Mason died in 1892 and his interest in the operation was sold off, Lovell brought in cattle from as far away as eastern Washington and continued to range the M-L herd all across the eastern Bighorn Basin.

The End Of An Era
Just after the turn of the 20th century Henry Lovell's health began to fail him. His years of adventure were long since passed. Building and sustaining the M-L Ranch had taken quite a toll on his body. The Bighorn Basin was a tough place to make a living and it took a man as tough as Lovell to build a cattle ranching empire in this rugged landscape. Lovell moved to Oregon, but his health did not improve and on March 2, 1903 he died of chronic heart disease. He was 64 years old.
At the time of his death the M-L Ranch land and all associated property was valued at $73,000. That would be $1.7 million in today's terms. The majority of Lovell's estate was bequeathed to his 18 year old son Willard. By 1909 the property had been sold to other ranchers. Henry Lovell's death and the beginning of the 20th century mark a watershed in the history of the open range.
Homesteaders and sheepmen began to diversify use of the land. The vast Bighorn Basin was sectioned off as a considerable amount of the public domain was settled and became privately owned. The era of massive open range cattle operations soon faded away, but the legendary legacy still lives on today at the M-L Ranch
Last updated: February 24, 2015