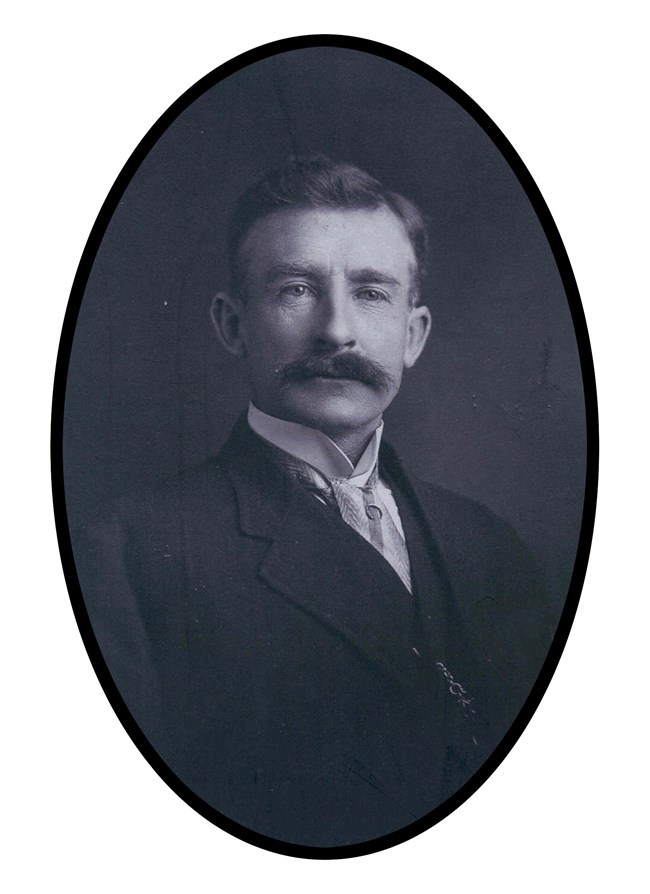 A Hard Worker Who Refused To Be Bullied
Lincoln C. Hannon was born in Waco, Texas in 1866. His life as a cowboy began during his teens. He traveled the Chisholm and other cattle trails. For many years he took part in the annual cattle drives from the Rio Grande country to the grazing lands in the Northwest. He became a tall, wiry, soft spoken man that was skilled with a rope. Friends remembered him as a kindly man with a southern Texas drawl, gray eyes and a sense of humor.
Around 1900, Link Hannon, filed on what is now referred to as the Lockhart Ranch. Life for Link, his wife Emma, and two children in the Dryhead was hard. Link was a hard worker and refused to be bullied. This is why some of his neighbors liked him and some did not. Doc Barry was one who distrusted him and accused Link of robbing the sluice boxes of his Hidden Canyon Gold Mining operation. In June of 1904, the Free Press reported that Link Hannon had been arrested several times for various charges ranging from forging a bill of sale, to grand larceny, to assault. All of which he was acquitted of.
Fierce, Desperate Battles
Bessie Tillett remembered a story about Link Hannon. The Ewings ran cattle for Frank Strong, Bessie's father in the Dryhead. She remembered hearing that Hannon and Mogan had stampeded their cattle into the Bighorn River, drowning several of them. Mr. Strong and the Ewing boys rode out after them armed and determined on revenge. Shots were exchanged and Ed Morris received a flesh wound to his shoulder.

When the incident was first reported in 1902, it was described as a fierce, five hour, desperate battle resulting in two men killed and several wounded. It was later reported in the Free Press that Morris was the only one wounded and that Link Hannon and Mogan submitted themselves for peaceful arrest by Sheriff Potter and his posse and latter released on a $500 cash bond.

Caroline Lockhart in her article From the Bighorn Mountains had a different spin on the incident:

"More settlers started moving into the Dryhead and after a while everyone started choosing sides over Link. Some liked him and some didn't. Those who didn't decided one day they'd had enough of him and started out to liquidate him as an undesirable citizen and disturber of the peace.
Link knew nothing of these plans and went to the nearby homestead of an old bachelor, Joe Davis, to mow hay. He took his little boy and girl with him, the boy was sitting on his lap on the mower and the girl following on Link's horse. Link was mowin' away, thinking about how nice life was and how much he loved his kids when Davis spotted the liquidators riding for 'em at full tilt.
"There's a war party comin' Link!" he yelled. "Git under cover!" Link stopped his team, looked at the hills around him, then stepped down from the mower and walked over to his horse and pulled his rifle from the scabbard.
He looked up at his daughter and told her to go to Davis' cabin. Next he picked up his son and ran to a little creek and hid the boy in the heavy brush there. Then he went back and started shootin'.
He fired first at what looked to him to be the head of a man hiding behind a rock. It was, too – a man named Strong; from Crooked Creek. Link missed Strong's head, but did knock his cap off. One of the liquidators was a rancher's wife who rode her horse sidesaddle and carried her shootin' irons in her lap, ready for action.
A couple more shots were fired and Link Killed a horse and everybody decided they'd make smaller targets if they dismounted and hid behind the rocks. Link just kept firin' away, but didn't hit anything more except a liquidator named Morris. Link's slug ploughed a furrow across Morris' back and snipped off his suspenders and Morris had an awful time tryin' to run away 'cause his pants kept fallin' down."
Out of the Dryhead
During his time on the Dryhead, Link put in 20 acres of irrigated grass hay pastures and brought water to it. This was something no one else in the area had been able to do up to that time. But in 1904 it was time to leave the Dryhead. Link moved to British Columbia were he began working for the B.C. Cattle Company.
This was a large company that had several ranches in several parts of British Columbia. After two years, Links hard work paid off and he became the manager of one of the several ranches at Canoe Creek. He proved himself to be a capable ranch manager; very little ever got by his attention. He ran a neat and tidy ranch. All buildings and fences were always in good shape.

As Link aged, the day to day work and riding of the ranch became difficult. In 1928, Link retired from ranching. He settled in Roberts Creek, B.C., where Link became devoted to his gardening. Lincoln C. Hannon died in August of 1933. He is buried in Scheldt, B.C. In his obituary, he was remembered as a helpful and kind person, an old class of cowboy.