Kinney Party Sights Black Canyon 1866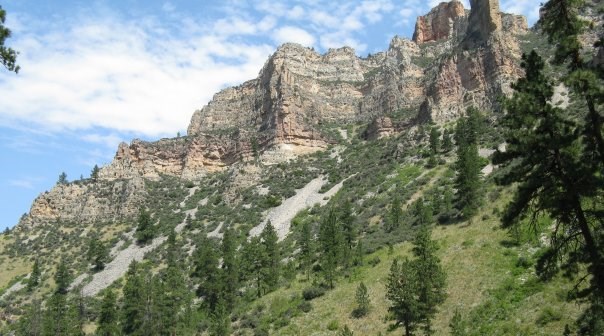 In August of 1866, Captain Nathaniel C. Kinney was a man with a lot on his mind. He was the commanding officer in charge of establishing Fort C.F. Smith, another link in what would become a tenuous chain of military posts built guarding the Bozeman Trail. Procuring material for the fort's construction meant that parties had to be detailed a mile or more away to nearby Lime Kiln Creek, where limestone was quarried and timber cut.

Limestone was found in abundance, but the timber was soon exhausted in this area. This meant making a precarious journey into the fringes of the Bighorn Mountains to find another forested area. The farther away the timber party traveled, the greater possibility of an Indian attack.
"Grandest And Most Impressive Seen"
Yet the search for new stands of timber was not without its advantages. This led to one of the first recorded descriptions of the marvelous Black Canyon. A tributary of the Bighorn, Black Canyon fed into it from the east, on the northern end of the canyon. Up to this point, though mountain men, fur traders, and a few explorers had passed nearby, there was no recorded description of the towering, colorful walls that make Black Canyon such a stunning sight.
On August 30th that changed as Captain Kinney led a party of 12 soldiers, two teamsters and Lieutenant George Templeton in search of timber. After ascending Lime Kiln Creek, the party crossed a grass covered plateau. (Much of the first half of present day Ok-A-Beh Road passes through this area.) Soon the party came upon Black canyon. Lieutenant Templeton recorded the first impressions in his diary.

After calling it "one of the Grandest Canons (sic) in the world" he goes on to exclaim, "It must be a thousand feet…down almost perpendicularly, to water. Most of the banks are densely studded with pines, but are inaccessible (sic), except to Rocky Mountain sheep wolves &c. Then there are bluffs jutting out into the canon composed of the reddish gray rock which abounds in this country. These washed by rains and worn by winds resemble castles. I think it is the grandest and most impressive scene I ever saw."
Following In The Footsteps
Thus Black Canyon now had been documented, but it would have to wait another thirteen years before it was literally put on the map. This would follow Colonel A.W. Brackett's 1879 Exploration of Black Canyon. What brought Brackett to Black Canyon? It was the stories he had heard from soldiers who had been at Fort C.F. Smith and seen this magnificent wonder in 1866.
Last updated: February 24, 2015