Kane - Town History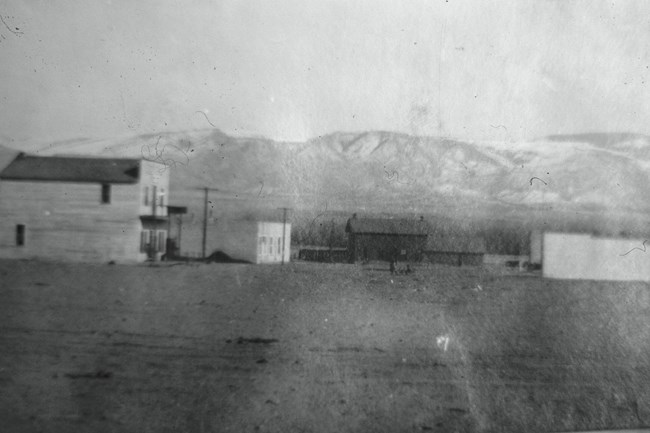 History of Kane
"Dust to mud and gone but not forgotten" is how Bill Scott describes Kane in his book Pioneers of the Bighorn. Kane grew up on a sagebrush-covered flat, about two miles south of the mouth of the Shoshone River. The small town established in 1912, was plagued by winds that caused dust storms in the summer and blowing snow in the winter.

Trade and Transport
It began as a railroad shipping point for lumber, cattle and sheep. The town was located on the Chicago, Quincy and Burlington Railroad. When Scott got off the train in 1912, the town consisted of "four log houses, a frame section house, and a small gypsum block building that was the Kane Store. There was no depot, but there was a (railroad) car body sitting beside the track where freight could be stored out of the weather."
Kane was an important transport center. The Kane Ferry was the only crossing of the Bighorn River north of Greybull. This ferry was used by sheepherders to move sheep from Cowley, Byron and Garland to the Bighorn Mountains. It also became the trading center for farmers and ranchers of the Dryhead and Crooked Creek country.

Building a Community
Like any small town Kane had people that made it a community.
Grandma Neely who ran the hotel and boarding house where you could get a bed and three small but delicious meals per day.
Mr. Neely, locally referred to as Dr. Neely, was around to provide basic medical services, but for emergencies Dr. Croft would come by horse and buggy from Cowley.
Miss Edith Scott taught first through eighth grade in the schoolhouse built in 1906.
M.B. Rhodes ran the First State Bank built in 1918. J
John Smith and his sons ran the Kane Ferry.
On Saturday nights, ranchers and farmers came from all over the Northern Basin to attend dances and hear D.E. Bassett play his fiddle. On these nights, the store stayed open late just in case some young woman might need a pair of shoes for the occasion.
The Rising Tide
By the 1930s, Kane grew to include a bank, two general stores, two hotels, a motel, a dance and pool hall and a school. During that same decade, the Dayton-Kane Road was built across the Bighorns. A highway bridge was erected and the Kane Ferry went out of business. To take advantage of the tourist trade several service stations and a motel were opened. No one knew that in thirty years this growing town would be slated for destruction.
In 1965 with the Yellowtail Dam nearing completion, the Bureau of Reclamation knew that a full capacity Bighorn Lake would flood Kane. They condemned the land and bought it from the community. Unlike many towns destroyed by construction of dams, no effort was made to re-establish Kane at a new site. In 1967 the rising lake waters silenced the hum of Kane forever.
All That Remains
Today the Kane/Iona Cemetery, a Kane railroad marker and old bridge abutments are all that remain of this small community. Although you cannot see the buildings or even the pattern of the city streets, the stories of the community can still be heard. The town of Kane is gone, but definitely not forgotten.
Sources: Bill Scott, Pioneers of the Big Horn; Bighorn Canyon Historic Resource Study; Information, on-site historic markers and maps from Friends of Bighorn Lake in cooperation with Northwest College and Bighorn Canyon National Recreation Area.
Last updated: March 16, 2022