Jim Bridger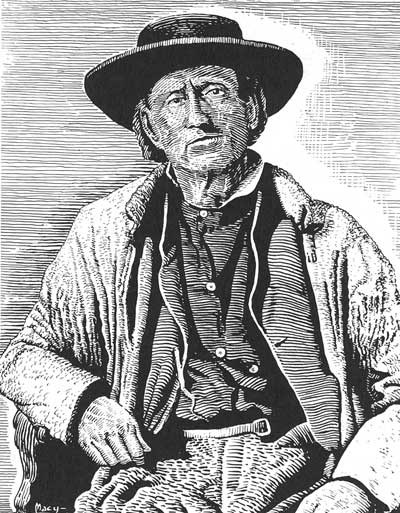 For forty five years, from 1823 through 1868, Jim Bridger was the seminal figure in the history of Bighorn Canyon. His travels, fur trapping activities, explorations and scouting expeditions brought him to the area on at least three historic occasions. Each of these visits would leave a mark on the history of the American West.
Bridger was born in Richmond, Virginia, but would move west at a young age. His career began in earnest at St. Louis in 1822 when he answered William Ashley's famous call for "enterprising young men" to work for the Rocky Mountain Fur Company. This announcement led to the formation of what would become known as the Mountain Men.

Bridger probably first saw Bighorn Canyon in the fall of 1823, while traveling from the Wind River area along the Bad Pass Trail. This trip was to the company's fort near the Yellowstone-Bighorn confluence to pick up trade goods.
Braving The Bighorn
His real fame came two years later in 1825, when he was part of an expedition bringing $50,000 worth of beaver furs back from rendezvous. He left the expedition while on the Bad Pass and entered Bighorn Canyon. Fashioning a homemade raft out of driftwood, he then made one of the most miraculous trips in frontier history.

Braving the turbulent waters of the Bighorn, he made the first recorded float of the river through the canyon. Much to the amazement of his fellow mountain men he emerged from the canyon unscathed.
Over the next three decades, Bridger was one of the great pathfinders in both exploration and enterprise in the west. In 1830 he became the first white man to see the Great Salt Lake. It was also during that decade that along with several of his trapping partners he bought control of the Rocky Mountain Fur Company. In 1843, he would build a trading post along Black's Fork of the Green River, aptly naming it Fort Bridger.
Guiding The Raynolds Expedition
Over a decade and a half later in 1859, Bridger would again help make history at the canyon. He was hired to guide a surveying party sent by the U.S. War Department under the command of Captain William Raynolds to examine the Yellowstone and Missouri River country, as well as their tributaries. Bridger was paid a salary of $125 per month for his efforts.
By early September, with Bridger leading the way, the party made its way down the valley of the Bighorn River. By September 9th they were at the mouth of the canyon. It was at this time that Bridger told Raynolds of his river trip some 34 years before.

The expedition camped just below the mouth of the canyon for just one night. They then headed on to a winter camp further to the south, along the Oregon Trail. The next year would see Bridger guide the Raynolds expedition through the greater Yellowstone area.

Click here to read Jim Bridger Part 2 - The Gold Rush and Fort C.F. Smith
Last updated: February 24, 2015