Jim Bridger Part Two The Gold Rush And Fort CF Smith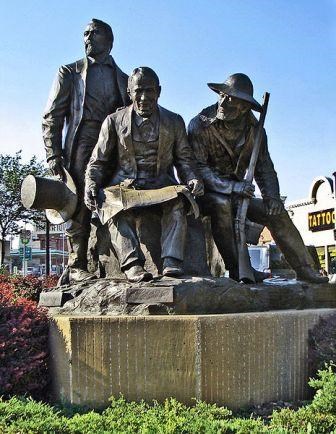 The Bridger Trail
The discovery of gold in western Montana would influence Bridger's life throughout the 1860's.
A flood of emigrants flocked to Bannack and Virginia City respectively following major gold strikes in 1862 and 1863. The Bozeman Trail was soon blazed as a shortcut to the goldfields infuriating the Sioux, Arapaho, and Cheyenne as it cut right through the heart of their rich bison hunting grounds. Attacks against emigrant wagon trains soon made travel along the trail exceedingly dangerous.
In 1864, Bridger was asked by the military commandant at Fort Laramie to blaze a new path. Whereas the Bozeman Trail had skirted the eastern edge of the Bighorn Mountains, Bridger's new route headed up the opposite, western side of the range through the Bighorn Basin. He would only travel what became known as the Bridger Trail once, in mid-1864, when he successfully led a group of emigrants up the trail. It turned out to be much less famous, yet much safer than the Bozeman Trail.
Locating Fort C.F. Smith
By 1866 Bridger could be found once again working as a scout for the U.S. Army. This would bring him to his third and last rendezvous with history in the Bighorn Canyon area. He was hired to guide Lieutenant Colonel Nathaniel Kinney and two companies of soldiers in helping locate a site for Fort C.F. Smith.

At a salary of $300.00 per month, Bridger did not come cheap. His knowledge of the land and its inhabitants was considered invaluable. He was fluent in the Crow language and could easily ascertain their views on a range of subjects.
Warnings And Attacks
Almost from the very day of Fort C.F. Smith's construction in August 1866 it was under attack by the Sioux and their allies. After the Fetterman fight occurred in December 1866 - 90 miles further at Fort Phil Kearney - where 79 soldiers and 2 civilians were wiped out by an overwhelming force of Indians, Bridger felt compelled to set the public record straight as to what the U.S. military were up against.

In a letter he dictated in early May 1867, Bridger stated, "the intention was to attack Fort Philip Kearney first, and if they were successful to attack Fort C.F. Smith. At the present time, the entire tribe of northern Sioux are collecting on Powder River…their avowed intention is to make a vigorous and determined attack on each of the three posts and on all trains that may come along the road." Bridger's words proved to be prescient as the attacks escalated, peaking with the Hayfield and Wagon Box Fights along the trail later that summer.
The Last Years
Bridger continued to guide during 1867. He led a Wells Fargo train of 43 wagons bringing much needed supplies from Fort Phil Kearney to C.F. Smith in July 1863. Yet the effects of arthritis, rheumatism, and rugged frontier life caught up with the sixty-three year old Bridger.

In 1868 he moved back to a farm in Westport, Missouri (what is today a suburb of Kansas City). He spent the last 13 years of his life on the farm, far from the high plains, mountains, and basins where he had become a legend. In 1881 Bridger passed away equidistant from his life had begun in Virginia and where his legend had been made in the American West.
Bridger's Legacy
Today there are towns in both Montana and Wyoming named for Bridger as well as mountain ranges, wilderness areas, a national forest, and even a ski area. Yet it is the land in and around Bighorn Canyon where Bridger's legacy is most alive. For it is through his exploits in and around the canyon that he would make history not once, not twice, but three times and reveal one of the most majestic landscapes in the world.
Last updated: February 24, 2015