Jim Beckwourth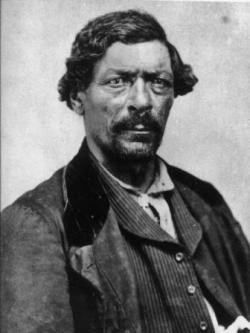 Jim Beckwourth was a man who learned to straddle cultures, bridging the traditional divides of race and ethnicity to become one of the most famous frontiersmen in American history.

Beckwourth was born around 1800 into slavery. His father was a Virginia aristocrat and his mother a mixed blood slave. At the age of ten they moved to St. Louis. Given only four years of education, Beckwourth showed an aptitude for languages, becoming fluent in English and French, he could also understand Spanish.
Beckwourth's father set his son up with a blacksmith apprenticeship. Yet Beckwourth's destiny lay further west when he answered William Ashley's call in 1822 for young, adventurous men to work in the fur trade for the Rocky Mountain Fur Company. Beckwourth's father would then make sure his son was a free man, filing several deeds for his emancipation.
On the Bad Pass Trail
Beckwourth was a key part of the Rocky Mountain Fur Company's expeditions of 1824 and 1825 that packed furs back across the Bad Pass Trail. In 1825, Beckwourth was involved in a couple of harrowing incidents along the trail. In July 1825, while returning with 45 packs of beaver furs from the mountain man rendezvous, the expedition was attacked by Crow Indians. Beckwourth claimed that he and his son Baptiste shot and killed two warriors, which is quite ironic considering that he would attain near legendary status among the tribe in years to come.

In another incident, Beckwourth guarded a man who had been mauled by a grizzly bear along the trail. When the bear returned to attack once again, Beckwourth along with William Ashley brought the grizzly down with a couple of well placed shots. As a direct result of men such as Beckwourth, the company enjoyed a tremendously successful trip. They would bring back $50,000 in furs, literally worth millions of dollars in today's terms.
Years Among The Crow
Over the next decade Beckwourth would spend his years among the Crow tribe. He became fluent in their language, participated in war parties usually against the rival Blackfeet, and was even deemed an honorary chief. In the winter of 1832-33 free trapper Zenas Leonard reported on a Crow village located at the confluence of the Shoshone and Bighorn Rivers where he met a man who was almost certainly Beckwourth. Leonard stated that " he has acquired a correct knowledge of their (the Crow) manner of living, and speaks their language fluently. He has rose to be quite a considerable character, or chief, in their village; at least he assumes all the dignities of a chief, for he has four wives with whom he lives alternately."
In the mid-1830's Beckwourth worked as a contract fur trapper. He was sought by rivals of the Rocky Mountain Fur Company who highly valued his knowledge of the fur trade and amazing skills as a multi-linguist. He soon signed on with the rival American Fur Company, which enjoyed the financial backing of none other than John Jacob Astor.

When his contract was not renewed in the late 1830's, Beckwourth left the west, heading far to the southeast where he worked as a civilian wagonmaster for the U.S. Army in Florida during the Seminole War.
Life Of Adventure
Beckwourth soon headed back west where he now pursued a life of unprecedented adventure. He again worked for the U.S. Army in Colorado, and present day Wyoming. He pursued a variety of occupations over the next 25 years, everything from scout, trader and explorer to rancher, innkeeper, and professional card player.

He had several notable accomplishments during this time, including the discovery of a low elevation pass through the Sierra Nevada, which was named for him. He also blazed the Beckwourth Trail an alternate, easier route to the California goldfields. One of his more notorious moments during these years was his work as a scout for the Colorado Volunteers in an expedition which resulted in the Sand Creek massacre, the killing of innocent Cheyenne men, women, and children.
Passing Into History
By the mid-1860's Beckwourth was back in Crow Country, working for the U.S. Army as a scout at Fort Phil Kearney, along the Bozeman Trail. Not long after visiting the newly established Fort C.F. Smith in October, 1866, Beckwourth began to experience nosebleeds and severe headaches. As his condition worsened he made his way to the lodge of Crow Chief Iron Bull.

There he spent the last days of his life close to the Bighorn, with the Crow people he had grown to revere many years before. On October 29, 1866 he passed into history. Jim Beckwourth is today acknowledged as the greatest African-American frontiersmen in the history of the American West.
Last updated: February 24, 2015