Jedediah Smith Part Two A Legacy Of Exploration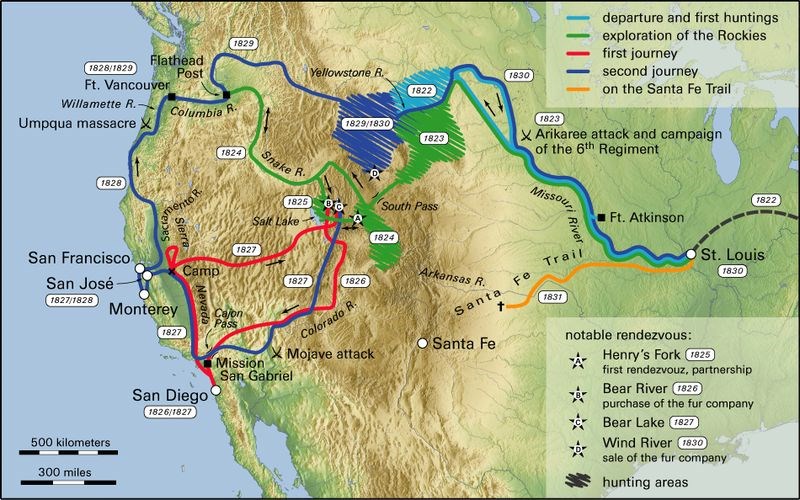 Path Breaking Explorations
In 1826, Ashley sold his interest in the company to Smith, David Jackson and William Sublette. During 1827 and 1828 Smith pushed farther west. He soon set the standard for exploration of the far west with explorations of Utah, Nevada, the High Sierras, the Oregon country. In the autumn of 1829, he returned to the Bighorns with a party of trappers.
At the confluence of the Shoshone and Bighorn rivers (just south of Bighorn Canyon Recreation Area) he met with his partners Jackson and Sublette. The company they had now owned for nearly four years was deep in debt. The business had suffered from the increased cost of trapping and trading. These included higher merchandise and transportation costs, increased competition, and depletion of the best beaver hunting grounds not to mention numerous attacks on company trappers by hostile tribes.
In the winter of 1830 Smith led yet another trapping party to the Powder River country, this time guided by Jim Bridger. They made their way westward pushing through heavy snows as they covered a wide range of territory from the Yellowstone to the Musselshell Rivers, finally ending back at the Wind River. That summer, following the rendezvous on the Popo Agie River (near present day Lander, Wyoming), Smith, Jackson, and Sublette sold their partnership to a group of trappers, including Bridger, for $15,523.23.

A Life Cut Short
This would be the end of Smith's involvement in the region. He would head much further south where he became involved in the Santa Fe Trail trade. While leading a party in May 1831 he left to look for water. He never returned. It was concluded that Smith had been attacked and killed by a group of Comanche warriors. His body was never found.

Legacy
Jedediah Smith's legacy of exploration throughout the American West is secure. He helped open up the far western United States to fur trapping activities. In the Bighorn area, Smith as one of the first Mountain Men, was part of the vanguard that spearheaded an era of trading activity and exploration that would place the Bad Pass and Bighorn Rivers firmly on the United States map.
Last updated: February 24, 2015