Ewing-Snell Ranch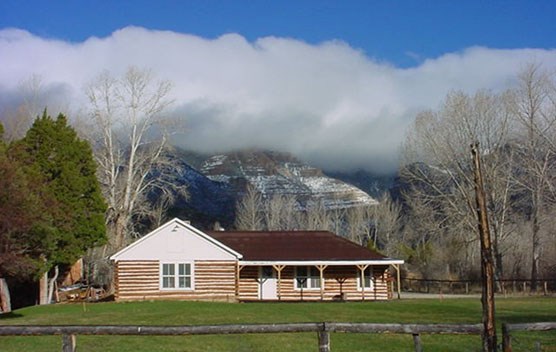 Prospector turned Rancher
In 1896, just five years after the Crow cession of 1,800,000 acres from the western end of their reservation, Erastus T. Ewing entered the Dryhead searching for gold. Born in Tennessee in 1846, Erastus was brought to the region by the gold strike on Bald Mountain in the Bighorn Mountains.
When that strike had played out, some prospectors believed, or hoped, the rugged Bighorn Canyon might contain the mother lode. Ewing and his partners had up to 7, 160 acre discovery claims staked out and filed. While some gold was found, no big strikes were ever made in the Dryhead.
From Gold To Ranching
Finding little gold, Erastus decided to try his hand at ranching. He knew that to make it in this arid land he would need water. On April 8, 1897, he filed with Carbon County in Red Lodge, Montana to appropriate 200 inches of water per year from Layout Creek for irrigation, mining and milling. Over the years more water was appropriated from the creek and irrigation ditching systems were created including holding ponds. The water was used to water grain and hayfields, orchards, and gardens.
Post Office
By 1898, there were enough prospectors and squatters in the Dryhead to justify a post office and mail route. The post office was out of the Ewing home with Erastus as post master. On maps from the turn of the century this site was known as Ewing, Montana.

Bessie Tillett remembers carrying the mail to Ewing in 1903 from Lovell, Wyoming. She remembered Erastus as a tall, slender man with a pronounced limp, having broken his leg while hunting mountain sheep. In 1904, Erastus T. Ewing died, and his son Erastus R. Ewing was appointed postmaster. In 1906, George A. Berky became postmaster, and the post office was moved five miles north of his ranch on Davis Creek, better known today as the Lockhart Ranch.
The Name
After changing hands a couple times Philip and Alma Snell purchased theranch in 1920. The ranch is named after Erastus Ewing, the man that established it and theSnells, the family that lived there the longest.

MP3 Audio files for the Ewing/Snell Ranch waysides
Last updated: August 27, 2017