Doc Barrys Boat - Preserving The Hillmont
In 1959 Claude and Beverly St. John sold the Cedarvale ranch property and moved to Billings. Down at the river landing they left four of the original boats that Doc Barry had used to take visitors on river trips up and down Bighorn Canyon.
With Yellowtail Dam being completed in 1965 farther upstream, the Bureau of Reclamation slated the four boats for destruction. The boats were beginning to deteriorate badly. Local men, from the town of Greybull, decided to try a salvage operation, hoping to save one boat.
Rescuing History
The Hillmont was in the best condition of the craft left behind, though it too was on the verge of collapse. One of the men who worked on the operation was Bill Greene who had personal experience with a river trip. He had been on a successful river run through the canyon in 1931.
Greene along with two friends, Ray Cheatham and Russell Bond, spent three days getting the boat out of the canyon intact. They spent the first day reinforcing the Hillmont with a frame and putting the boat on a set of skids. Another day was spent winching the boat out of the canyon with 1,500 feet of cable. The final day was spent hauling the Hillmont to Graybull.
Lucky Adventurers
Because of this successful operation - ironically much more arduous than any river trip - visitors to Barry's Landing can view one of the first boats ever to ply the waters of the Bighorn with tourists.
Today thousands of visitors enjoy Bighorn Lake's magnificent scenery, yet only a small number of adventurers were ever fortunate enough to run the river in one of Doc Barry's boats.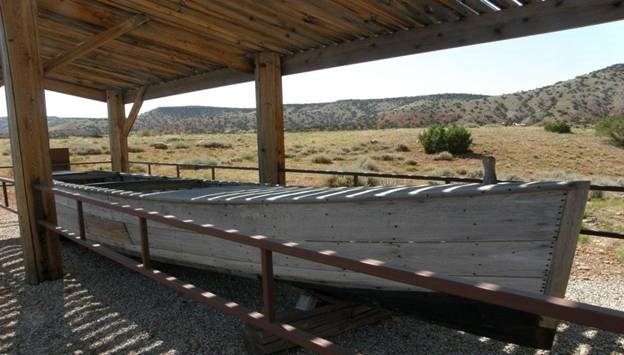 Last updated: February 24, 2015