Blacksmith Shop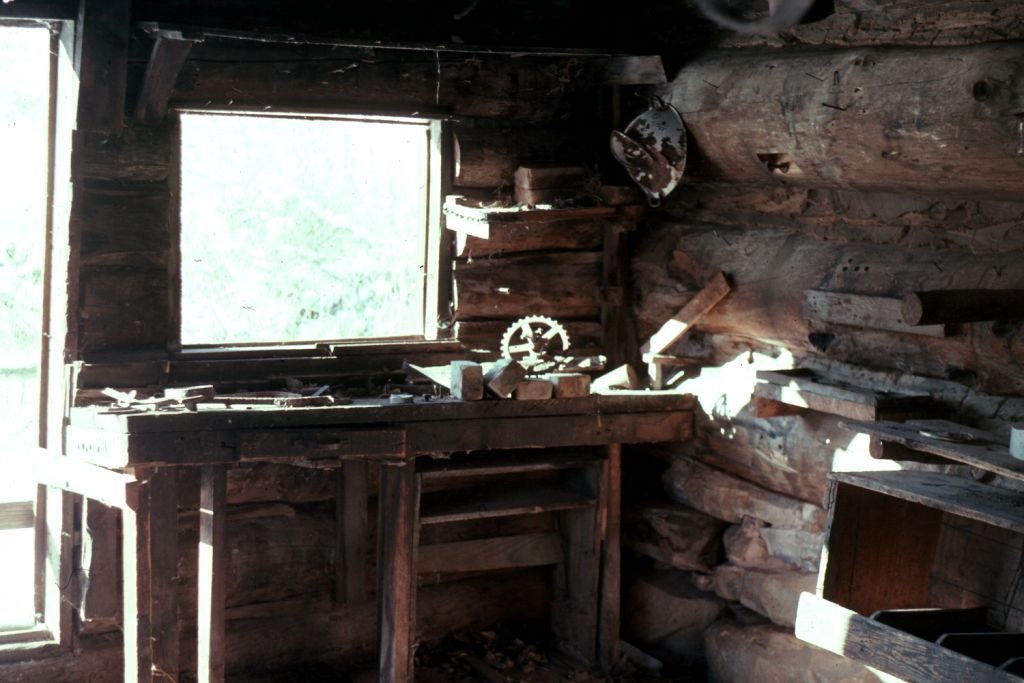 Hulbert's Shop
Eddy Hulbert's wood and metalworking shop was in the same 17 x 39-foot log building as the Dude Cabin. A wall separated the two, with Hulbert's shop occupying the east room. A double doorway in the south elevation allowed access to the inside.
Just inside the doorway, to the immediate right was the anvil and anvil block. In one corner was the blacksmith forge with a blower operated by a hand crank. Another corner held a stationary gas engine.
The east wall had a work bench, vise, drills, and other tools positioned against it. Other woodworking and blacksmithing tools were along the north wall. A work bench against the west wall held his wrenches.
Silver Work
When Hulbert worked in silver, making spurs, bits, rings, pins and other accoutrements he sat on a bench along the south wall. Fixed to this bench were two turntable vises. Here he also kept hacksaws, punches, chisels, and wrenches. These would be used to fashion silver into a wide array of items. Within reach of the workbench was the forge which heated the silver.
Hulbert's silver work has become quite famous. It is now highly prized by collectors due to its superior craftsmanship. In 1998 a book, Eddy Hulbert: Montana Silversmith by Shell Reid was published. It is a fitting tribute to the artisan skill embodied in Hulbert's silver work.
Final Days
It was said that Hulbert's hands were always black from his tireless work in the shop. Hulbert literally worked there until the final hours of his life. One mid-summer's day in 1960 he was found slouched over his work bench, probably suffering from a heart attack. He was taken to Lovell, two hours away, but died on the way there. In life he had truly been inseparable from his beloved workshop.
Last updated: February 24, 2015