Bad Pass Trail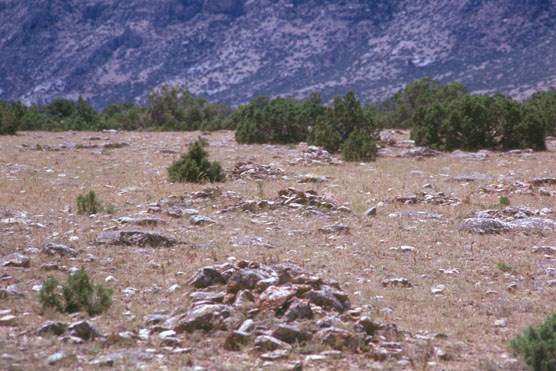 The Bad Pass Trail, marked by rock cairns, weaves its way along the rugged western edge of Bighorn Canyon, from the mouth of the Shoshone River to the mouth of Grapevine Creek. One may guess from its name that the Bad Pass trail was not an easy trail. It was better than the alternatives of crossing the mountains or the dangers of possibly drowning in the untamed waters of the Bighorn River coursing through the canyon. The Crow told stories of evil spirits that resided in the canyon, serving as an additional deterrent to river travel.
High Traffic Area
Native people walked and camped along this trail for 10,000 to 12,000 years while traveling to the buffalo plains. Early trappers and traders such as Jim Bridger and Jedediah Smith used it to transport furs to St. Louis, avoiding the dangers of floating the Bighorn River. Later ranchers and settlers used the trail to get to their property on the Dry Head. As the settlers started to use the Bad Pass Trail, foot and horse traffic turned to freight wagons and then to vehicles. This was still not an easy trip. It was a well known fact by those that drove along the trail, that they should always carry a tire repair kit with them as they were almost guaranteed at least one flat tire along the way.
Historic Trail to Park Road
Today the park road follows closely the original path of the Bad Pass, some times following over the top of it. If this trail could talk it would have years of stories to share. The stories of adventure have now turned to stories of wildlife viewing and recreation and as the years go by more stories will be added.
Archaeology Work On Bad Pass Trail
To learn about current archaeological work click on the following link:
Last updated: March 16, 2022