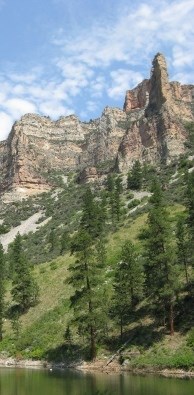 A Mystery
In 1879 only a small amount of information was actually known about Bighorn Canyon. Yet if Bighorn Canyon was cloaked in relative obscurity, its magnificent tributary, Black Canyon, was almost a complete and total mystery. The canyon could not be found on any maps showing the area. Knowledge of the canyon was based on hearsay. Soldiers at Fort C.F. Smith had visited the canyon a few times and passed word along that Black Canyon was also an incredible sight. This stoked the interest of an officer, Colonel A.W. Brackett, stationed at nearby Fort Custer, close to the Little Bighorn battlefield.
On May 17, 1879, Brackett rode out with several officers, along with a small detachment of the 2nd U.S. Calvary, to see Black Canyon for himself and "the great canon of the Bighorn Mountains." In addition, they would view the ruins of Fort C.F. Smith, abandoned over a decade before. Riding hard over the next two days, the men were camped at the ruins on the night of May 18th.
The Greatest Sublimity
The next morning, they followed the Old Wood Road to ascend the Bighorns and after five miles were at the precipice of Black Canyon. The canyon left a mighty impression upon Brackett who stated: "The sight is one of the greatest sublimity and I have never been more impressed by any object of natural scenery on this earth. The walls rise from 1000 to 1500 feet high, clothed in some places with shining green pines and spruces, and in others presenting bare walls of red sandstone. A stream some ten feet wide meanders through it, and the roar of the rapid waters can be heard far below."
The party rode sighted elk, buffalo, bighorn sheep and white tailed deer on the opposite side of the canyon. They followed along the northern rim to where it entered Bighorn Canyon at a right angle, Brackett estimated that it was 30 miles in length. After spending the night once again at the ruins of Fort C.F. Smith, the expedition returned to Fort Custer the next day.
On the Map
The outcome of the trip was quite significant. Colonel Brackett prepared a sketch map of Black Canyon, which was sent to the headquarters of the Department of the Dakota. The next edition of the Montana Map issued by the federal government showed the canyon for the first time. The name given to the feature was "Absaraca Canon, after the Absaraca or Crow Indians" as Brackett had suggested. For unknown reasons, the name was later changed to Black Canyon."