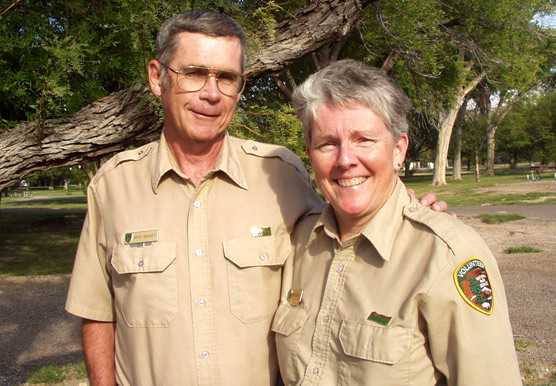 News Release Date:
January 11, 2008
Contact: Angelina Yost, 432 477-1195
Thirty-eight park volunteers were awarded the nationally recognized Presidential Service Awards at Big Bend National Park's Volunteer Awards Dinner on January 8, 2008. These awards recognize volunteers who have contributed over 100 hours of service to the park. Special award acknowledgements were provided by the Take Pride in America awards to volunteers who contributed 1,000 or more hours.
The highest level of recognition is provided to volunteers with over 4,000 hours of service to Big Bend National Park. This year's recipients were Royce and Royann Brockett.
Other volunteers recognized included Gretchen Berquam, Russ Berquam, Jay Mengel, and Sandi Mengel, who were awarded for over 2,000 hours of service to Big Bend and other parks in the National Park Service. Wanda Copeland, Mike Copeland, and Ed Davis were recognized for over 1,000 hours of service. Also receiving awards for service between 100 and 999 hours were: Bob Douat, Lynda Fanning, Bob Fanning, Deborah Hurst, Joan Kane, Ray Kane, Glenda Overfelt, Rob Overfelt, Howard Smith, and Fran Smith.Other Big Bend volunteers who received this award but could not be present at the meeting included Judy Atwood, Madeline Averett, Kay Combs, Doug Combs, Aletha Ellis, Kenny Ellis, Roy Ellis, Amanda Evans, James Herrick, Virginia Herrick, James Howell, John Kelling, Mary Kelling, Jennifer Krouse, Peter McElroy, Ed Navarro, James Priddy, Ken Sutton, and Linda Sutton. Big Bend National Park is proud to have so many devoted and dedicated volunteers recognized by these awards.
Each year over 150 volunteers contribute more than 40,000 hours of service to Big Bend National Park. Some service groups come for a few days; other volunteers stay for months. Opportunities for volunteers include such duties as campground hosts, backcountry patrol, resource management assistance, and visitor center personnel. Volunteers are a valuable and valued part of park operation and the park community.
Take Pride in America is a national partnership program that encourages, supports, and recognizes volunteers who work to improve public parks, forests, grasslands, reservoirs, wildlife refuges, cultural and historic sites, local playgrounds, and other recreation areas. Take Pride involves Federal, state and local governments; conservation, youth and recreation groups; and top national corporations and organizations. Together, volunteers protect and enhance the special legacy all Americans share - public lands that cover more than one in every three acres across the nation. For more information visit: www.takepride.gov.
Park Superintendent William E. Wellman stated, "I cannot overemphasis the importance of the contributions made by the park's volunteers who generously contribute their time and energy to Big Bend National Park. I am proud to be able to recognize these very important people."
Information about the Big Bend National Park volunteer program is available at
www.nps.gov/bibe/supportyourpark
or by calling the Volunteer Coordinator at 432 477-1195.