IDA Gold Tier Designation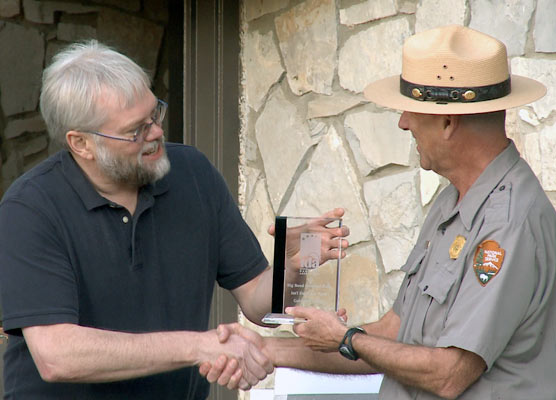 News Release Date:
February 6, 2012
Contact: David Elkowitz, 432-477-1108
Big Bend National Park Earns International Dark Sky Association Gold Tier Designation
The designation of Big Bend National Park (BBNP) as a Gold Tier International Dark Sky Park adds a jewel to the worldwide network of dark sky oases recognized by the International Dark-Sky Association for excellence in night sky stewardship. A Gold Tier designation denotes a sky free from all but the most minor impacts of light pollution, a sight of increasing scarcity in North America. Measurements by the National Park Service Night Sky Team show that the Big Bend Region offers the darkest measured skies in the lower 48 states.
With an area of over 801,000 acres, Big Bend National Park is also the largest International Dark Sky Park to date.
In the southwest of Texas on the Mexican border, clear skies, temperate nights and miles of undeveloped space in the vast and remote Chihuahuan Desert provide an unforgettable stargazing experience. The area, within 150 miles of the McDonald Observatory, is a recognized astronomy haven.
Regional efforts to protect the night sky have made tremendous gains in recent years, with towns such as Alpine and Van Horn passing strict lighting ordinances. Active efforts by city councils and astronomy enthusiasts give a coherent voice to the dark sky movement that surrounds and involves BBNP. In 2009, the development of Sierra la Rana became an IDA Development of Distinction in a successful attempt to promote the area's beautiful night skies to homebuyers.
This healthy effort reaches new heights with the BBNP's Gold Tier recognition. The park has shown initiative in creation of park lighting guidelines and has upgraded nearly every outdoor light fixture within the park. Upgrades were made possible by a Best Practices grant from Musco Lighting. This type of partnership between business and national parks has never been done before. The exterior lights all conform to minimum lighting guidelines, and the park's lighting energy use has dropped by a jaw-dropping 98%.
BBNP's ongoing outreach efforts are designed to teach visitors about the importance of protecting the night sky. The natural darkness of the park offers "seeing" opportunities valuable for gathering scientific data and for exposure to a rare and breathtaking view of the cosmos.
BBNP's stargazing program is held frequently throughout the year. Activities include night hikes, telescope viewing, and some sessions focusing on night sky preservation. BBNP is discussing collaboration with two local astronomy societies and McDonald Observatory.
In 2012, BBNP plans to unroll a K-12 education program via the Teacher Ranger Teacher program that will focus on "the significance of darkness, its influence on the earth and its importance to our understanding of life." BBNP will be used as a "natural laboratory" for some lessons.
Extensive sky quality monitoring has been ongoing since 2003. The near virgin skies offer a rare opportunity to create baseline measurements of actual sky brightness vs. anthropogenic light (light pollution) as well as measure differences in air quality.
The National Park Service and BBNP are developing "Interim Outdoor Lighting Guidelines" that reflect the aforementioned values in a long term, sustainable, and adoptable doctrine with intended application in numerous national parks. The guidelines, which encourage illumination levels sometimes significantly lower than currently practiced, provide parks with a planning strategy and best management practices.
About the IDSPlaces Program
IDA established the International Dark Sky Places conservation program in 2001 to recognize excellent stewardship of the night sky.  Designations are based on stringent outdoor lighting standards and innovative community outreach. Since the program began, four communities and nine parks also have received International Dark Sky designations. To learn more about the IDSPlaces program, please contact Rowena Davis at 520-293-3198 ext. 412.
Website: 
http://www.darksky.org/IDSPlaces
Last updated: February 24, 2015