Water

Deserts and water are intrinsic opposites, each defining the other, in a relationship that is distinct, dramatic, and dynamic. While representing the best protected example of the Chihuahuan Desert, Big Bend National Park's intricate geological, natural, and cultural histories are water-driven. Few places on earth offer such a premier example of this relationship as the association of the Rio Grande and the desert in Big Bend.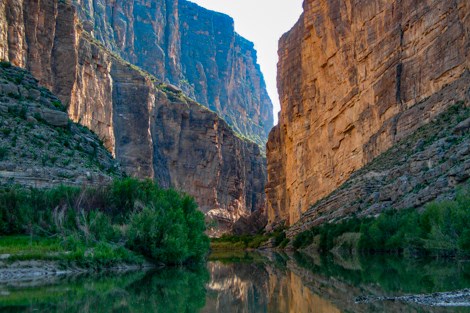 Rio Grande
The
Rio Grande
is the park's most prominent water source. Although the Chihuahuan Desert dominates the landscape for much of the river's passage along the border, the ribbon of green vegetation and diversity of birds and wildlife along the river's banks attest to the Rio Grande's prominent role. Forty species of fish, hundreds of birds, and thousands of insects rely on the river to survive in this desert climate. It truly is the "lifeblood" of Big Bend country.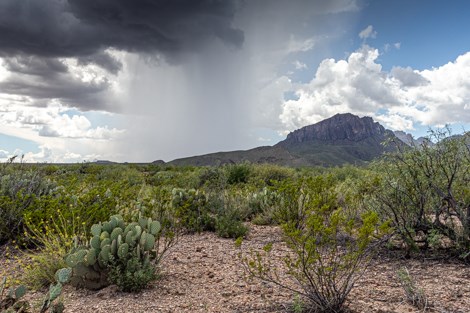 Precipitation
Water's influence is reflected in the amazing transformation of a lifeless-appearing desert into a verdant, life-filled landscape immediately after a rain. The Chihuahuan desert is the wettest of the four North American deserts, though it rarely receives more than 10 inches of rainfall in a year. The rainy season is typically from mid-July through late September. Due to the fact that thunderstorms in the Big Bend are often localized, there are places in this desert ecosystem that may see a year pass without receiving a drop of moisture.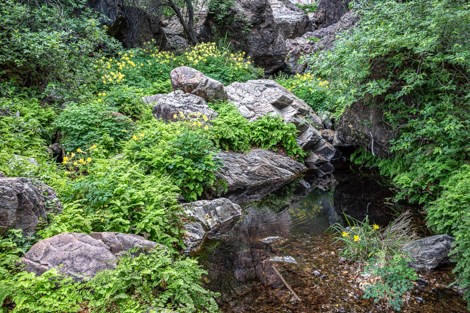 Seeps and Springs
Big Bend National Park contains numerous seeps and springs, many of them located far from roads and trails. The few springs that are accessible from a trail include Hot Springs, Mule Ears Spring, Burro Spring, Government Spring, and Croton Springs. It is important to remember that these springs support a wide variety of plant and animal life, including species found only in Big Bend, so extra care should be used when venturing near them. Careless boots can easily trample rare plants or crush an unsuspecting snail. The most studied spring in the park is
Oak Spring
, the water source for all recreational activities that take place in the Chisos Mountains.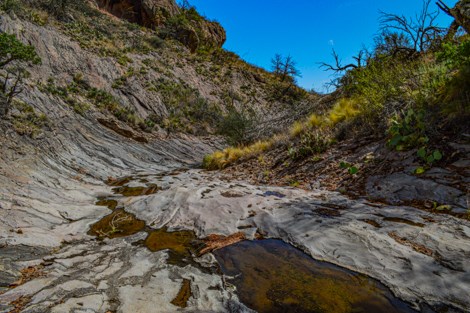 Seasonal Water
Exploring the backcountry of Big Bend is a popular pastime for many visitors. For those who wish to hike into remote areas of the park, knowing where to find water is key. Many of the park's springs and drainages will only have water following summer monsoon rains and during the cooler winter months. It is important to remember that Big Bend's plants and animals also need this precious liquid, so visitors are reminded to only take what they need for consumption. Swimming or wading in any water source except the Rio Grande is prohibited within the park.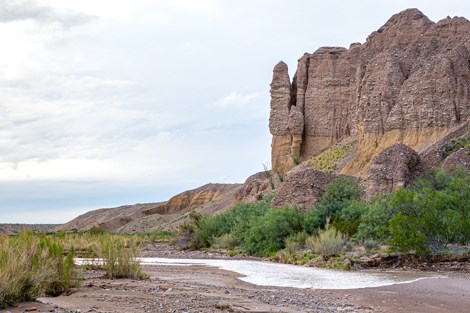 Water Stories
A glimpse at water's role in Big Bend's natural and cultural history
Last updated: September 9, 2020