2019 Castolon Fire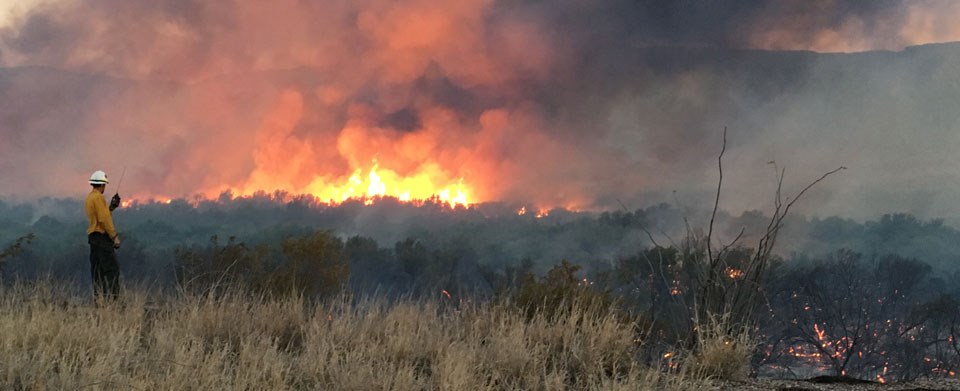 The 2019 Castolon Fire
On May 22, 2019, a fire in Mexico jumped the Rio Grande. With temperatures around 110°F the fire spread rapidly. Wind gusts showered embers across the Castolon Historic District, igniting the latrine building and barracks (which housed the La Harmonia Store and Visitor Center) and threatening the other buildings.

The shade structure served as a wick drawing flames into the attic. Despite valiant efforts, structural and wildland fire crews were unable to safely extinguish the fire before both buildings suffered extensive damage. Some 950 acres on both sides of the river burned before the fire would be fully contained 13 days later.

Through extensive efforts in extremely difficult conditions, firefighters saved the many other historic buildings and artifacts, as well as vital utilities and the nearby Cottonwood Campground. Fortunately, there were no injuries associated with this tragic loss.


Recovery Efforts
In the days after the fire, cultural specialists sifted the debris to save many historic items, including cast iron stoves, post office box doors, keys, and even the iconic La Harmonia sign that hung above the door.
What is Next?
Although damaged, Castolon remains a rich remnant of Big Bend's pioneer and military past.

Plans are underway for the next chapters in Castolon's history. The National Park Service is consulting with adobe experts, historic architects, and structural engineers to determine how much of these structures may be salvaged and rehabilitated.

Temporary services have returned. A temporary structure now serves as the store, and the Castolon Visitor Center has reopened in an adjacent building. The Big Bend Conservancy has established a Castolon Recovery Fund and will assist the park in designing a plan for the future of this historic site. Stay tuned as we move forward in a way that continues to honor and share the rich history of this area.
Last updated: October 16, 2020