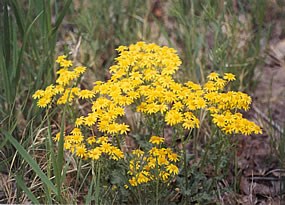 During the 1840's, the ground around the Fort was heavily grazed as traders and Native Americans held their livestock in the vicinity of the fort. It continued to be grazed until the homesteaders arrived in the Arkansas Valley at the turn of the century. At this time irrigated agriculture became the strength of the local economy. The transformation of the local prairies to crop land led to the loss of most of the native plant species in the area which is now the park. Today, there are remnants of riparian grassland species present and work continues to restore native prairie plant communities.
The native prairie is classified in the Kuchler Vegetation Type as grama/buffalo grass. To date, 147 plant species have been identified in the park. Plant inventory work has been done here since 1973 and approximately 90 % of the plant species have been documented.
Dominant grass species include Blue grama, Buffalo grass, Sand dropseed, Western wheatgrass, and Side-oats grama. Dominant shrub species include Sandbar willow and Sand sage. Dominant tree species along the river include Plains cottonwoods and Peach-leafed willows.