For Teachers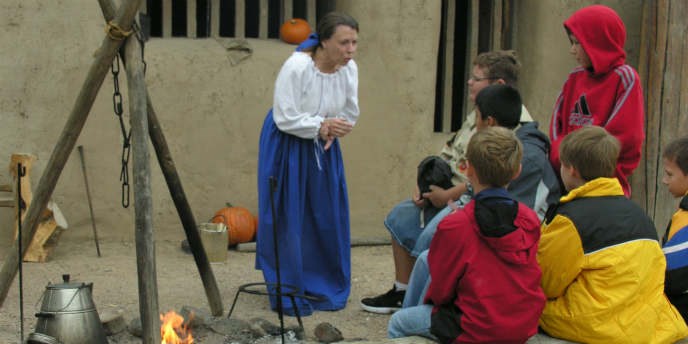 The history of Bent's Old Fort, encompassing the interaction among diverse cultures, including American Indian peoples, along the borderlands of Mexico and the United States, provides an opportunity to explore ideas of security, sovereignty, and culture in the American West. This isolated trading post and its company stores in Santa Fe and Taos, brought the Plains and Pueblo Indians, Mexicans, and Americans together for trade. Business, family, and political relationships developed that forever changed their lives. The interpretive tours and demonstrations relate well to Colorado State teaching standards for history providing fine examples of historical relationships and inquiry, societal changes, economic systems, and social processes and how they shaped populations.
For guided tour reservations click here.

Pre and post-visit curriculum-based lesson plans and activities are availalble by clicking here.
The "Living History Encampment" in June on odd numbered years, provides 5 days and 3 nights of "hands-on" immersion into the life of the 1840s trading post. Graduate level college credit is available.
The Santa Fe Trail Traveling Trunk's "mini-museum" is available and can be applied for by clicking here.


Last updated: May 5, 2017