Plan A Field Trip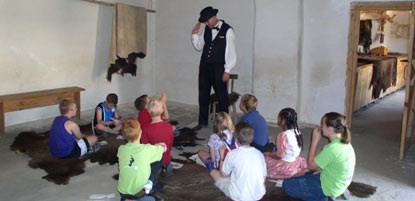 Guided Tour Reservation Information
The park is open 9:00 AM to 4:00 PM with 10:30 AM and 1:00 PM guided tour times September through May and 8:00 AM to 5:30 PM with 9:30 AM, 11:00 AM, 1:00 PM and 2:30 PM tour times June through August. A short demonstration is included with the tour. Western National Parks Association's Bookstore offers videos, maps, and books for sale about the fort and the Santa Fe Trail. Plan on your visit lasting at least 2 hours. Call (719) 383-5026 for reservations.
The park collects a Living History Fee of $3.00 for adults, $2.00 for 6 to 12 year olds and is free for children under 6 years of age. The park has Interagency Passes available including the National Parks Pass, Senior Pass, Military Pass, and the Access Pass. Check out the fourth grade student Every Kid in the Park Pass website.
Travel Grants
Travel grants for low income and under-served schools will be offered for the 2016-17 school year. You may request up to $500 to reimburse travel expenses for your school. First preference goes to schools which include 4th grade classes. Click here for the application.


Last updated: April 16, 2018