Hunting at Assateague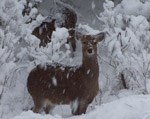 Public hunting within the boundaries of Assateague Island National Seashore is recognized as a recreational activity and is required in the legislation that established the National Seashore (Public Law 89-195). The regulations for hunting within Assateague Island National Seashore are designed to provide a meaningful and safe experience for hunters.
State laws governing the public areas of Maryland and Federal Regulations (Title 36 CFR) apply to both the lands and the waters within the boundaries of the National Seashore. Hunting is legal only in specifically designated areas of the National Seashore.
Last updated: September 24, 2018