Over Sand Vehicle (OSV) Use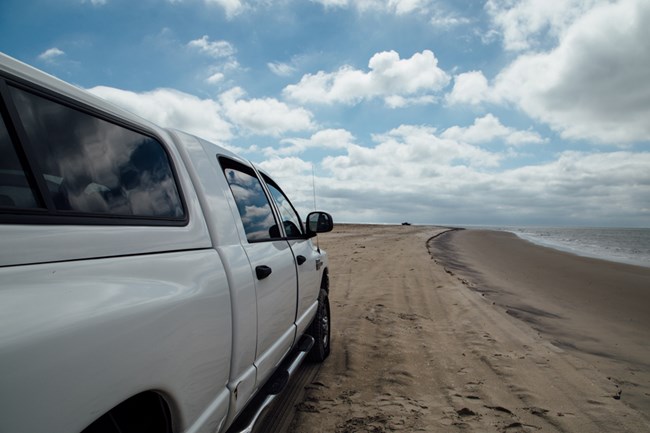 The Over-Sand Vehicle (OSV) zone at Assateague Island National Seashore contains miles of unspoiled beaches managed by the National Park Service to accommodate OSV enthusiasts and other beach goers.
OSV permits are issued for a year from the month of purchase. The permit fee ranges from $70 to $150, depending upon the type of access desired. All vehicles using the OSV zone must display a valid OSV Permit. Upon signing the registration for the OSV permit, operators accept responsibility for knowing and following all OSV regulations. Please see the OSV brochure for complete regulations, and watch our OSV video for driving tips.
OSV operators in designated zone must carry the following equipment:
- A shovel with a blade at least 6" square and at least 18" long.
- A vehicle jack sufficient to lift one wheel clear of the sand.
- A jack support that is at least 12"x12" of non-bending steel, 5/8" plywood or 1½" hardwood.
- A tire gauge with a minimum reading of 15 pounds or less.
- A tow rope or tow strap, chain or cable with a minimum pulling strength of 6,000 pounds and at least 10 feet long. Minimum diameter is ½" for nylon or Dacron ropes; ¾" for all other ropes; ¼" for carbon steel cable; 5/16" for chain links.
OSV permits are issued for individual vehicles in the name of the registered owner. Sale or transfer of the vehicle voids the permit. A replacement permit may be issued for the new vehicle only if enough of the original permit, to include serial numbers and month sticker, is returned for exchange. Permits destroyed in a vehicle accident may be replaced only if an official accident report is brought in for documentation. A receipt for purchase is not sufficient for permit replacement. Lost permits are not refundable or replaceable!
OSV permits must be permanently affixed to the lower corner of the windshield on the driver's side or passenger's side, within seven inches (7") of the edge of the windshield. The expiration month sticker must be affixed before adhering to windshield.
To purchase a permit:
Virginia - permits may be purchased at the Toms Cove Visitor Center, the OSV Closure Booth (summer only) and the Herbert H. Bateman Education Center.
Maryland - permits may be purchased at the Ranger Station.
At Assateague Island National Seashore we strive to provide you with a safe and enjoyable over-sand vehicle (OSV) experience. Regulations and equipment requirements are necessary for your safety and the safety of other visitors and National Park Service staff. Changing beach conditions, vehicle breakdowns, and human judgement errors may occasionally result in over-sand vehicles becoming stuck and needing assistance. In these instances, National Park Service staff can: Assist with removing sand from around the tires. Deflate tires. Use traction devices such as boards Make a phone call on your behalf to friends/family. Provide information regarding local towing services. National Park Service staff cannot: Winch or pull the vehicles out. Recommend a towing company. Please be prepared when using the OSV zones on Assateague Island. Carry the required safety equipment; adequate food, water and clothing; and know the park rules and regulations.


Last updated: October 9, 2018