Take a Bike!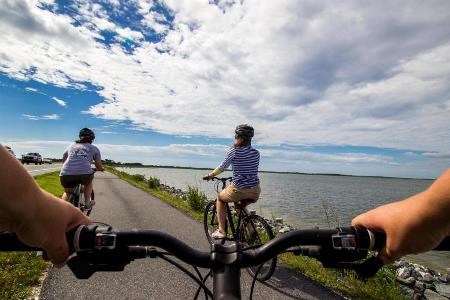 Hop on your bike and explore the island! Several miles of bike trails wind through the island in both Maryland and Virginia.

Maryland
Cyclists may travel to Assateague over a bicycle-pedestrian bridge and follow a paved bike path along Bayberry Drive through 4 miles of island habitat. There is parking lot for hikers and cyclists on the southwest side of the bridge to Assateague as well as parking on Assateague Island. Rental bicycles are available seasonally from Assateague Outfitters.
Maryland District Trail Map


Virginia
A paved path leads bicycles from Chincoteague to Assateague. Parking is also available at the Chincoteague National Wildlife Refuge. Rental bicycles are available seasonally on Chincoteague Island. Contact the Chincoteague Chamber of Commerce for more information.
Wildlife Loop - 3 1/4 mile loop
Woodland Trail - 1 1/2 mile loop
Swan Cove Trail - 1/2 mile
Black Duck Marsh Trail - 1 mile
Service Road- 1 1/4 mile, Partial access of the service road was opened to bikers in mid-2016. This portion is UNPAVED and only open to bikers 1.25 miles, ending at D-dike.
Last updated: October 17, 2020