Protecting Nature and Preserving History and Culture Go Hand-in-Hand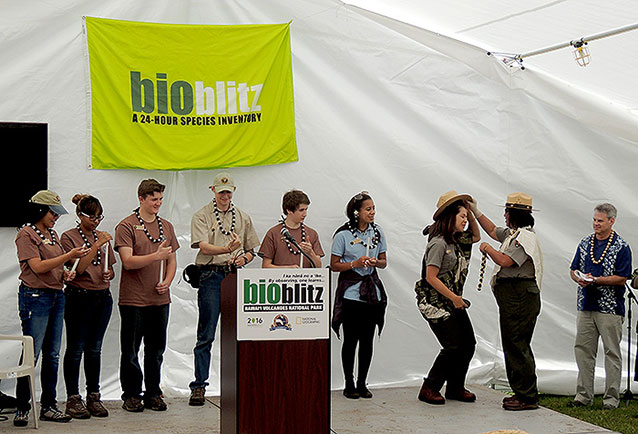 October 2015
Nearly 50 years ago, on Oct. 15, 1966, President Johnson signed the National Historic Preservation Act into law. It was written to protect historical and archeological sites all over the U.S., and throughout October, the National Park Service celebrates this milestone.
The cultural and historical resources within national parks paint a rich picture of America, from the Cesar E. Chavez National Monument in California to the Little Rock Central High School National Historic Site in Arkansas, and from the Nez Perce National Historic Site in the Northwest to the Cumberland Gap National Historical Park in the Southeast. National parks capture all of the varied groups and eras that together make up our country's history.
But the enjoyment and appreciation of these historic and cultural resources is inextricably linked to an area's natural resources — the air, water, plants and animals, and rocks and soils. 
No time was this relationship more apparent to me than  this year's BioBlitz at Hawai'i Volcanoes National Park. In May, I was honored to attend this annual biodiversity event sponsored by National Geographic and National Park Service. Since 2007, BioBlitz brings together volunteers, students, and scientists to inventory the wide variety of lifeforms at different parks.
But the Bioblitz at Hawai'i Volcanoes was really something special, seamlessly uniting cultural knowledge and scientific method through the common language of natural resources. A traditional Hawaiian cultural practitioner, an alakai'i, participated alongside scientists and students during the biodiversity inventories. The alakai'i shared the local names of plants as well as their cultural significance and uses. At the same time, scientists guided the volunteers and provided technical expertise in inventory methods.
Incorporating the cultural and historical traditions into the biodiversity count gave participants a complete, well rounded understanding of the island and its natural resources.
As we remember the preservation act this month, we should reflect on how the health and management of natural resources are inextricably linked to our understanding and appreciation of history and culture. The work of all the scientists, researchers, and scholars at the National Park Service is foundational. Healthy, scientifically managed natural resources and ecosystems are necessary to understand the significance of historical and cultural sites.
All year, NPS biologists, hydrologists, geologists, and veterinarians (among others), perform work that underscores this vital relationship between the natural resources of parks and their cultural and historical ones. I thought of just a few examples of the collective work natural resource scientists and managers do that supports efforts to preserve cultural and historical values:

We help parks and their surrounding communities preserve the dark skies, thereby preserving the cultural connection we all have to the stars and constellations.

We protect cultural landscapes when we work with parks to identify significant viewsheds and prioritize their conservation.

We organize National Fossil Day in October every year, educating people about their geologic heritage.

We develop partnerships to return bison — an animal of great cultural significance to Native Americans — to the Great Plains

.
This is a short list of some of the work we do. Can you think of examples of how natural resource stewardship enhances the enjoyment and appreciation of cultural and historical sites and resources? When natural resources are managed in the best possible way, then the historic and cultural meanings within them are more accessible to visitors.
I'm proud of the important resource stewardship that goes on in national parks every day. Together, we're preserving our cultural, historical, and natural resources for the next generation of park stewards.
— Ray Sauvajot 
Associate Director, Natural Resource Stewardship and Science
Last updated: August 15, 2017