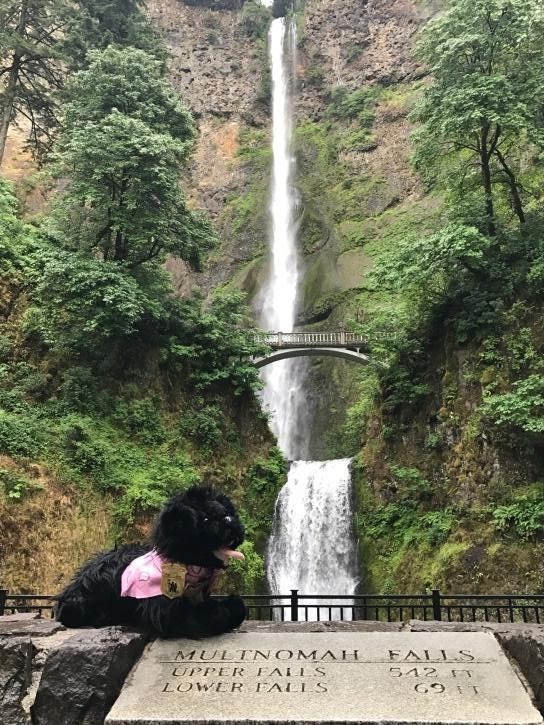 In honor of the 50th anniversary of the
National Trails System
five special (toy) dogs, the
Lewis and Clark Pups
, will travel in the paws of their ancestor
Seaman
, dog of
Meriwether Lewis
. The pups will travel more than 3,700 miles to complete their mission to commemorate and protect the
Lewis and Clark National Historic Trail
. They will be joined by
Seaman Jr
. who will complete his portion of the mission on the
International Space Station
.
As they make their stops they will be reporting back in on their adventures. Follow
Rocky
,
Harper
,
Dakota
,
Keelie
and
Seaman Jr
. at:
Newfie News Blog
Hi! It's your favorite, pink bandana-wearing, newfie Harper! I have just arrived at Multnomah Falls in beautiful Oregon! It is part of the Columbia River Gorge National Scenic Area which is a protected area that covers land in both Washington and Oregon. There are spectacular views where the river cuts through mountains and forests to create awesome cliffs, canyons, and waterfalls!
The park employees brought me up to the viewing platform where I was able to see Multnomah Falls and its 620 feet of glory. I learned the waterfall is fed by underground springs that come from the mountain. In this photo you can see the Benson Bridge behind me; it was built in 1914 with money from Simon Benson, who also donated the land. When you cross the bridge, you get to pass over the lower falls – what a view!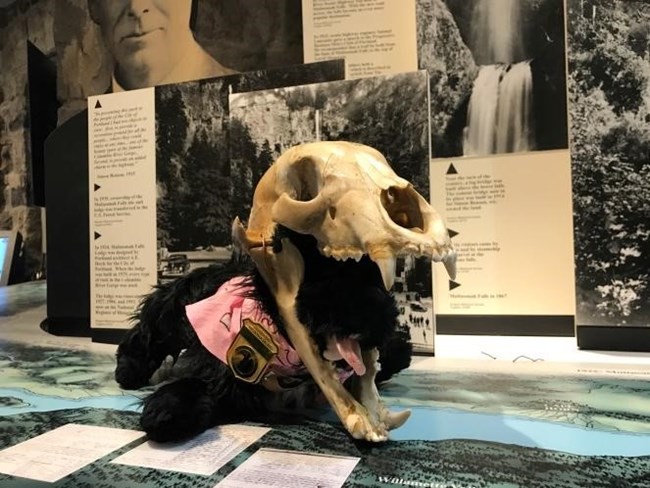 I then went inside the visitor center and learned about the history of the area. This historic lodge has been here since 1925 and what's really cool is that when it was built, every type of rock that could be found in the gorge was used to make it! Today it has a restaurant, gift shop, and the interpretive visitor center, with lots of information and fun stuff to look at, like this display. Look at the chompers on this guy!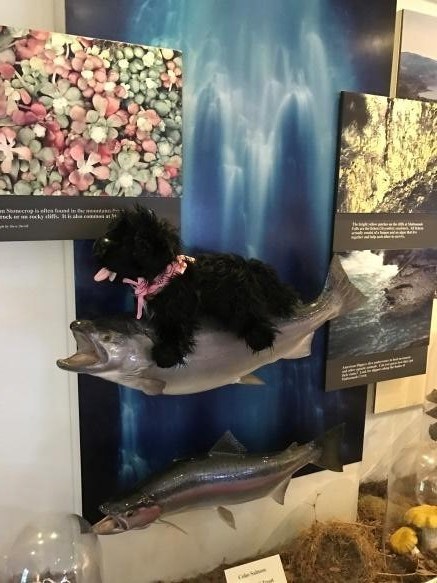 Here I am again, posing with my new friend. There are lots of fish here since there is so much water for them to swim in! The Columbia River is huge, and there are several waterfalls along the way. You can take a ride on the scenic Columbia River Highway and explore places like Latourell Falls, Sheppard's Dell, Bridal Veil, Wahkeena Falls, Multnomah Falls, Oneonta Falls, and Horsetail Falls. That's seven waterfalls, all in only ten miles!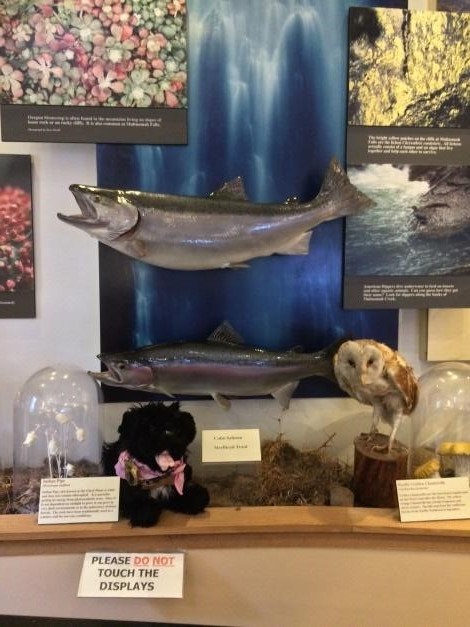 I learned so much about this land and the plants and animals that call it home. Right here, I learned about lichen, chanterelle mushrooms, birds, and fish. Salmon and trout are just two of the many types of fish that can be found in the area.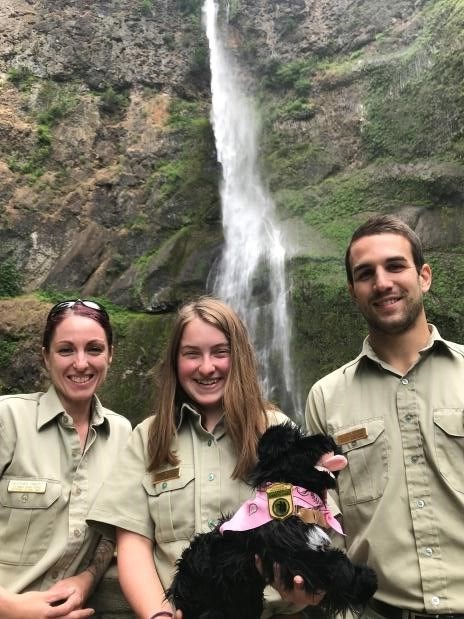 Unfortunately, a big 48,000 acre forest fire came through the area in 2017, so the many trails are closed for exploration. The rangers were nice to me though, and they gave me special permission to see the damage, since I'm a descendant of Seaman. The fire caused evacuations and closures of trails, communities, and businesses. There was even a drop in tourism! It was so sad to see the destruction the fire caused, but I know the land is healing and the hardworking people here are working on job recovery.
Overall, I had a great day exploring the falls!
Learn more about Multnomah Falls:
http://www.multnomahfallslodge.com/page/about
https://www.fs.usda.gov/crgnsa
Learn more about the Lewis and Clark National Historic Trail:
Website
Facebook
Instagram
Newfie News Blog