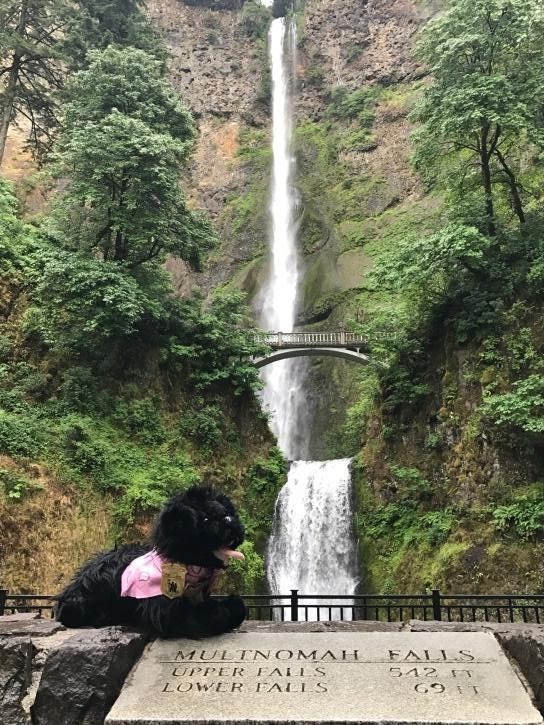 In honor of the 50th anniversary of the
National Trails System
five special (toy) dogs, the
Lewis and Clark Pups
, will travel in the paws of their ancestor
Seaman
, dog of
Meriwether Lewis
. The pups will travel more than 3,700 miles to complete their mission to commemorate and protect the
Lewis and Clark National Historic Trail
. They will be joined by
Seaman Jr
. who will complete his portion of the mission on the
International Space Station
.
As they make their stops they will be reporting back in on their adventures. Follow
Rocky
,
Harper
,
Dakota
,
Keelie
and
Seaman Jr
. at:
https://www.nps.gov/lecl/newfie-news.htm
Hi! It's your favorite, pink bandana-wearing, newfie Harper! I have just arrived at Multnomah Falls in beautiful Oregon! It is part of the Columbia River Gorge National Scenic Area which is a protected area that covers land in both Washington and Oregon. There are spectacular views where the river cuts through mountains and forests to create awesome cliffs, canyons, and waterfalls!
The park employees brought me up to the viewing platform where I was able to see Multnomah Falls and its 620 feet of glory. I learned the waterfall is fed by underground springs that come from the mountain. In this photo you can see the Benson Bridge behind me; it was built in 1914 with money from Simon Benson, who also donated the land. When you cross the bridge, you get to pass over the lower falls – what a view!