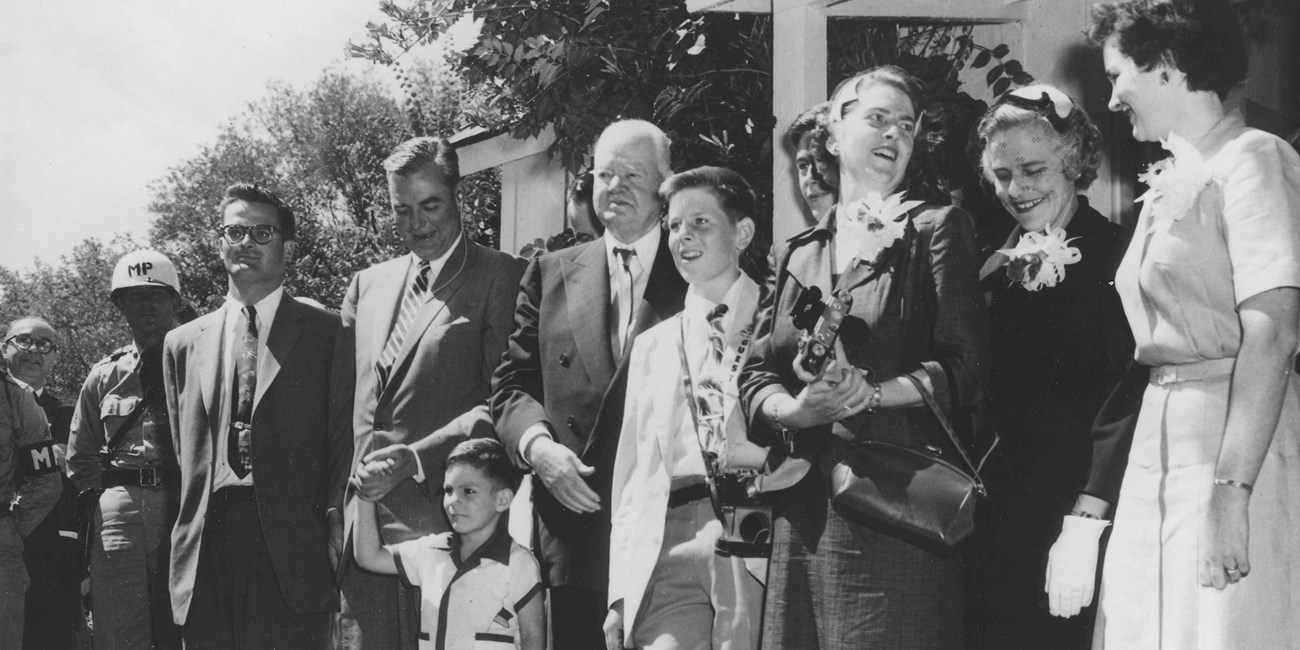 The Eli Hoover and Theodore Minthorn families were among the early West Branch settlers. The Hoovers came from Miami County, Ohio, and the Minthorns from Canada. On March 12, 1870, Jesse Hoover, son of Eli and Mary Davis Hoover, married Hulda Minthorn, daughter of Theodore and Mary Wasley Minthorn. Jesse and Hulda Hoover had three children. Theodore was born in 1871, Herbert in 1874, and Mary in 1876.
Family Tree
This is a brief genealogy of Herbert Hoover's family, starting with his parents.
Jesse Clark Hoover (1846-1880), married 1870 to Hulda Randall Minthorn (1848-1884).

Theodore Jesse Hoover (1871-1955), married 1899 to Mildred Crew Brooke (1872-1940).

Midred Brooke Hoover (1901-1983), married to Cornelius Willis. 3 children.
Hulda Brooke Hoover (1906-2006), married to Charles Alexander McLean. 3 sons.
Louise Brooke Hoover (1908-1985), married to Ernest Dunbar, Harold Fouts, Kenneth Stevenson, William Hauselt. 2 daughters.

Herbert Clark Hoover (1874-1964), married 1898 to Lou Henry (1874-1944).

Herbert Charles Hoover (1903-1969), married 1925 to Margaret Ava Watson (1905-1983).

Margaret Ann Hoover (born 1926-2011). 5 children.
Herbert "Pete" Hoover III (1927-2010). 3 children.
Joan Ledlie Hoover (1930-2002). 3 children.

Allan Henry Hoover (1907-1993), married 1937 to Margaret Coberly (1911-2009).

Allan Hoover (1938-2013). 3 children.
Andrew Hoover (born 1940). 3 children.
Lou Henry Hoover (1943-2012).

Mary Blanche Hoover (1876-1953), married 1899 to Cornelius Van Ness Leavitt (1874-1962).

Van Ness Hoover Leavitt (1907-1992), married to Dorothy Juanita Berry, Patricia Agnes Rheinschild. 2 sons.
Source: McLean, Hulda Hoover. The Genealogy of the Herbert Hoover Family. The Herbert Hoover Presidential Library Association, 1967 (out of print).