Air quality at Lava Beds National Monument
Most people who visit national parks expect clean air and clear views. Lava Beds National Monument (NM), California is well known for its many volcanic formations including cinder cones and lava flows, and experiences relatively good air quality. This is in part because of low population density nearby. The park's natural and scenic resources such as visibility, vegetation, soils, and wildlife can be affected by local and regional sources of air pollution. These include vehicles, power plants, agriculture, proposed geothermal energy production, wood-fired industrial boilers, and wildfires. The National Park Service works to address air pollution effects at Lava Beds NP, and in parks around the U.S., through science, policy and planning, and by doing our part.
At Lava Beds National Monument particles, nitrogen, and ozone affect natural resources including vegetation and wildlife, and visibility of scenic vistas.
Nitrogen and sulfur
Nitrogen and sulfur compounds deposited from air may have harmful effects including nutrient imbalances and loss of biodiversity. In some areas of the country increased nitrogen deposition has allowed weedy annual grasses to invade shrublands and grasslands, similar to those present at Lava Beds NM. In southern California, increased nitrogen deposition has contributed to spreading annual grasses and increased fire risk in shrublands at Joshua Tree NP (Rao et al. 2010).
Excess nitrogen can also lead to nutrient enrichment, a process that changes nutrient cycling and alters plant communities. Healthy ecosystems can naturally buffer a certain amount of pollution, but as nitrogen and sulfur accumulate, a threshold is passed where the ecosystem is harmed. "Critical load" is a term used to describe the amount of pollution above which harmful changes in sensitive ecosystems occur (Porter 2005). Nitrogen deposition exceeds the critical load for one or more park ecosystems (NPS ARD 2018).
Surface waters are also sensitive to nitrogen. Surface waters in the monument are limited to a few seeps. These seeps provide habitats for ferns in cave entrances and collapsed structures at the monument that are not found in the surrounding semi-arid landscape. Ferns in these micro-wetland refuges are remarkable for both species diversity and the number of populations. Ferns are potentially sensitive to eutrophication (enrichment) from nitrogen deposition at Lava Beds NM.
Nitrogen and sulfur deposition can also cause acidification that may harm soils and vegetation. Increased sulfur dioxide and sulfuric acid emissions from geothermal development could harm lichen species sensitive to acidification. Some plants are sensitive to acidification, search for acid-sensitive plant species found at Lava Beds.
Visit the NPS air quality conditions and trends website park-specific nitrogen and sulfur information.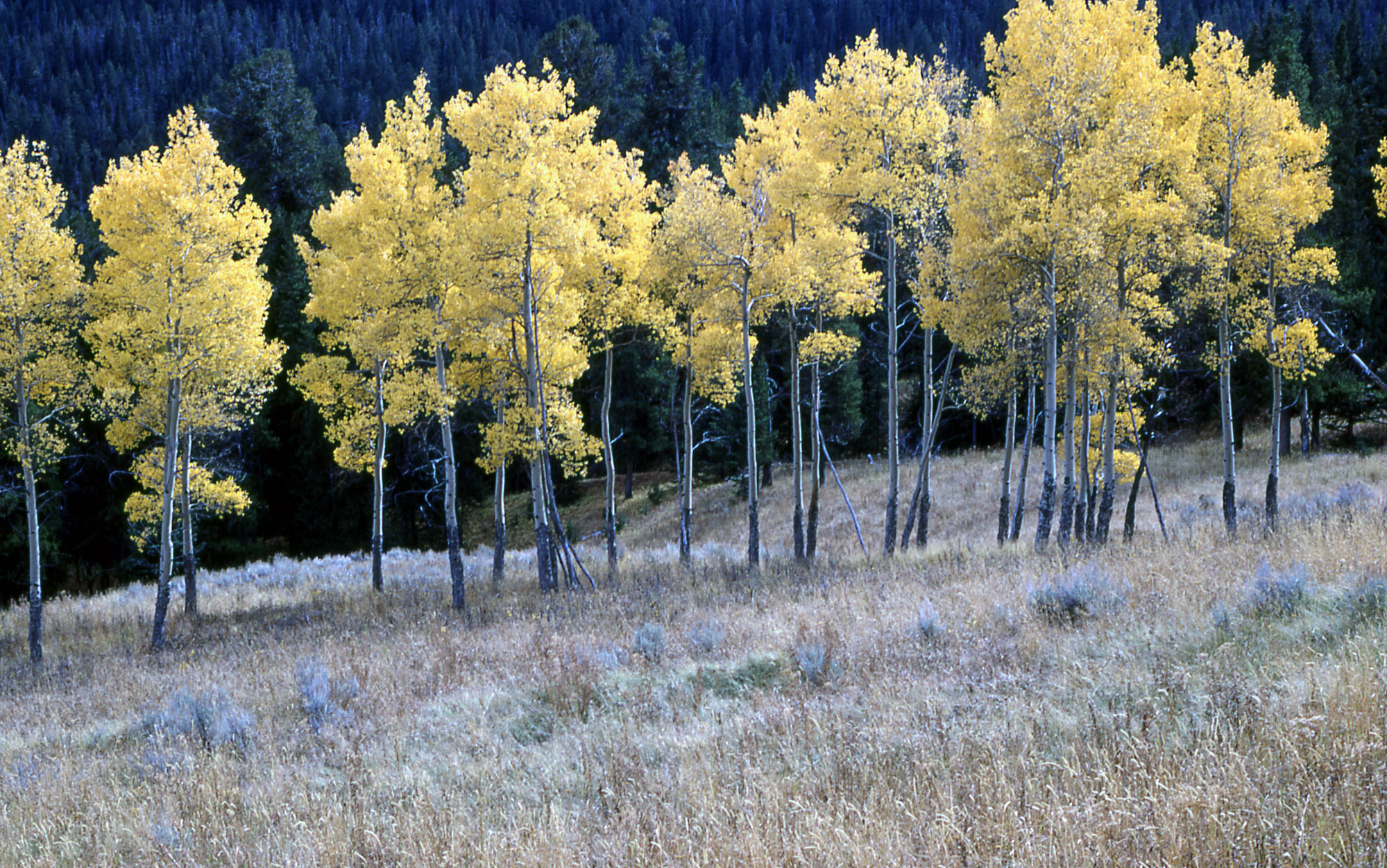 Quaking Aspen are one of the ozone sensitive species found at Lava Beds NM, California.
Ground-level ozone
At ground level, ozone is harmful to human health and the environment. Ground-level ozone does not come directly from smokestacks or vehicles, but instead is formed when other pollutants, mainly nitrogen oxides and volatile organic compounds, react in the presence of sunlight. A passive ozone sampler in operation from 1995–2004 at Lava Beds NM reported low ozone concentrations compared to other California parks.
Over the course of a growing season, ozone can damage plant tissues making it harder for plants to produce and store food. It also weakens plants making them less resistant to disease and insect infestations. Some plants are more sensitive to ozone than others. There are a few ozone-sensitive plants in Lava Beds NM including Pinus jeffreyi (Jeffrey pine), Pinus ponderosa (ponderosa pine), and Populus tremuloides (quaking aspen). A risk assessment that considered ozone exposure, soil moisture, and sensitive plant species concluded that plants in Lava Beds NM were at moderate risk of foliar ozone injury (see network report: Kohut 2004). Search ozone-sensitive plant species found at Lava Beds. Visit the NPS air quality conditions and trends website for park-specific ozone information.
Visibility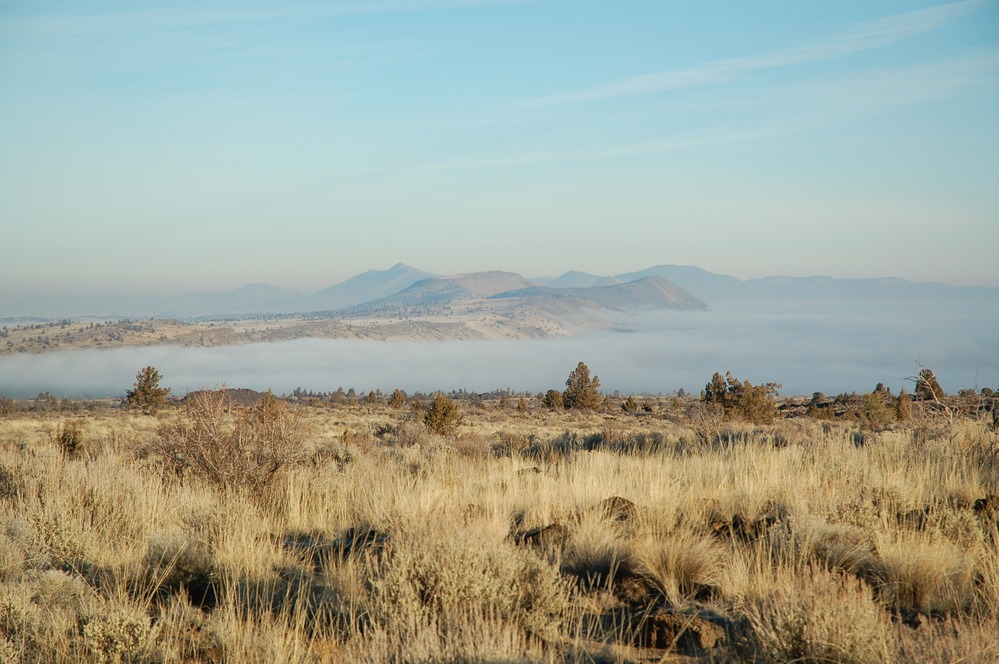 Haze sometimes affects scenic views at Lava Beds NM, California.
Park vistas of volcanic formations are sometimes obscured by haze, reducing how well and how far people can see. Visibility reducing haze is caused by tiny particles in the air. Many of the same pollutants that ultimately fall out as nitrogen and sulfur deposition contribute to this haze. Organic compounds, soot, dust, and wood smoke reduce visibility as well.
Visibility effects:
At times, reduced visibility due to human-caused haze and fine particles of air pollution
Reduction of the average natural visual range from about 160 miles (without the effects of pollution) to about 130 miles because of pollution at the park
Reduction of the visual range to below 60 miles on high pollution days
Visit the NPS air quality conditions and trends website for park-specific visibility information. Explore scenic vistas through a live webcam at Lava Beds National Monument.
Lava Beds National Monument has been monitoring visibility since 2000. Explore air monitoring »