Air Toxics Effects on Human Health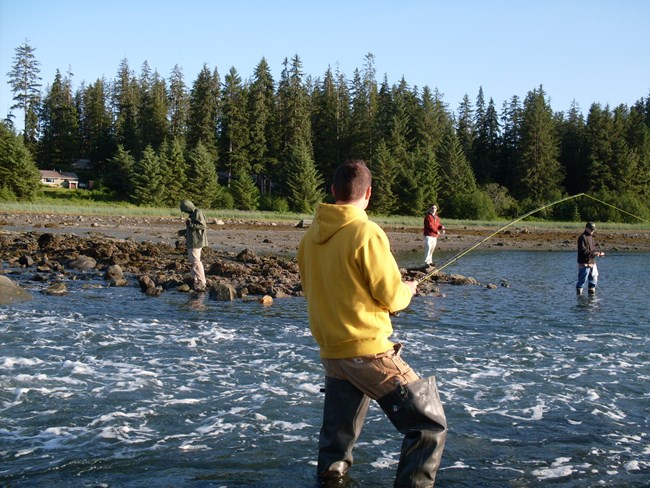 Metals (such as mercury) and toxic compounds (like pesticides) can come down from the air and build up in the food chain causing behavioral, neurological, and reproductive effects in fish, birds, wildlife, and even humans.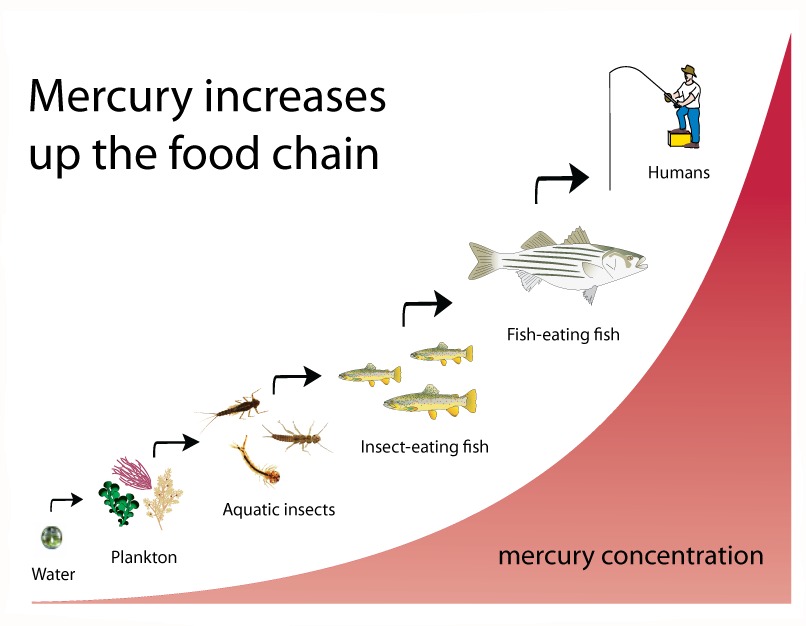 Mercury, PCBs, and pesticides can enter the food chain in areas impacted by air pollution. The National Park Service is concerned about these and other air toxics because they increase in concentration with each level of the food chain and can become serious health threats to wildlife and humans (as shown in the figure on the left). Although fish are a lean, low-calorie source of protein and are important in a healthy diet, eating fish is the main pathway for human (and wildlife) exposure to mercury, pesticides, PCBs, and other contaminants.
The health effects of other air toxics vary. Some toxic compounds have been banned from use and production in the U.S. Unfortunately, these toxics stay in the environment and fatty tissues of animals because they take long periods of time to break down. For example, dieldrin, an insecticide banned in the U.S. in 1987, is very carcinogenic and
endocrine-disrupting
. It also reduces the effectiveness of the immune system, lowers reproductive success, and causes neurological problems. DDT, an insecticide banned in the U.S. in 1972, is another known endocrine-disrupting compound. It is also likely a human carcinogen, damages the liver, temporarily damages the nervous system, reduces reproductive success, can cause liver cancer, and damages the reproductive system.
Agency for Toxic Substances and Disease Registry
and the
Food & Drug Administration
.
The risks of harmful health effects are somewhat low when fish are eaten once in a while, as in recreational fishing. Risks can be minimized by following local fish advisories, which will report the types of local fish that can have higher levels of contaminants. Different restrictions can apply to sensitive groups (such as women of childbearing age and children).
Methylmercury is more likely to build up in the fish muscle, or fillet. Some fish preparation methods can affect the concentrations of contaminants eaten. For example, removing the skin from fish before cooking can lower the amount of contaminants present. Some general recommendations for fish consumption and preparation to limit risk are:
When fishing, check the local fishing regulations and fish consumption advisories. If there are no guidelines, then you may want to eat smaller fish. Smaller fish are likely younger and contain lower levels of harmful contaminants. The U.S. Environmental Protection Agency also posts a National Listing of Fish Advisories.
If local fish advisories warn about contaminants that concentrate in the fatty portion of the fish (PCB, pesticides, dioxins, PBDEs), then try to consume less fatty fish or fish that feed on the bottom of lakes or streams as they may have lower levels of these harmful contaminants.
When preparing fish to eat, remove the skin, fat, and organs. Contaminants are more likely to build up in those parts of the fish.
Prepare fish by grilling, if possible, and letting the fat drip off.
Learn more »
Last updated: September 11, 2018