Air quality at Crater Lake National Park
Most visitors expect clean air and clear views in parks. Fortunately, that is often what they find at Crater Lake National Park (NP), Oregon, a park well known for its violent volcanic history and blue caldera lake that is often referred to as the "Jewel of the Cascades." However, the park is located downwind of populated areas, agriculture, and other air pollution sources. Air pollution from these sources has the potential to harm the park's natural and scenic resources such as vegetation, surface waters, and visibility. The National Park Service works to address air pollution effects at Crater Lake NP, and in parks across the U.S., through science, policy and planning, and by doing our part.
Nitrogen and sulfur
Nitrogen and sulfur compounds deposited from the air may have harmful effects, including acidification, on soils, lakes, ponds, and streams. Although Crater Lake itself is well-buffered and not at high risk for acidification, higher-elevation streams in the park are less well-buffered and potentially sensitive to acidification from nitrogen and sulfur deposition. In these headwater streams, changes in water chemistry can harm fish, amphibians, and aquatic insects. Some plants are sensitive to acidification, search for acid-sensitive plant species found at Crater Lake NP.
Excess nitrogen can also lead to nutrient enrichment, a process that changes nutrient cycling and alters plant communities. Healthy ecosystems can naturally buffer a certain amount of pollution, but as nitrogen and sulfur accumulate, a threshold is passed where the ecosystem is harmed. "Critical load" is a term used to describe the amount of pollution above which harmful changes in sensitive ecosystems occur (Porter 2005). Crater Lake may be sensitive to eutrophication (aquatic enrichment) from nitrogen deposition. Because the lake itself represents a great majority of the watershed area, most nitrogen deposition falls directly on the lake and is not taken up by surrounding soils, trees, and plants. Air pollution is the major source of nutrients to Crater Lake, and the system may be very sensitive to even slight increases in nitrogen deposition. Nitrogen enrichment can alter lake diversity and increase lake productivity, resulting in decreased water clarity.
Nitrogen deposition may also disrupt soil nutrient cycling and alter sensitive alpine plant communities by promoting the growth of weedier invasive species over native plants. Higher elevation ecosystems in the park are more at risk than lower elevation areas because they receive greater amounts of snow and rain. Short growing seasons and shallow soils at higher elevations limit the capacity of soils and plants to buffer or absorb nitrogen and sulfur. Nitrogen deposition exceeds the critical load for one or more park ecosystems (NPS ARD 2018).
Visit the NPS air quality conditions and trends website for park-specific nitrogen and sulfur deposition information.
Mercury and toxics
Airborne mercury, and other toxic air contaminants, when deposited are known to harm birds, salamanders, fish and other wildlife, and cause human health concerns. These substances enter the food chain and accumulate in the tissue of organisms causing reduced reproductive success, impaired growth and development, and decreased survival.
Concentrations of toxic air contaminants including combustion by-products (PAHs), current-use pesticides (endosulfans, dacthal), and historic-use pesticides (HCB, a-HCH) are elevated in air and vegetation samples from Crater Lake NP (Landers et al. 2010; Landers et al. 2008).
Ground-level ozone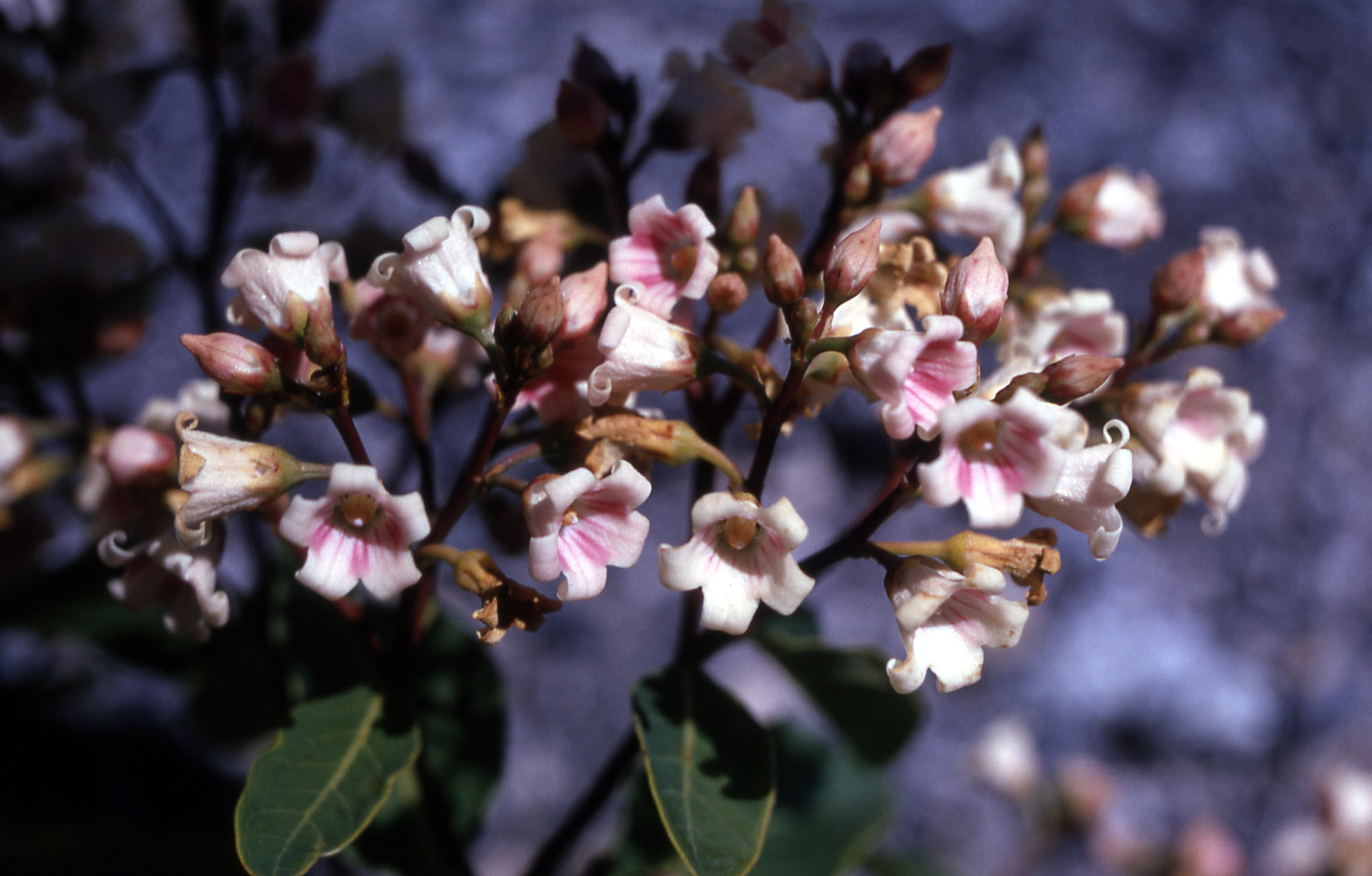 Dogbane is one of the ozone sensitive species found at Crater Lake NP.
At ground level, ozone is harmful to human health and the environment. Ground-level ozone does not come directly from smokestacks or vehicles, but instead is formed when other pollutants, mainly nitrogen oxides and volatile organic compounds, react in the presence of sunlight.
Over the course of a growing season, ozone can damage plant tissues making it harder for plants to produce and store food. It also weakens plants making them less resistant to disease and insect infestations. A risk assessment that considered ozone exposure, soil moisture, and sensitive plant species concluded that plants in Crater Lake NP were at moderate risk for ozone damage (Kohut 2007; Kohut 2004).Some plants are more sensitive to ozone than others. Ozone-sensitive plants in Crater Lake NP include Apocynum androsaemifolium (dogbane), Pinus ponderosa (ponderosa pine), and Populus tremuloides (quaking aspen). Search ozone-sensitive plant species found at Crater Lake NP.
Visit the NPS air quality conditions and trends website for park-specific ozone information.
Visibility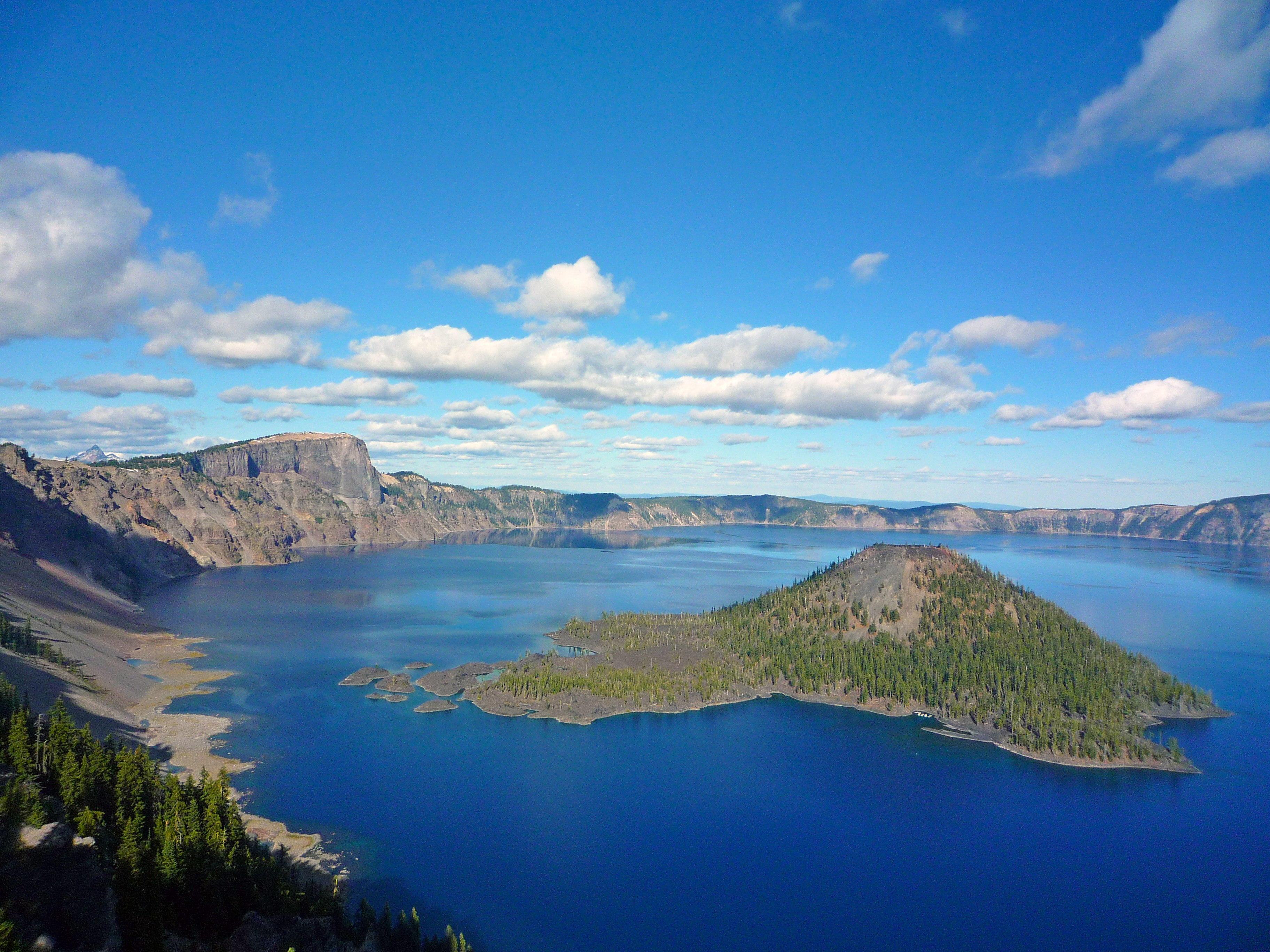 Clean, clear air is essential to appreciating the scenic vistas at Crater Lake NP.
Many visitors come to Crater Lake NP to enjoy vistas of the vivid blue Crater Lake, the deepest lake in the United States. Unfortunately, this scene is sometimes obscured by haze. Visibility reducing haze is caused by tiny particles in the air, and these particles can also affect human health. Many of the same pollutants that ultimately fall out as nitrogen and sulfur deposition contribute to this haze. Organic compounds, soot, and dust reduce visibility as well. Significant improvements in park visibility on clearest days have been documented since the 1990's. There is no significant trend for visibility on haziest days in the park, likely due to the influence of wildfires on these days. Visibility in the park still needs improvement to reach the Clean Air Act goal of no human caused impairment.
Visibility effects:
Reduction of the average natural visual range from about 175 miles (without the effects of pollution) to about 140 miles because of pollution at the park
Reduction of the visual range to below 70 miles on high pollution days
Visit the NPS air quality conditions and trends website for park-specific visibility information. Crater Lake NP has been monitoring visibility since 1992. Check out the live webcam and explore air monitoring »
Eilers, J. M., Rose, C. L., Sullivan, T. J. 1994. Status of Air Quality and Effects of Atmospheric Pollutants on Ecosystems in the Pacific Northwest Region of the National Park Service. NPS Final Report. 255 pp. Crater Lake National Park. Available at https://irma.nps.gov/DataStore/Reference/Profile/547259
Kohut R.J. 2007. Ozone Risk Assessment for Vital Signs Monitoring Networks, Appalachian National Scenic Trail, and Natchez Trace National Scenic Trail. NPS/NRPC/ARD/NRTR—2007/001. National Park Service. Fort Collins, Colorado. Available at https://www.nps.gov/articles/ozone-risk-assessment.htm
Landers, D. H., Simonich, S. M., Jaffe, D., Geiser, L., Campbell, D. H., Schwindt, A., Schreck, C., Kent, M., Hafner, W., Taylor, H. E., Hageman, K., Usenko, S., Ackerman, L., Schrlau, J., Rose, N., Blett, T., Erway, M. M. 2010. The Western Airborne Contaminant Assessment Project (WACAP): An Interdisciplinary Evaluation of the Impacts of Airborne Contaminants in Western U.S. National Parks. Environmental Science and Technology 44: 855–859.
Landers, D. H., S. L. Simonich, D. A. Jaffe, L. H. Geiser, D. H. Campbell, A. R. Schwindt, C. B. Schreck, M. L. Kent, W. D. Hafner, H. E. Taylor, K. J. Hageman, S. Usenko, L. K. Ackerman, J. E. Schrlau, N. L. Rose, T. F. Blett, and M. M. Erway. 2008. The Fate, Transport, and Ecological Impacts of Airborne Contaminants in Western National Parks (USA). EPA/600/R—07/138. U.S. Environmental Protection Agency, Office of Research and Development, NHEERL, Western Ecology Division, Corvallis, Oregon. Available at https://www.nature.nps.gov/air/studies/air_toxics/WACAPreport.cfm

Porter, E., Blett, T., Potter, D.U., Huber, C. 2005. Protecting resources on federal lands: Implications of critical loads for atmospheric deposition of nitrogen and sulfur. BioScience 55(7): 603–612. https://doi.org/10.1641/0006-3568(2005)055[0603:PROFLI]2.0.CO;2
Sullivan, T. J., McDonnell, T. C., McPherson, G. T., Mackey, S. D., Moore, D. 2011a. Evaluation of the sensitivity of inventory and monitoring national parks to nutrient enrichment effects from atmospheric nitrogen deposition: main report. Natural Resource Report NPS/NRPC/ARD/NRR—2011/313. National Park Service, Denver, Colorado. Available at https://www.nps.gov/articles/nitrogen-risk-assessment.htm
Sullivan, T. J., McPherson, G. T., McDonnell, T. C., Mackey, S. D., Moore, D. 2011b. Evaluation of the sensitivity of inventory and monitoring national parks to acidification effects from atmospheric sulfur and nitrogen deposition: Klamath Network (KLMN). Natural Resource Report NPS/NRPC/ARD/NRR—2011/349. National Park Service, Denver, Colorado. Available at https://irma.nps.gov/DataStore/Reference/Profile/2170588
Sullivan, T. J., McPherson, G. T., McDonnell, T. C., Mackey, S. D., Moore, D. 2011c. Evaluation of the sensitivity of inventory and monitoring national parks to acidification effects from atmospheric sulfur and nitrogen deposition: main report. Natural Resource Report NPS/NRPC/ARD/NRR—2011/349. National Park Service, Denver, Colorado. Available at https://www.nps.gov/articles/acidification-risk-assessment.htm
Sullivan, T. J., McPherson, G. T., McDonnell, T. C., Mackey, S. D., Moore, D. 2011d. Evaluation of the sensitivity of inventory and monitoring national parks to acidification effects from atmospheric sulfur and nitrogen deposition: Klamath Network (KLMN). Natural Resource Report NPS/NRPC/ARD/NRR—2011/360. National Park Service, Denver, Colorado. Available at https://irma.nps.gov/DataStore/Reference/Profile/2170588
Sullivan T.J. 2016. Air quality related values (AQRVs) in national parks: Effects from ozone; visibility reducing particles; and atmospheric deposition of acids, nutrients and toxics. Natural Resource Report. NPS/NRSS/ARD/NRR—2016/1196. National Park Service. Fort Collins, Colorado. Available at https://www.nps.gov/articles/aqrv-assessment.htm