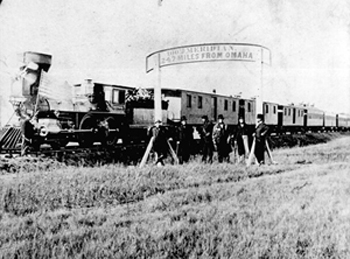 The American West is distinctive in many ways--from its expansive prairies and towering mountains, to its red-rock canyons and flat-topped buttes. Yet one factor above all else sets it apart from other geographic regions of the United States: its lack of precipitation. The West seemed so parched and desolate to 19th-century explorers that maps labeled it the Great American Desert. Today, we still know parts of it as Death Valley, a place so hot and dry that visitors are advised to drink at least one gallon of water a day to replace loss from perspiration.

Lack of rainfall always has been a defining problem in the American West. Long before Europeans arrived, predecessors to the Hohokam people migrated from central Mexico to southern Arizona, bringing domesticated crops and their knowledge of irrigation with them. The Hohokam created an extensive canal system and irrigated thousands of acres along the Salt River. Their descendants, Akimel and Tohono O'od, constructed networks of diversion dikes to capture runoff rainwater to cultivate their fields. When the Spanish arrived in the 17th and 18th centuries, mission priests enhanced Native American efforts by expanding and building new rock dams and small, earthen reservoirs. 

In the 1840s, members of the Church of Jesus Christ of Latter-day Saints, the Mormons, migrated to the West and settled in small villages surrounded by intensively cultivated fields. The Mormons succeeded by working as a community and putting aside individual interests for the greater good of all. Their success in Utah demonstrated that American homesteaders could flourish in the desert. Despite differences in the social response to creating a vibrant farming economy, from the beginning, American settlers in the West recognized that successful farms usually depended on irrigation. As early as 1867, bills were introduced in Congress to encourage irrigation and reclamation of unproductive land and, in 1877, the Desert Land Act linked irrigation to grants of public land. 

Congress also authorized studies of the West's geology and water supply, which culminated in comprehensive reports. Most influential was John Wesley Powell's 1878 Report on the Lands of the Arid Region of the United States, in which he called for planned development of water and land resources in the West. Powell, famous for his explorations of the Colorado River, identified the 100th meridian, an imaginary longitudinal line running through the heart of the Dakotas and south through Nebraska, Kansas, and Oklahoma, and then into Texas, as the point roughly dividing the moist East from the arid West. East of the line, annual precipitation exceeds 20 inches, making it possible to grow crops without irrigating. West of the line (with exceptions such as the Pacific Northwest), annual precipitation measures below 20 inches and can drop to under 5 inches in places such as Nevada's Carson Desert. For Western settlement to succeed, Powell argued, the Federal Government must control the West's rivers, irrigate its arid lands, and equitably distribute its water. In 1888, Congress appropriated $100,000 for Powell and his men at the decade-old U.S. Geological Survey to begin surveying places for possible irrigation works. 

The movement calling for Federal involvement in reclamation found a strong advocate in Francis G. Newlands, who moved to Nevada in 1888 and soon launched the Truckee Irrigation Project, which he envisioned would create a "new" Nevada through irrigation. Like many other private projects, however, it fell flat, doomed by squabbling financiers and Nevada legislators. In 1893, when Newlands became Nevada's representative in Congress, he still believed in his dream for Nevada, but now he was in a position to secure Federal help to make it come true.