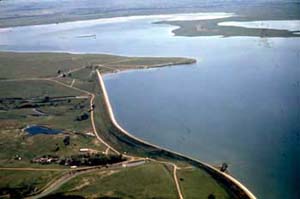 On June 28, 1897, the Sundance Kid and four other outlaws robbed the Butte County Bank in Belle Fourche, South Dakota. They made off with only $87 and ended up getting captured in the botched robbery, which turned into a comedy of errors. In those Old West days, Belle Fourche (pronounced Bell FOOSH) was shipping 2,500 carloads of cattle every month, making it the agricultural center of the Tri State area of northwestern South Dakota, northeastern Wyoming, and southeastern Montana and, apparently, an attractive target for would-be bank robbers. 

While large ranches and railroad corporations dominated the aptly named Butte County in the 1890s, farmers also called Belle Fourche home. Even before construction began in 1905 on Belle Fourche Dam--at the time the largest rolled earthfill dam in the world--local companies had built small irrigation works to divert water from the nearby Redwater and Belle Fourche rivers. The "beautiful forks" (or Belle Fourche in French) of the two rivers seemed a prime spot for a dam when Congress passed the Reclamation Act of 1902, which committed the Federal Government to build irrigation works--dams, canals, and reservoirs--in 16 arid and semi-arid states in the West, including South Dakota. The citizens of Butte County wasted no time; they recommended their beautiful forks to the Secretary of the Interior, and by July 1903, engineers with the brand new U.S. Reclamation Service began investigating the Belle Fourche River watershed for irrigation works. 

The Belle Fourche, a tributary of the Cheyenne River, rises in northeastern Wyoming and flows past Devils Tower National Monument before turning abruptly southeast as it crosses the border into South Dakota. The river flows past the town of Belle Fourche, population 4,600, and around the northern side of the Black Hills before joining the Cheyenne River 50 miles from Rapid City. In February 1904, Reclamation surveys estimated that 90,000 acres could be irrigated from the river's flow--73,000 acres on the north side of the Belle Fourche and 17,000 acres on the south side. On May 10, 1904, the Belle Fourche Project received the go-ahead, and within the month, area residents formed the Belle Fourche Valley Water Users' Association to negotiate a repayment contract with the Federal Government.