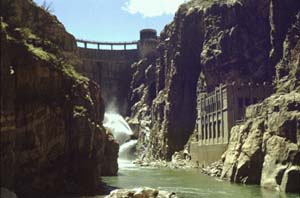 Construction of Buffalo Bill Dam, six miles west of Cody, Wyoming, was the key that opened about 90,000 acres in northwestern Wyoming to irrigated farming. So dry and forbidding was this part of the state that it was one of the last regions in the United States to be settled. It wasn't until the 1890s, with dreams of irrigating the region and turning it into productive farmland, that a significant number of people began to settle there. Among the visionaries were William F. "Buffalo Bill" Cody and a group of investors who formed the Shoshone Land and Irrigation Company, founded the town of Cody, and acquired water rights from the Shoshone River to irrigate 60,000 acres. When the project proved cost prohibitive, the Wyoming State Board of Land Commissioners turned to the Federal Government for help. In early 1904, Buffalo Bill transferred his water rights to the Secretary of the Interior, and that July exploratory drilling began for Shoshone Dam--renamed Buffalo Bill Dam in 1946 in commemoration of the one hundredth anniversary of Cody's birth.

When completed in 1910, Buffalo Bill Dam stood as an engineering marvel, one of the first concrete arch dams built in the United States. At 325 feet high, it also was the highest dam in the world (surpassing New York's Croton Dam). Buffalo Bill Dam was an American triumph touted, along with completion of the Panama Canal, at the 1915 Panama-Pacific International Exposition in San Francisco. Here the U.S. Reclamation Service, barely a dozen years old, erected an exhibit featuring an idyllic forty-acre irrigated farmstead set in a desert valley rimmed by beautiful mountains. This was Wyoming's Bighorn Basin modified to serve human needs through construction of Buffalo Bill Dam, a structure so significant that it was listed on the National Register of Historic Places within the first five years of the register's creation. 

The dam was part of the Shoshone Project, which comprised a system of tunnels, canals, diversion dams, and Buffalo Bill Reservoir. Today, the project irrigates more than 93,000 acres, where principal crops are beans, alfalfa, oats, barley, and sugar beets. Although the number of irrigated acres never reached the 150,000 acres originally projected by project proponents, the figure has increased steadily over the years: from 25,753 acres in 1915 to 41,331 acres in 1928 to 77,560 acres in 1953.