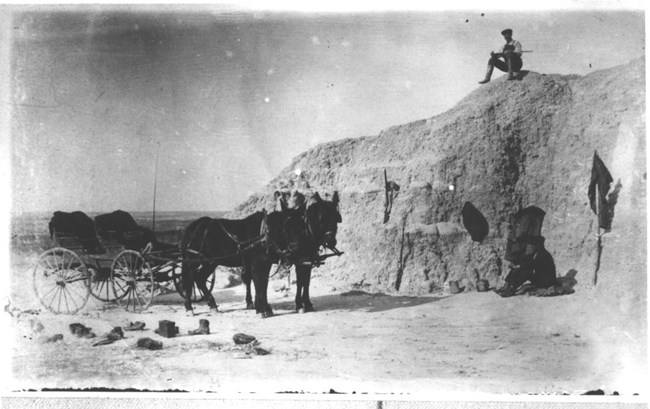 Were women involved with early paleontology expeditions in the Badlands?
During the 19th century, the plains of the Midwest experienced a rush of paleontologists eager to explore the fossil resources of the region. Famous scientists such as Joseph Leidy (Academy of Natural Sciences and University of Pennsylvania), Othniel Charles Marsh (Yale University), and Edward Drinker Cope (University of Pennsylvania) all made their way through the Badlands -- but there is no documentation of any women accompanying them on their excursions to the park.
In the early years of Badlands paleontology, there were essentially no women to be found. Men dominated a field which was characterized by strenuous trips over rugged terrain to complete the very physical work of fossil excavation. At the time, this was not considered work fit for women. Moreover, very few women had access to education that would have prepared them for such work. It took many years before women had access to scientific professions, and even more before they had influence in them.
How did women make their mark on other paleontology sites in the National Park Service?
Many women throughout the nation and the world made important contributions to paleontology in its earlier stages. Although there are no women involved with the history of paleontology in the Badlands, women had work that impacted other National Park Service sites:
Eleanor Barbour Cook (1889-1975) married into the family that owned Agate Springs Ranch (now Agate Fossil Beds National Monument), was a distinguished paleontologist of the area. She worked as a professor and curator of paleontology at Chadron State College and led field expeditions in the Agate Fossil Hills, furthering paleontological understanding of that region with every trip.
Paleontologist Annie Montague Alexander led an expedition into Petrified Forest National Park with Louise Kellogg in 1921. As the founder of the University of California's Museum of Paleontology, she encouraged many collaborations between the university and park to further paleontological research.
More recently, paleontologist Dr. Estella Leopold joined botanist Dr. Beatrice Willard and citizen Vim Wright in fiercely protecting the paleontology of Florissant Fossil Beds under federal law. Together in the 1960s, these women founded a group called Defenders of Florissant, which won legislative battles to protect the fossils of Florissant and earn designation as a National Monument.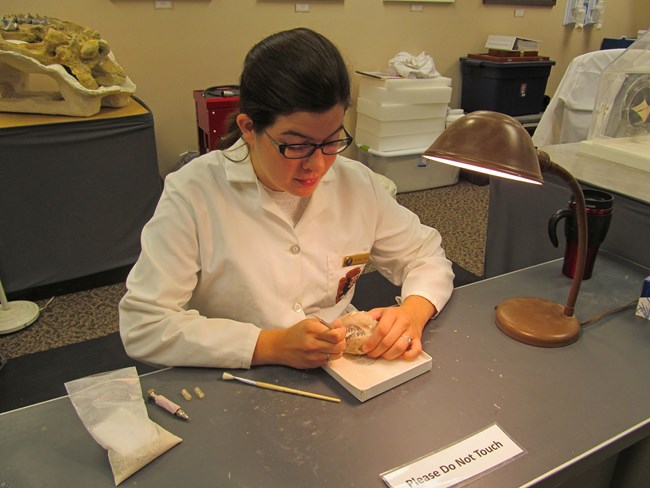 Do female paleontologists work in the Badlands today?
Although paleontology as a profession was not always open to women, many women are involved with Badlands paleontology today! The first permanent park paleontologist for the Badlands was Rachel Benton, who managed fossil resources from 1994 to her retirement in 2018. The current park paleontologist is Ellen Starck, who worked on the park's Big Pig Dig and currently manages fossil excavations, preparations, and study. Of the two permanent park paleontologists in Badlands history, both are women. And beyond the Badlands, many National Park Service units (such as Dinosaur National Monument and Waco Mammoth National Monument) are welcoming women into their ranks as paleontologists.
Badlands National Park also provides opportunities for students to get involved through the Geoscientists-in-Parks (GIP) internship program, and many participants are women. In 2020, five out of the six GIP interns in the Badlands were women. These interns dedicate their time to fossil excavation, preparation, and education. Many of these paleontologists work alongside other women in the Fossil Preparation Lab, where they remove rock to reveal the many fantastic fossils of the Badlands.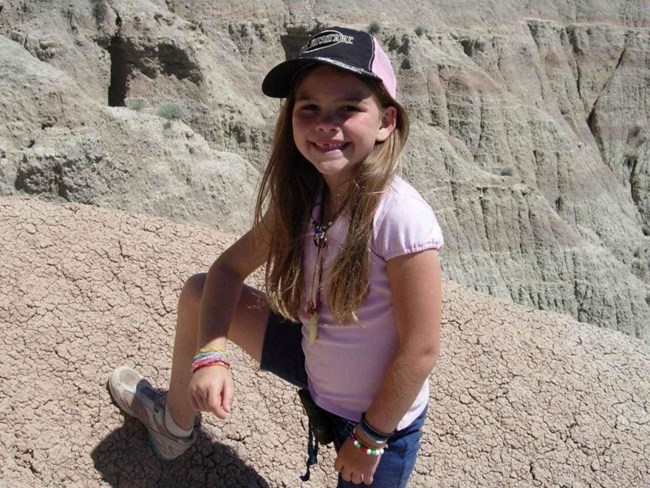 On top of employees, many female visitors make contributions to Badlands paleontology! In 2010, a seven-year-old girl named Kylie Ferguson found a complete fossil nimravid skull. She had attended a Junior Ranger Program that day and knew to do the right thing -- she left the skull in the ground where she found it and told a park ranger so that professional paleontologists could come examine it. Nimravids were sabertooth cat-like creatures that roamed the Badlands around 30 million years ago, and their fossils are rare in the Badlands. Kylie's fossil find was an important one for Badlands paleontology! If you know a kid who is interested in paleontology, have them become a Junior Paleontologist by completing a fun-filled book of fossil activities to earn their own badge.