Article
Good Times in the Badlands—Science, Education, and Public Interpretation in a Unique Fossil Preparation Lab

Article by Phil Varela and Mary C. Carpenter, Badlands National Park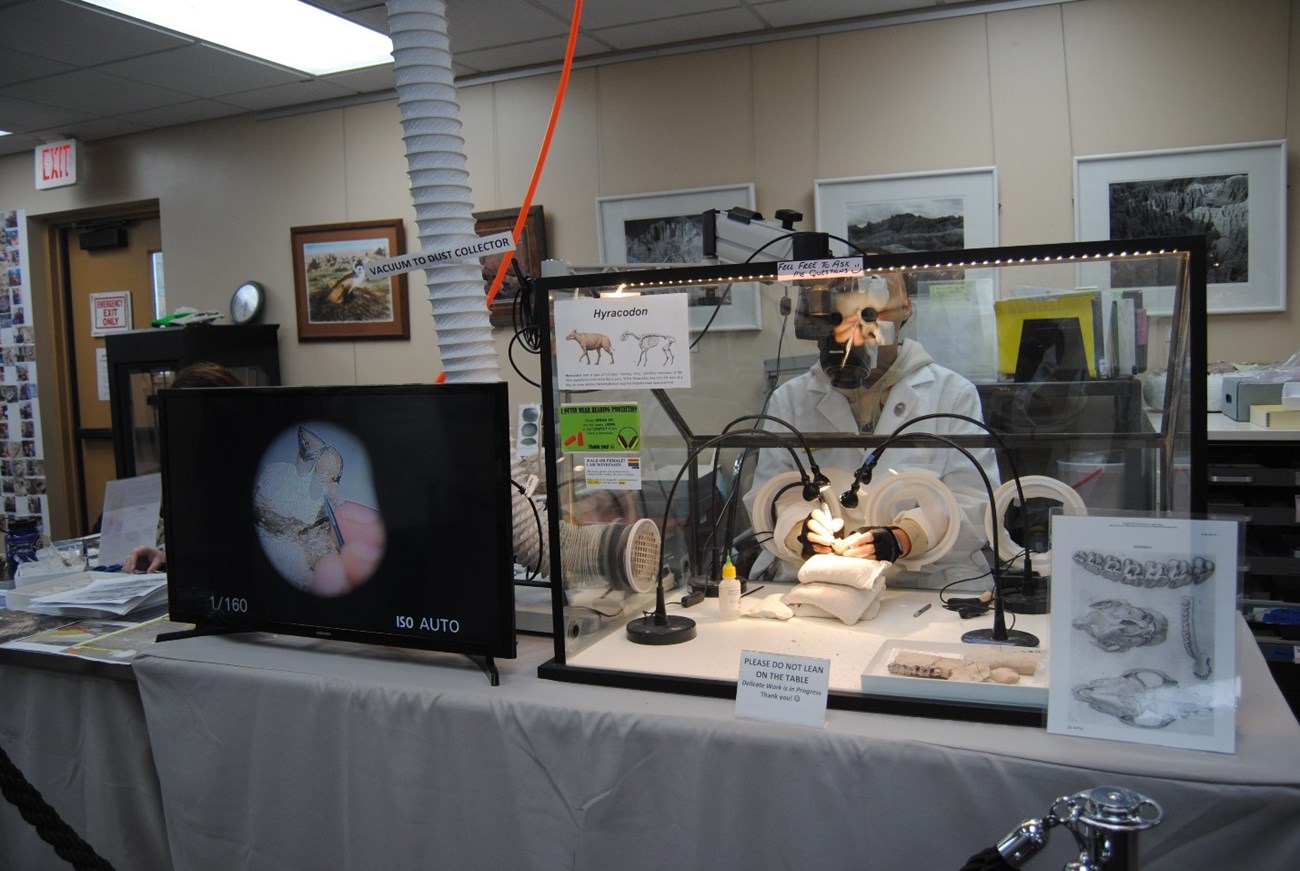 Badlands National Park is home to one of the world's richest fossil mammal beds from the late Eocene and early Oligocene epochs. Since the mid-1800s, the fossils found in the Badlands of South Dakota have fascinated not only paleontologists but also countless members of the public. These abundant fossil resources have put Badlands National Park in a unique position to provide for paleontological research and wide-scale science based public education and outreach.
Following the discovery of a significant saber tooth cat-like skull (Hoplophoneus primaevus, Family: Nimravidae) in 2012, the Badlands Fossil Preparation Lab opened to the visiting public to showcase fossil preparation work. Originally intended to be open as a publically viewable component for Saber Site quarry work, it was so popular with park visitors that the lab has been open every summer since, and continues to grow in popularity.
The Badlands National Park Fossil Preparation Lab has developed into a world class fossil preparation and conservation laboratory equipped with the latest tools and technology for fossil preparation in a public setting. This includes the use of microscopes for all fossil preparation work within contained chambers, live feeds from camera-mounted microscopes to TV monitors for public viewing, and a variety of high quality air scribes to complete work on diverse projects (Figure 1).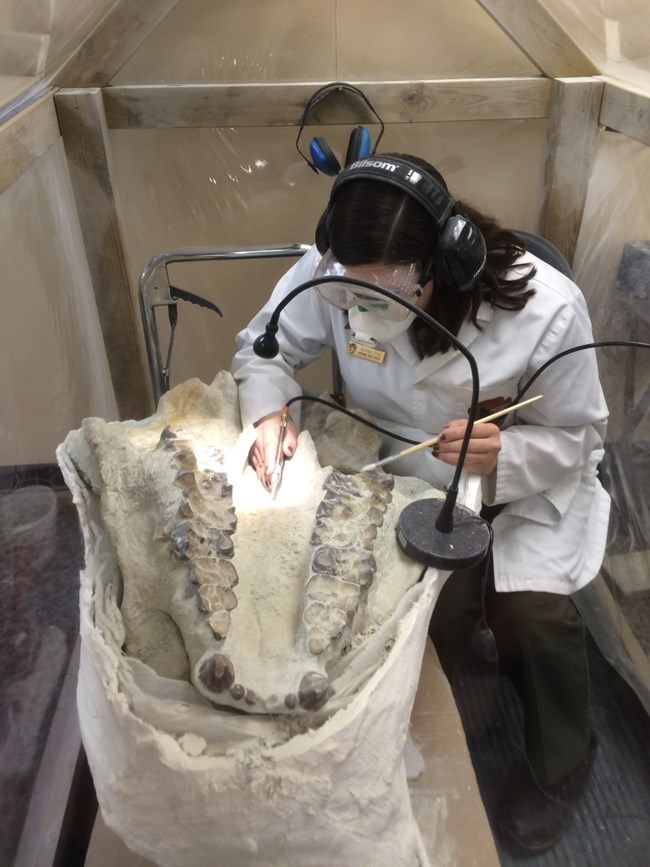 Uniquely, the lab has also grown to provide for the largest interpretive program that the park offers. Unlike any other fossil preparation lab in the National Park Service, the visiting public is invited inside the lab to observe work up close. In order to provide a safe and comfortable environment for visitors, the lab is equipped with an air filtration system and all work is conducted in preparation chambers to contain dust and debris. For specimens larger than the standard chamber size, we have custom built an oversize chamber to allow the paleontologist to enter with a respirator and eye/ear protection to work in a safe environment while still being viewable (Figure 2). We use an ultra-quiet Silent-Aire air compressor and a Donaldson Torit dust collector fitted with a sound dampener to reduce noise. This allows for normal conversations to occur with visitors in the same room as all the equipment.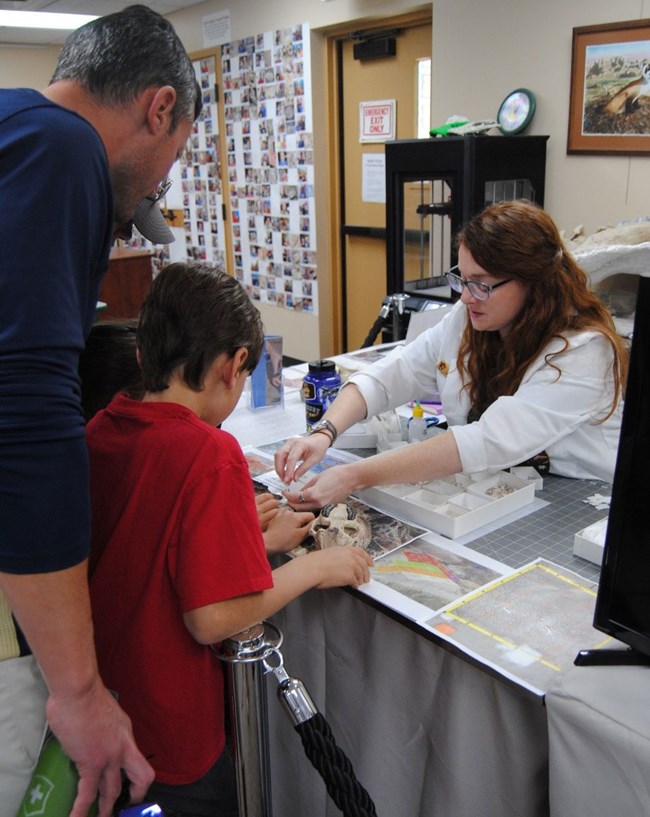 Lab staff typically includes two seasonal paleontologists trained in fossil preparation and two paleontology interns through the Geoscientist-in-Parks (GIP) program (Figure 3). Interpretive park rangers are also scheduled to be in the lab to field questions and talk to visitors, which reduces the burden of the fossil preparators who may be interrupted frequently. Visitors are able to stay in the lab as long as they want to have conversations with interpreters and paleontologists about any topic ranging from park geology, paleontology, paleo-climate, flora, fauna, history, and more. Some visitors just stay to observe the work being done, sometimes coming in multiple times a day or over several days to check up on work progress.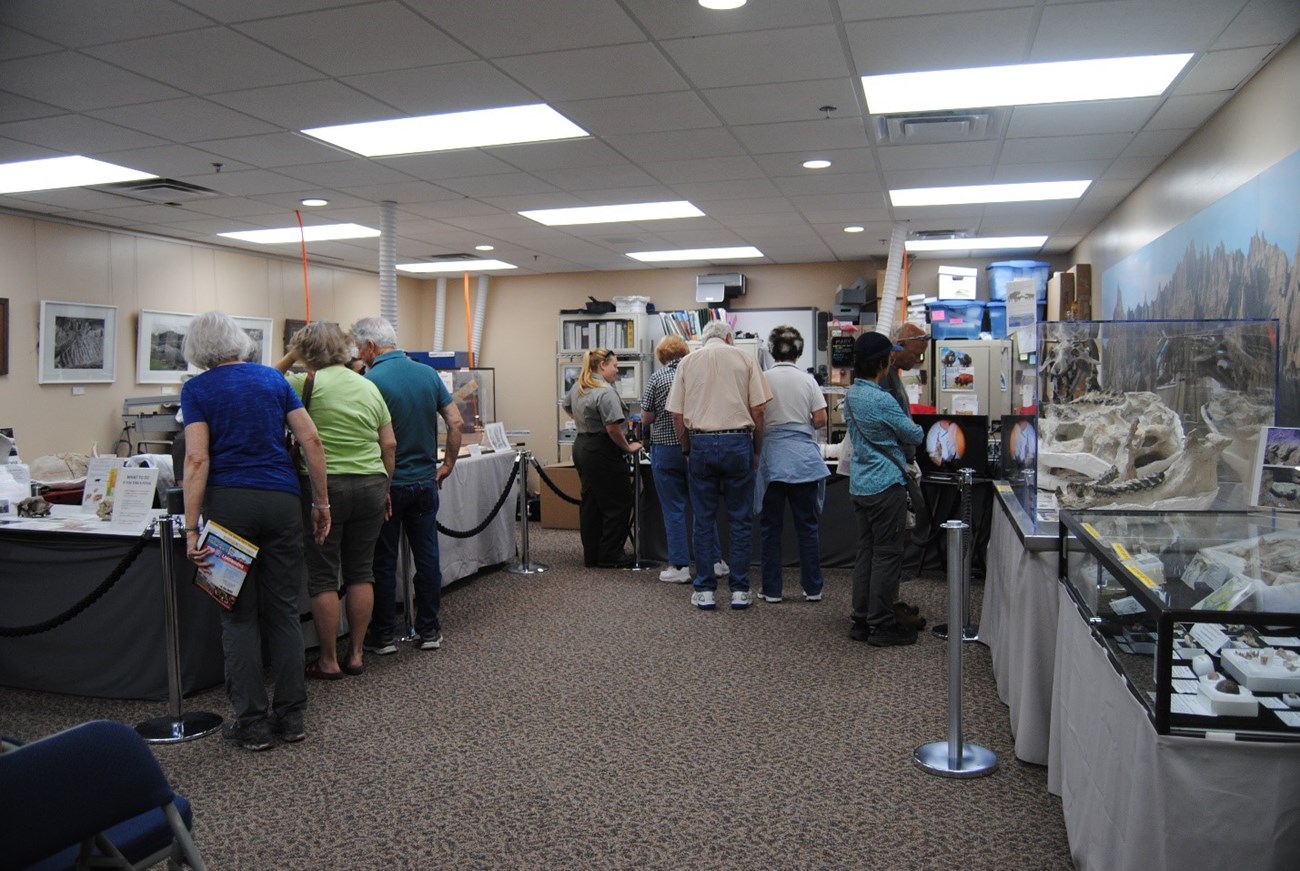 The fossil preparation lab also houses temporary paleontology exhibits in secure display cases which showcase projects completed by park paleontologists over the years. The preparation lab is one of the only places (aside from the natural environment outdoors) where visitors can see real fossils on display in the park (Figure 4). A museum quality specimen cabinet securely houses all of the specimens being worked on and brought in from the field during excavation season. This allows fossil preparators to work on newly collected fossils almost immediately, providing an exciting opportunity for visitors to observe the process of fossil collection from excavation to preparation, curation, and exhibition.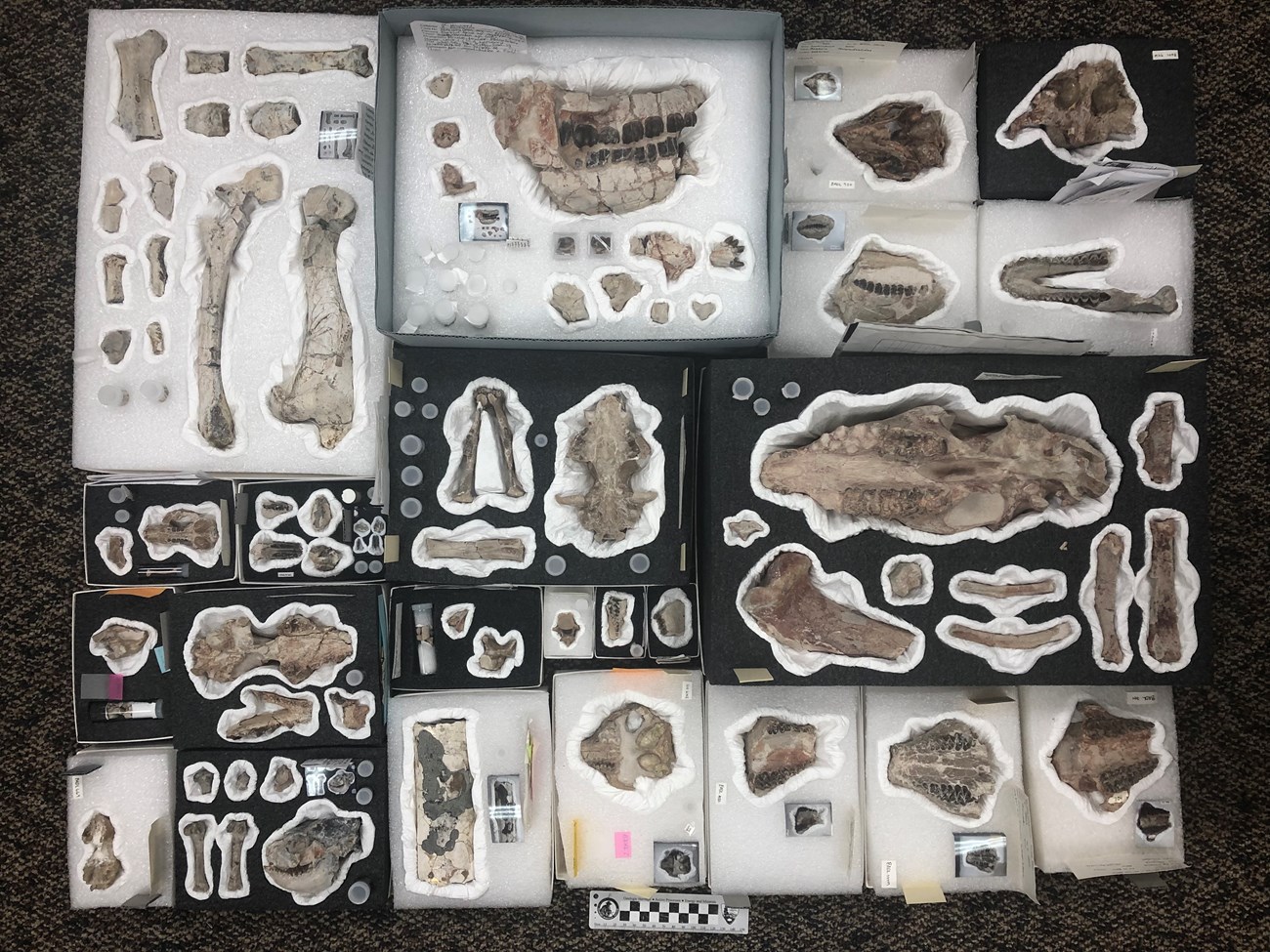 To date, over 220 specimens from at least 75 different species have been prepared in the lab. These include typical White River Group fauna including several genera of oreodonts (e.g. Merycoidodon, Leptauchenia, Miniochoerus, Agriochoerus, and Subdesmatochoerus), fossil horses (e.g. Mesohippus), fossil rhinos (e.g. Subhyracodon, Hyracodon, Trigonias), brontotheres (e.g. Megacerops), entelodonts (e.g. Archaeotherium), saber tooth cat-like predators (e.g. Hoplophoneus, Dinictis, Pogonodon), early dogs (e.g. Hesperocyon, Cynodesmus, Archaeocyon) and other carnivores (i.e. Daphoenus, Hyaenodon), and many more including small rodents, insectivores, reptiles, amphibians, mollusks, fish, and plants (Figure 5).
Typically operating between June and September each year, the fossil preparation lab receives tens of thousands of visitors each summer. In 2019 we hit a record mark, receiving over 71,000 visitors in the four month season. This is a dramatic increase from almost 39,000 visitors in its opening season. To date, the lab has received almost 400,000 visitors. Continuing to grow in popularity, the lab sees about 25% of all visitors to the Ben Reifel Visitor Center between June and September.
The emphasis on visitor interaction with paleontologists at Badlands has resulted in the development of a one-of-a-kind relationship between scientists and the general public, not experienced elsewhere in the National Park Service. As a result of learning about fossil preparation and conservation, visitors are able to directly contribute to the protection of fossil resources and the science of paleontology by reporting fossil finds to rangers and lab scientists through the Visitor Site Report (VSR) program.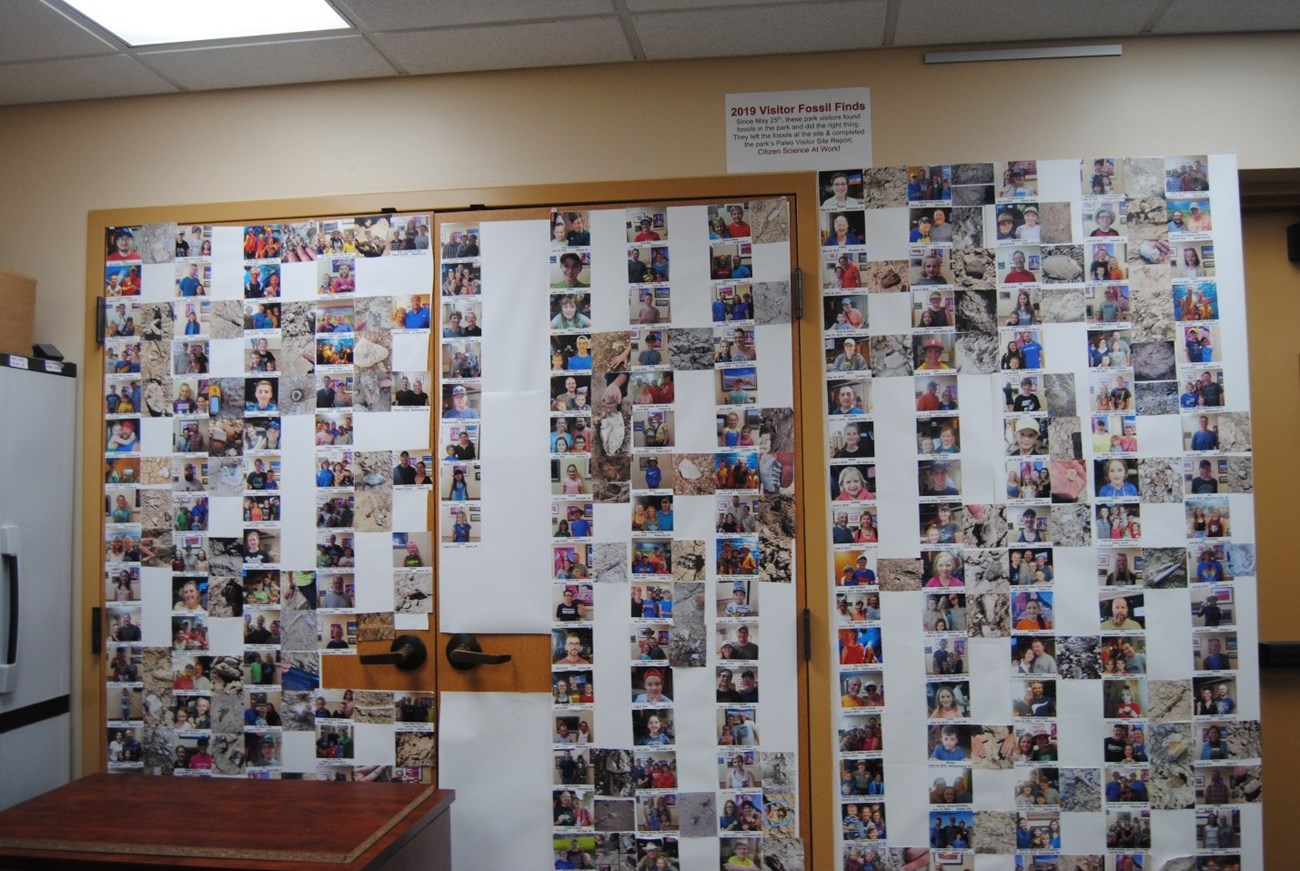 Over 375 fossils have been reported by visitors in 2019 alone (Figure 6). Sometimes, these discoveries are scientifically significant and are eventually collected and prepared in the fossil preparation lab, often within days or weeks of being reported. Notable examples of scientifically significant fossils collected as a result of the VSR program over the past few years include fossils previously unknown from Badlands National Park such as: Osbornodon renjiei, Philotrox condoni, and Leptomeryx elissae. Paleontology staff at Badlands National Park make a concerted effort to reach out to every visitor who reports a fossil to provide more information about their discovery and to update them on the status of work being completed.
The VSR program has grown to be the largest "Citizen Science Program" offered by Badlands National Park. Hundreds of fossils are discovered each year by park visitors who are taught the importance of leaving fossils in place and reporting their discovery to a park ranger. The fossil preparation lab has thus become the main contact point between visitors, park rangers, paleontologists, and law enforcement to educate on paleontological resource protection and preservation. The VSR program provides a unique experience for visitors to learn about a resource they may have previously not known, while also contributing to science and enjoying their National Park.
The Badlands Fossil Preparation Lab is located in the Ben Reifel Visitor Center at Badlands National Park (Interior, South Dakota). It is open seven days a week, 9 a.m. to 4:30 p.m. from early June through mid-September.
For more information:
Benton, R.C., Terry Jr., D.O., Evanoff, E., McDonald, H.G., 2015, The White River Badlands: Geology and Paleontology, 222pp, Indiana University Press, Bloomington and Indianapolis.

Welsh, E. 2014. The First Record of Osbornodon (Carnivora: Canidae) from the Orellan of South Dakota. Proceedings of the South Dakota Academy of Science 93:43-53.
Last updated: October 7, 2020