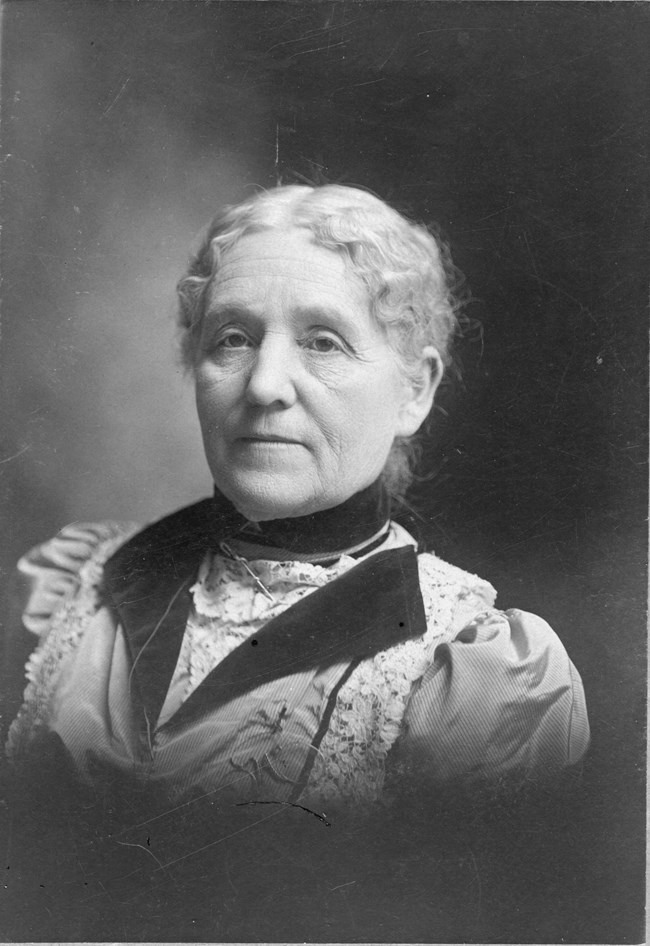 Mary Eliza Graham moved from Three Rivers, MI to Cheyenne, WY with her husband, Dr. E. B. Graham, and two daughters for his health in 1861. As most young women of that age she had learned to spin and weave and dye and sew the woven cloth, she cooked and preserved all the products grown on her family's farm, made candles, churned butter and many other tasks that served her well in her move west. She was active in the woman's suffrage movement with Susan B. Anthony.
When Graham homesteaded on the Niobrara River the family spent time between the O4 Ranch and Cheyenne. Mary and the two daughters, Clara and Kate, were the first women to make a permanent home in Sioux County. She later lived with her daughter Kate and James Cook after he bought the ranch and renamed it Agate Springs Ranch. She managed the household for many years, led religious services for cowboys on the ranch. She delivered babies and nursed pioneer mothers through the critical time of childbirth. Mrs. Graham typified the finest in pioneer women, bringing with her beauty, kindliness, self-sacrifice, devotion, and a pride in maintaining the best in family life, home-making and loyalty and faith in those she loved. In 1892 Mrs. Graham became the first Postmaster at the Agate Post Office and kept the first official weather station at Agate.
Her last years were spent in California near her oldest daughter, Clara Heath. Her remarkable vitality, inherited from her pioneer ancestors prolonged her life to a great age of 96. Mary Eliza Hutchinson Graham is one of America's great women in history.