Article
Physical Benefits of the National Parks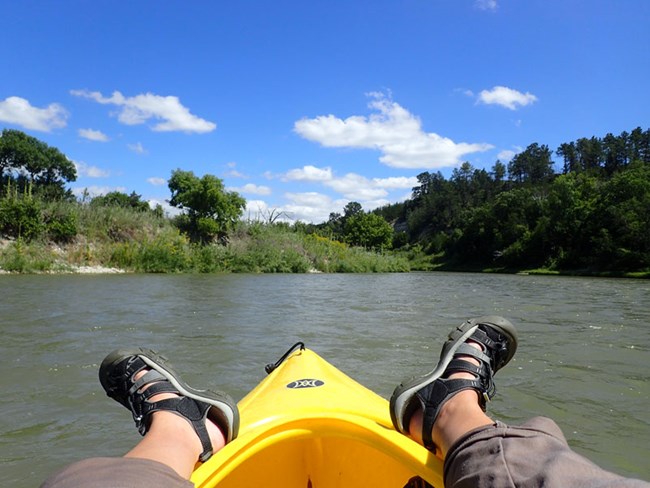 How are those New Year's Resolutions going?

We hope you've crushed them so far!

Improving your physical health is a common New Year's Resolution that often gets lost the further into the year we get. Don't be discouraged! Your upcoming trip to Niobrara National Scenic River or another National Park can be your "reset button" to improving your physical health this year and the parks are here to help you achieve your goals.

The National Parks offer countless ways to get outside and get active in the way that works best for you! It's hard to meet a goal or resolution when you don't like "How" you've chosen to get there. Take a look at the activities you already like to do - maybe you like to hike or bike – and use them to your advantage! Plan an exciting biking trip on the Cowboy Trail to help you stay committed to your goal.

If you are scrolling through adventure ideas for this year and don't know where to start, make a bucket list of trips that also support your goal to improve your physical health! Floating the Niobrara River is a relaxing experience but still burns calories. You could plan a float trip and make a weekend getaway out of exploring other active things to do at Niobrara National Scenic River that pair well with your goals.

By pairing things you are excited to do with your desire to become more physically healthy, you don't have to worry about being motivated, you just have to show up ready for an experience you were excited about and by chance also supports your goal!

It sounds simple because it can be. Small steps, like taking a hike, can improve your health in big ways, but you don't have to look at it as "exercising". You can look at it as an item on your bucket list, like seeing one of our waterfalls, and the rest will take care of itself! As a sidenote, we love the Fort Falls Trail and Jim MacAllister Trails along the Niobrara River, if finding a cool view is on your bucket list.

Your body can gain energy, burn calories, increase your bone strength, reduce stress and boost your immune system all by just checking off things on your adventure list!
Children and Nature Network. 2016. Nature can improve health and wellbeing. Infographic. C+NN_NatureImprove_16-10-27_newlogo (childrenandnature.org)
Children and Nature Network. 2020. Research Digest: Environmental Living, Physical Activity, Health-Care Initiatives. December Research Digest: Health Benefits of Nature Contact (mailchi.mp)
Kulie T., Groff A., Redmer J., Hounshell J., and Schrager S. 2009. Vitamin D: An Evidence-Based Review. The Journal of the American Board of Family Medicine. 22(6):698-706; DOI: 10.3122/jabfm.2009.06.090037
Natural Environmental Education Foundation. 2012. Children and Nature: Being active in nature makes kids healthier. Infographic. Children and Nature Infographic | NEEF (neefusa.org)
Park BJ, Tsunetsugu Y, Kasetani T, Kagawa T, Miyazaki Y. 2010. The physiological effects of Shinrin-yoku (taking in the forest atmosphere or forest bathing): evidence from field experiments in 24 forests across Japan. Environ Health Prev Med.15(1):18-26. doi: 10.1007/s12199-009-0086-9.
Learn More about how the National Parks can help your Health:
Last updated: January 25, 2021