Article
Finding Wellness in the National Parks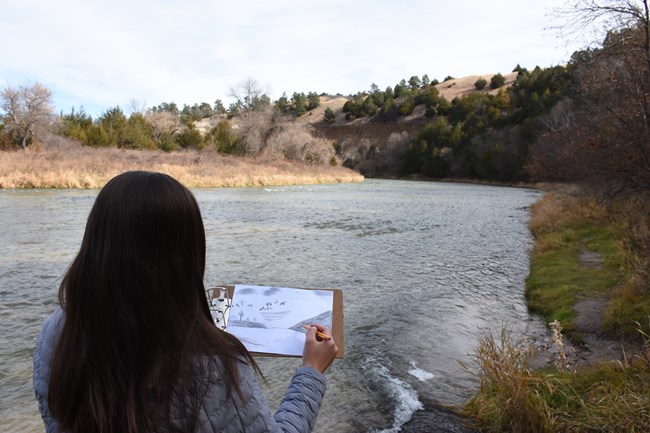 What's wellness got to do with my National Park Experience?
Niobrara National Scenic River and the National Parks are great outlets for engaging in wellness and healthy practices.
Wellness is sometimes defined as the state of being in good health. Each person has their own way of tapping into habits of good health. Different things that relieve stress, anxiety, and support healthy bodies and minds. Wellness has a general focus on whole-person health, integrating physical, mental, social, and other aspects of life. The National Parks offer a variety of ways to get involved and take wellness home with you.
At Niobrara National Scenic River, you can engage in your hobbies, like art, hiking, biking, and volunteering. Hobbies are a great way to pause and be present in an activity that you enjoy. Paddling is one of our favorite hobbies because all you can do while you float, is float! You can't make the river flow any faster, so sit back and enjoy the ride. Take some pictures, find shapes in the clouds, and disconnect from technology (there is not much cell service on the river anyway).
If you like visiting the National Parks for the experience of getting out in nature and breathing fresh air, you might take home a sense of connectedness, a clearer mind and better concentration, reduced stress, and more happiness. Wellness practices can be as simple as sitting and looking out a window at the natural world.
Wellness practices for you could be anything that brings you to a higher state of health, so don't forget your water. Hydration and a short walk to one of the waterfalls along the Niobrara River might set you at ease. Spending time near water could be a great addition to your wellness practices. You could take time to use all five sense to look, listen, smell, taste, and feel where you are at the moment. Doing this in many National Parks as you travel would be a unique perspective and experience! You could even do it at different locations along the 76 miles of Niobrara National Scenic River and call it a "senses tour."
Take time on your visit to engage in wellness, especially if you like to get out in nature to escape the rhythms of everyday responsibilities.
Take a deep breath and reflect. Let us know how Niobrara National Scenic River and other parks are contributing to your good health.
Children and Nature Network. 2016. Nature can improve health and wellbeing. Infographic. C+NN_NatureImprove_16-10-27_newlogo (childrenandnature.org)
Children and Nature Network. 2020. Research Digest: Environmental Living, Physical Activity, Health-Care Initiatives. December Research Digest: Health Benefits of Nature Contact (mailchi.mp)
Natural Environmental Education Foundation. 2012. Children and Nature: Being active in nature makes kids healthier. Infographic. Children and Nature Infographic | NEEF (neefusa.org)
Learn More about how the National Parks can help your Health:
Last updated: January 25, 2021