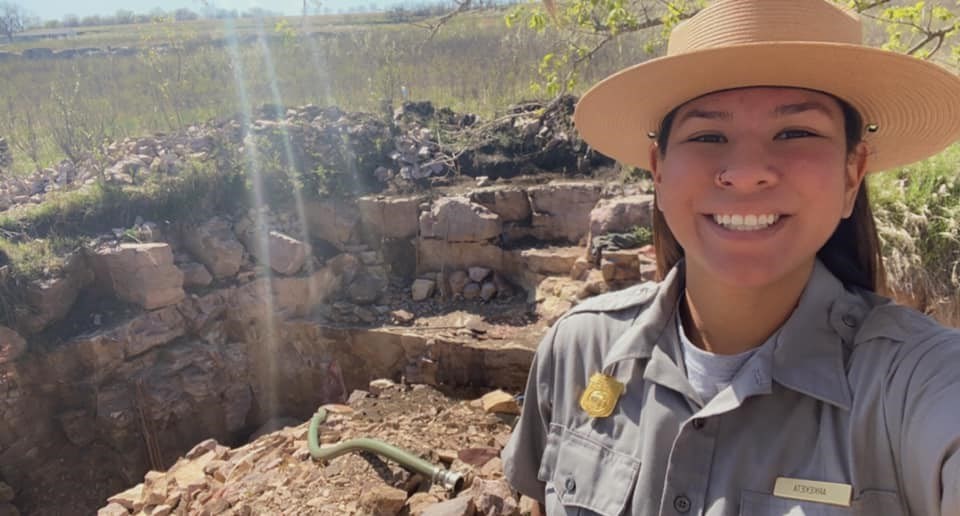 We love sharing stories of youth and young adults who started their journey at the
National Park Service
(NPS) through being part of a service corps or doing an internship. In celebration of
Native American Heritage Month
, we are proud to spotlight Jessica Arkeketa of the Jiwere Nut'achi (Otoe-Missouria) and Muscogee Creek from Tulsa, Oklahoma. She is currently studying Native American Studies at South Dakota State University. After working as a
Stewards Individual Placement
Ancestral Lands Conservation Corps
(ALCC) member, which is a program through
Conservation Legacy
and is part of the
21st Century Conservation Service Corps
, she recently transitioned to a full time role at
Pipestone National Monument
. What was the impact of being part of ALCC? What did she get to do as an intern and now as a Park Ranger at Pipestone National Monument? And what is the importance of her identity as an Indigenous person doing this work? All of these will be unpacked, so read on to hear her story.
Jessica's time with ALCC changed her life. She shares, "I was a little lost before the program and I needed some direction. I was excited for a new beginning but not prepared for what was about to come. Reconnecting with ancestral lands gave me purpose and meaning again." She found out about Conservation Legacy through her tribe's Tribal Historic Preservation Office. These offices have many responsibilities and typically advise Federal agencies on the management of Tribal historic properties, supervise when there are archeological digs or prescribed burns on tribal lands, and conduct surveys and inventories of tribal historic properties.
Once she was accepted into the Stewards Individual Placement Program through Conservation Legacy, she worked six months at Pipestone National Monument. One of the great impacts she noticed from being part of ALCC as a corps member was the personal growth she experienced. She recalls, "I had never done any work like this before. I was able to research, develop, and present interpretive talks and tours focused on the history and culture of Pipestone. I created educational programs for students and developed quarry demonstrations. It was a life changing experience that gave me a second chance. I was able to find deeper meaning within myself and understanding while working where my ancestors once were."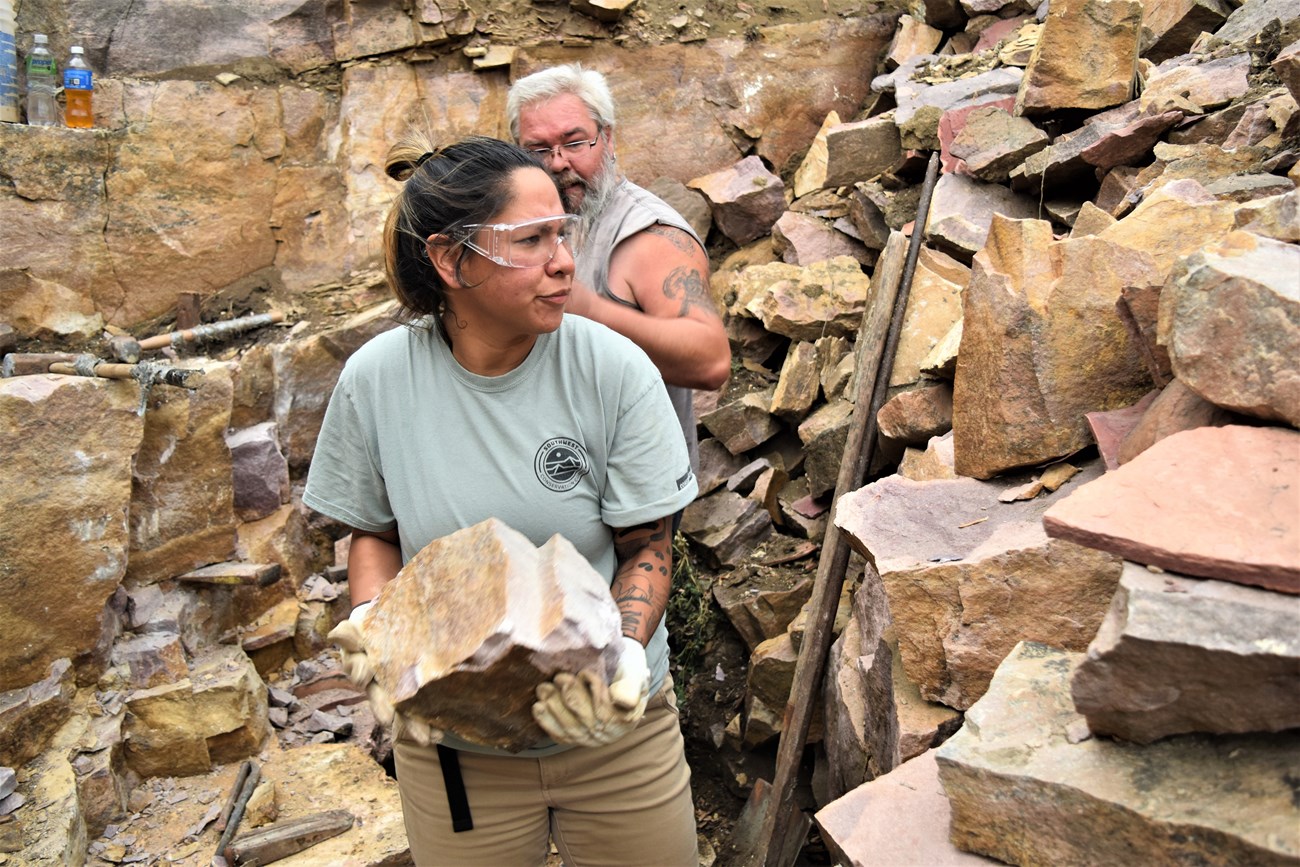 After her internship with ALCC ended, she continued her work at Pipestone National Monument through the
Pathways Program
. Between working on a service corps and working full time as an NPS employee, there are a couple of notable differences. As Cody Goraczkowski, the Supervisory Park Ranger that provided oversight of Jessica explains, "The Conservation Legacy intern program is a great way for interns to get experience working in an NPS site, but it is also a great way for the NPS to meet and work with some very good and talented people. Interns with Conservation Legacy are not NPS employees, but they get to do much of the same work as an NPS employee. An internship program like this may then help the student qualify for an NPS position. The Pathways program is designed for hiring students and recent graduates and are not permanent positions but do provide an opportunity to gain experience towards applying for a permanent position. While there are specific requirements for these positions that need to be met, sometimes interns such as those in the Conservation Legacy program could be hired into a Pathways position after their internship ends."
Jessica's reasons for wanting to continue to work at Pipestone National Monument were numerous. "It is my ancestral homelands. We were once here and quarried for the stone. I enjoy the community and wanted to continue my outreach with working with local tribal youth." Her time as a service corps member allowed her to shape her role using the skills she already possessed and gain new ones simultaneously. Community, collaboration, and communication were important in her daily interactions and in strategically thinking about how to improve interpretive programs. Through her curiosity, energy, and willingness to dive into any new kind of activity, she maximized her experience, as well as the visitor's experience, and the Interpretive operation.
To expand on the importance of community, Natalie Barber, a Park Ranger at Pipestone National Monument, who had worked closely with Jessica from day-to-day, emphasized, "Jessica brought an incredibly friendly and welcoming energy to the park. I could tell where she was in the visitor center by following the sound of visitors laughing or engaged in animated conversations. She engages so naturally and amicably with people (staff included) that she made everyone feel at home regardless of who they were or where they came from. You can't walk away from a conversation with her without a smile on your face - that's just how it is..."
Because of Jessica's experience working with young people, the park included her in the programming of the
National Park Foundation
Transportation Grant. The park was using this grant to help bring more Indigenous youth to the park and set up programs that would help foster connections to their ancestral land. Jessica worked directly with the youth and developed trip ideas for them. This meant getting in the quarry pits with the kids to show them how to quarry and setting up carving classes, so they could learn to carve pipestone. She took what she had learned and translated it into an interpretive program for Indigenous youth that could be used for future visitors to the park. She also found great joy in helping the elders quarry and learn from them on how to carve pipestone. This proved to be enormously helpful, given that many people had not carved pipestone before arriving at the site. For many, this experience of carving pipestone and learning more about the history of the park has made them want to come back to Pipestone National Monument.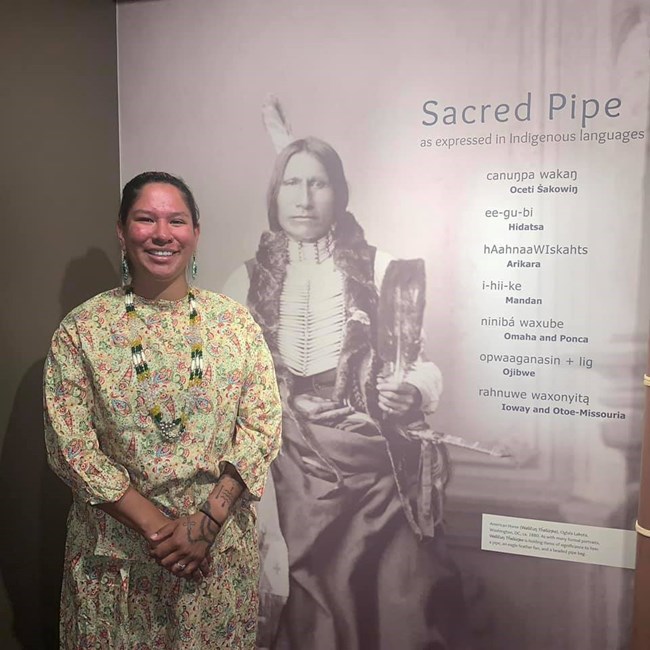 When it comes to representation in the National Park Service and in outdoor green spaces in general, the stories of many underrepresented groups are often not told, including those of Indigenous people. Jessica believes that telling all Americans' stories like those of Indigenous people can help address common misconceptions that people may have about Indigenous people, and it also helps stress the value of protecting and preserving our ancestral lands. Jessica is proud of her Native American heritage. "It is an empowering and amazing feeling to be an Indigenous woman in the National Park Service. It feels good to me to be able to represent my tribe while educating, protecting, and preserving Pipestone National Monument. I hope Indigenous people are happy to see other Indigenous people working with the NPS. I hope it shows that the NPS is trying to provide meaningful and accurate history when it comes to Native Americans."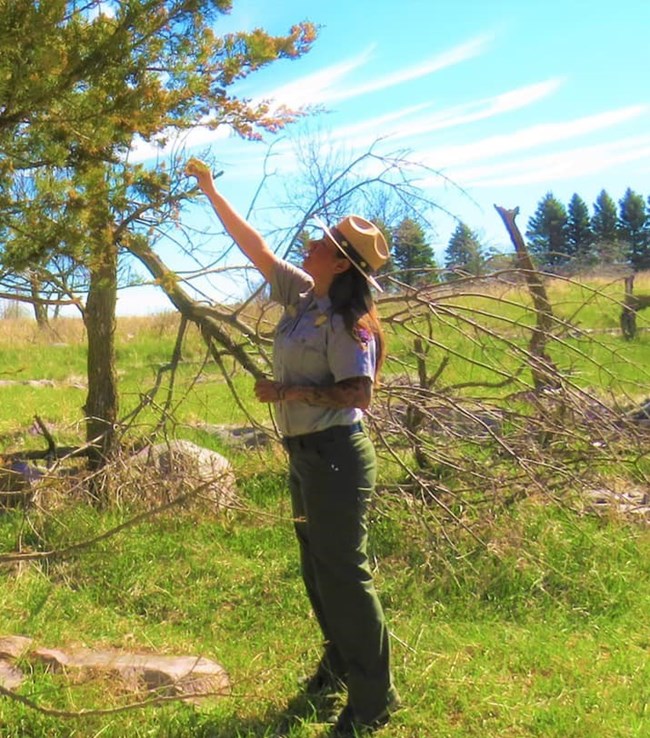 On advice she has for young native people, she encourages them to find opportunities like the Ancestral Lands Conservation Corps that allow them to work with the NPS. "I hope for young folks that apply to work in their ancestral lands that they feel good knowing that they are protecting, preserving, and educating others about their tribe and tribal lands," she says.
As Jessica came to realize, learning at a park can come from anywhere, whether it is from an NPS staff (like a park ranger), a visitor, a volunteer, or a student. Through Jessica's initial interest in providing stewardship to her public lands, she found wonderful people to work with, community, friendships, and a connection to her ancestral lands that she truly had the chance to tap into while working at Pipestone National Monument. Jessica is part of a diverse team that includes other Indigenous employees, who are protecting and interpreting their ancestral lands. Pipestone National Monument's Superintendent Lauren Blacik said, "I am honored to work alongside Jessica and this talented cohort. The passion, creativity, and knowledge they bring to Pipestone National Monument has strengthened resource preservation and interpretation immensely. Jessica's future is bright, and she makes me feel hopeful about the future of the NPS." Our public lands belong to us all, so let us share this space together.
Want to learn more about how you can get involved with our national parks through NPS Youth and Young Adult Programs?
Please
e-mail us
and follow us on
Facebook
,
Instagram
, and
Twitter
@NPSYouth and use #NPSYouth to share your experience with us! Visit our
page
and find your next opportunity with us.