Conservation Diaries: Olf Mouyaka, Advocating for Youth Programs, Volunteering, and Urban Parks

Listen to this episode of Conservation Diaries as Olf Mouyaka shares his National Park Service journey, from a volunteer to a full-time employee.

Credit / Author:

NPS

Date created:

08/17/2022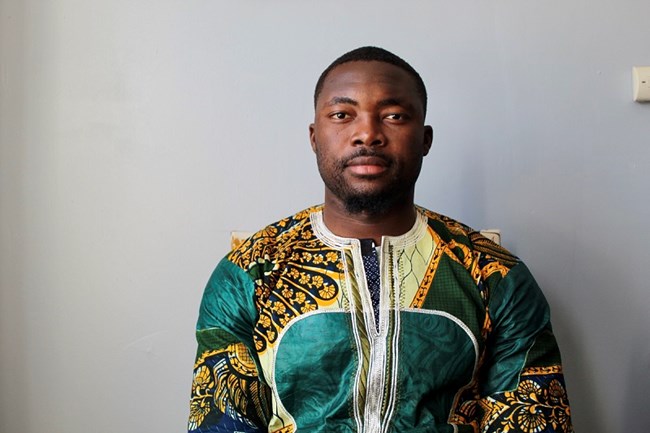 Meet Olf Mouyaka, a park guide at New Bedford Whaling National Historical Park, who has also worked at Lowell National Historical Park and First State National Historical Park.
Olf was born in the Republic of Congo and moved with his siblings to Lowell, Massachusetts, in 2009. He graduated from Lowell High School in 2013 and then from Merrimack College in 2016, where he studied International Business and French.
His National Park Service Journey started in High School, when he met a park ranger from Lowell National Historical Park who had gone to his school for a career fair.
"We were an immigrant family, so I knew I needed to start working soon. But I kept pushing it off. Then I met that park ranger and I thought to myself 'I want to be able to work at the national park because it seems cool'. That was it. It looked nice and less stressful!"
Olf became a volunteer working at Lowell National Historical Park's visitor center's front desk. This was his first ever job in the United States. Sometime after that he found out about Lowell Spindle City Corps. That program offers opportunities for local high school youth to participate in the Trades Skills, Summer Maintenance and Community Action Team programs at the park. Olf spent two summers as part of the Summer Maintenance team helping paint fences, cut weeds, and more throughout the park. He also helped set up and take down the famous Lowell Folk Festival, spending about 1,000 hours of work. While doing all these different projects around the city, Olf fell in love with his new home and its history.
"You get to learn about important parts of our history such as slavery, African American history, the textile industry, and much more. And I just started to fall in love with learning about where I was from, cause I [am] now from Lowell. I lived in Lowell, I wanted to know everything about it. And this was the place that knew everything about the city."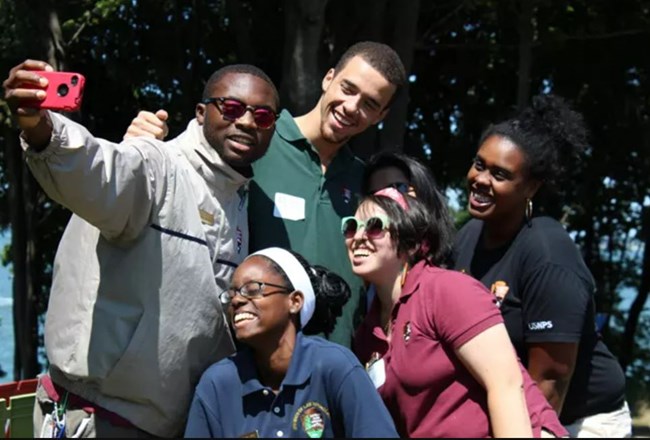 While he was in college Olf joined the Mass Parks Student Career Intake Program (SCIP), which allowed him to visit many national parks in the area and to be exposed to different careers at the National Park Service. The program provided a structured progression of career training for promising local youth from urban and underserved communities. SCIP has since been discontinued.

Also during his college years, Olf began working in the Interpretative Division at Lowell National Historical Park, as a seasonal. He would come home from college every summer for the position.
Olf said SCIP helped him decide wanting to continue a long-term career with the National Park Service.
"After I became a seasonal, I saw a real opportunity to become a park ranger. To put on a uniform and hopefully make a career out of it. I think after I became a seasonal I was like alright, this is an option."
Olf continued to demonstrate leadership potential and a great stewardship ethic while he was a seasonal employee, and he was chosen to be the park's Community Volunteer Ambassador. The program is done through a partnership between the National Park Service and Stewards Individual Placement Program. The goal is to young people to assist park units in building lasting connections to local communities. While he was a CVA intern, Olf helped connect the community to their park volunteers, trained some of the volunteers and helped them develop skills for public speaking, problem solving, networking, and more. He also highlighted the volunteers' stories on social media to publicly thank them for their efforts and to provide the public with the opportunity to do the same.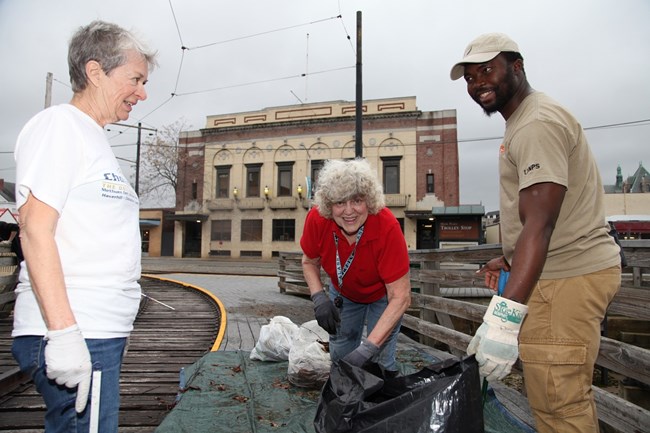 After he completed the program, he also successfully completed the Public Land Corps (PLC) requirements. This is a work and education program that engages the Nation's conservation and service corps on public lands. After completing all the requirements, you obtain a noncompetitive hiring status for consideration when applying to competitive full-time federal positions.
"I applied at Lowell and it didn't work out. But I had also applied to New Bedford Whaling and I did get a call from the park. It's like a 90 minute, almost two-hour drive from Lowell. And I was just like, yeah, I'm moving. So I packed my stuff and came down into New Bedford."
Olf became a permanent, full-time park guide under the Youth and Arts Program umbrella at New Bedford Whaling National Historical Park in Massachusetts. In this position, Olf helps maintain the park's website, makes social media posts, he also works at the visitor center and helps with the volunteer programs. His biggest project is a summer camp called "Something Fishy Camp." The two one-week summer camp programs are for kids in the 4th grade going into 5th and designed to teach them about the history and culture of the working port, from whaling days to the present.
"I love working with kids. They're brilliant. You can tell them anything and if they don't agree with it, they'll let you know. If they agree with it, they'll let you know. If they think it's good, they'll let you know. And I love that kind of uncensored, just straight-up real, honest reaction as to why they would care about something."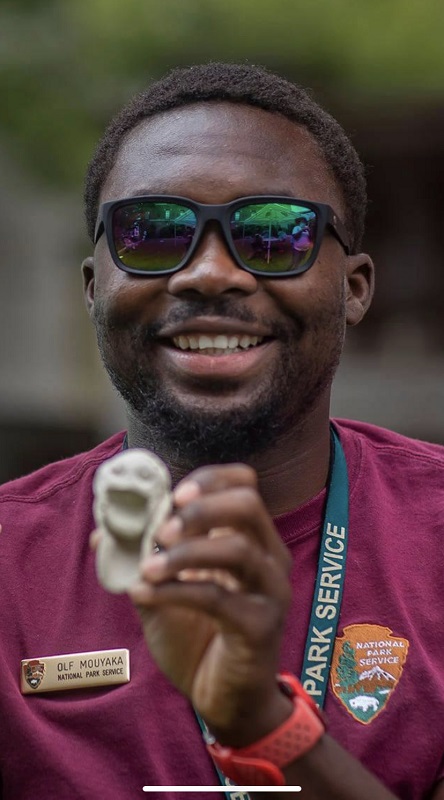 Working at New Bedford Whaling cemented his love for urban parks. Olf loves the community aspect of working at these types of parks. And he also loves being able to tell important and sometimes lesser-known stories, some he himself didn't know about before working at the park.
"I knew about the Underground Railroad, but I didn't know that Frederick Douglass lived in New Bedford for two years, three years before he went on with his life. But we all know about Frederick Douglass and to be able to say, I live where the man lived, I walked the streets that he walked... And to be able to tell that story in my uniform, that's incredible to me."
Olf's favorite part of his job is thinking about ways to help the community through partnerships and youth programs. He also wants to make sure people, regardless of their race, ethnicity or religion, know that national parks belong to them and that they too can and should enjoy and help protect them.
He wants young people, especially those who don't see themselves represented, to see him and know that they too can pursue a career with the National Park Service. He wants to be a role model for them by sharing his experiences and empower them to contribute to their communities.
"How I was raised reminds me that in places where there's no one who looks like me, I can be that person who looks like me and create an opportunity for someone else. So, out of my story I hope that people can see that.

My advice to those young people who don't see people who look like them or sound like them is that they can become that person."
Another advice from Olf: try volunteering. Olf's National Park Service's journey started as a volunteer, and that is something he is still very passionate about. He says people usually say they don't want to volunteer because of time. But he wants to encourage young people to see volunteering as an opportunity to become better members of the community and help communities thrive.
"I hope that in conversations I can show someone that 'hey, we want you to be a part of it'. I want to create a collective where if somebody is thinking about volunteering, I can remind them that we need them too. [Tell them that] we can't do it without you. The project, however big it is, even if one person can do it, two people will probably do it better... three people could do it even better."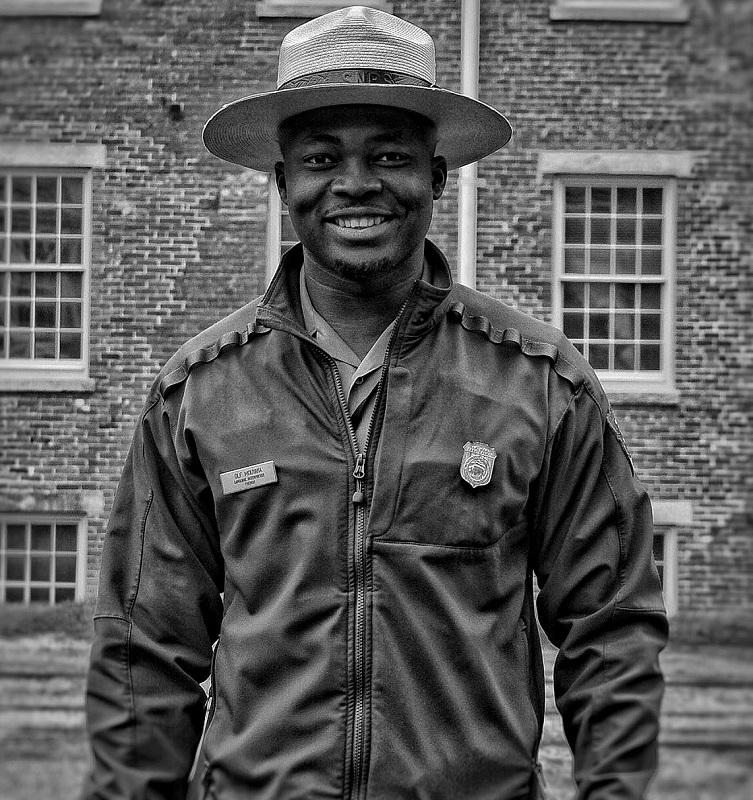 Olf is on a temporary assignment at First State National Historical Park in Delaware, working as an Education Technician. He is helping to prepare a program called "Saving the Past, Shaping the Future", which brings nearly 500 4th graders to the park where they get to enjoy a full day of educational hands-on interactive activities from various local Delaware organizations.
He is happy that he is helping at a park that also cares about community, youth development and stewardship. And where he can continue to make connections to the local communities.
"I want to be able to connect to people, and I in my opinion, I can do that better at an urban park. It could be different for someone else. But to me, being able to work at an urban park it has that feel to it that I can connect to people and young kids in the community much more easily. It feels like I get a chance to tell people who are so close to me, part of my community, about the importance of preserving our history and historical sites."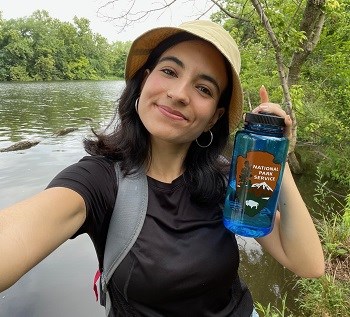 Meet the Host
Nicole Segnini created the Conservation Diaries podcast series in 2021 during her Latino Heritage Internship Program internship with the National Park Service's Office of Communications in 2021. Venezuelan-born, she knows firsthand Latinx communities' passion and commitment to conservation and wanted to engage the rising generation of stewards—of all cultural backgrounds—to picture themselves in conservation careers or working in the National Park Service. Nicole used her background and experience in journalism, social media influencer, and television news producer to create the Conservation Diaries podcast series to bring out the stories of youth in the National Park Service from their own perspectives.

"There are so many young people in underrepresented and minority communities across the country who care so much about conservation, historical preservation, nature, wildlife, the outdoors, and our beautiful parks, and I think it's important that we elevate and amplify their voices and their important work. They are working hard to protect and preserve our natural, cultural, historical, and recreational resources and I believe that work is usually overlooked. That's why I wanted to start something like this." - Nicole Segnini