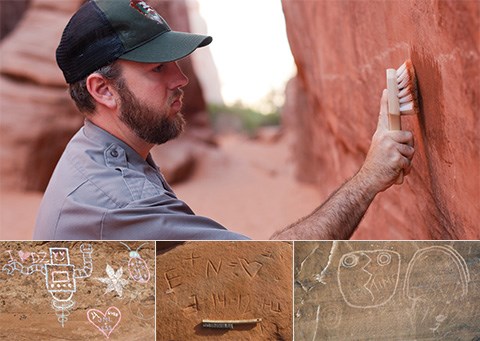 Your eyes stare in wonder, your breath catches, and you can't stop taking pictures. Surrounded by such beauty, it's easy to see why this place was deemed worthy of protection as a national park. Created to protect "gigantic arches, natural bridges, 'windows,' spires, balanced rocks and other … sandstone formations," Arches National Park is an exceptional place—with a very common problem: graffiti on those unique and beautiful rocks.
You might be shocked: "Graffiti? In a national park?" Nearly every day, rangers find words or shapes drawn, carved, scratched, or painted on rocks at Arches. Over one million people visit every year, and many may not know that all graffiti in the park is vandalism—no matter how small or superficially drawn.
Leaving a mark is in our nature. Across the Colorado Plateau,
American Indians
,
settlers, and cowboys
all left signs of their presence. These marks are part of regional history, dating back hundreds of years. But the world is a different place now: there are more people and more choices in how we express ourselves. Writing on the walls isn't necessary, and in a national park, it's illegal.