Courthouse Wash Panel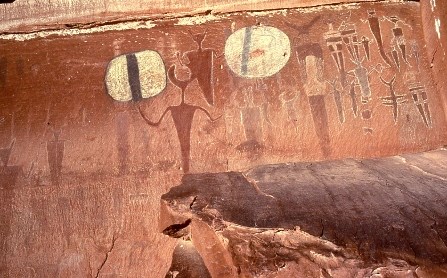 Rock paintings and peckings are often found at crossroads or near waterways. One such site can be seen a few miles north of Moab, where Courthouse Wash joins the Colorado River. This large and colorful panel displays evidence of people's passage for hundreds of years.
Although rock markings cannot be dated, it is thought that Archaic Indians first painted the long, tapered figures in what archeologists call the Barrier Canyon style. Later, ancestral Puebloans or Utes added bright white circular forms that resemble shields. Petroglyphs - images pecked, incised or abraded on stone - by Utes appear elsewhere on the wall and adjacent boulder, and on the walkway below.
In 1980, this ancient panel was vandalized. The National Park Service cleaned the panel, and restoration work revealed older pictographs beneath the white shields. While the original brilliant pigments are gone forever, their absence provided an opportunity to use new technologies to gather additional information about the panel. In 2008, as part of the Multi-Spectral Imaging Project, the panel was photographed in the infrared spectrum, and a comparison with a regular photograph revealed figures not previously visible to the naked eye. Archeologists are using this exciting information to establish a new baseline from which to monitor change in the panel and analyze the order in which individual elements were painted.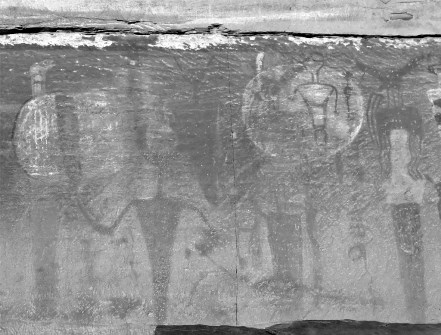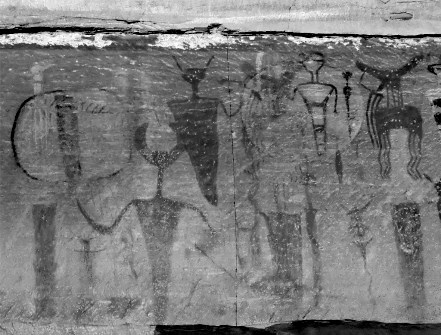 Most damage to rock markings are done inadvertantly. Help preserve rock markings by not touching them, and by not leaving marks or graffiti on them or other canyon walls.
Last updated: April 19, 2022