Arches Welcomes One-Millionth Visitor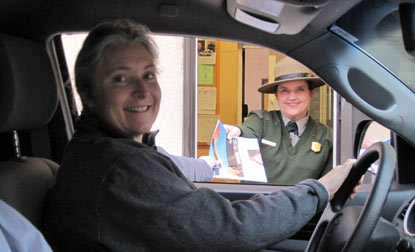 News Release Date:
November 23, 2010
Contact: Mary Wilson, 435-719-2140
Victoria Carlson of Santa Fe, NM became the park's one-millionth visitor Saturday morning November 20th.
Upon arrival at the park's entrance station, Ms. Carlson was greeted with extra excitement from park staff who shared the good news. Ms. Carlson stated she had visited the park several times before, and as an artist found inspiration in its beauty.
Park employees awarded Ms. Carlson a free America the Beautiful – National Parks and Federal Recreational Lands Pass, a coffee table book about the park, and an Arches National Park t-shirt and ball cap. All gifts were provided by the Canyonlands Natural History Association.
Arches National Park preserves more than 2000 sandstone arches and other unusual rock formations set among a spectacular high desert landscape and mountain backdrop of the La Sal Mountains, resulting in an environment like no other place on earth. The park region attracts visitors from all over the world, and continues to experience increasing visitation as a result of its unique beauty and abundant outdoor recreation opportunities.
Last updated: February 24, 2015