News Release
Arches Volunteer Team Receives Regional Award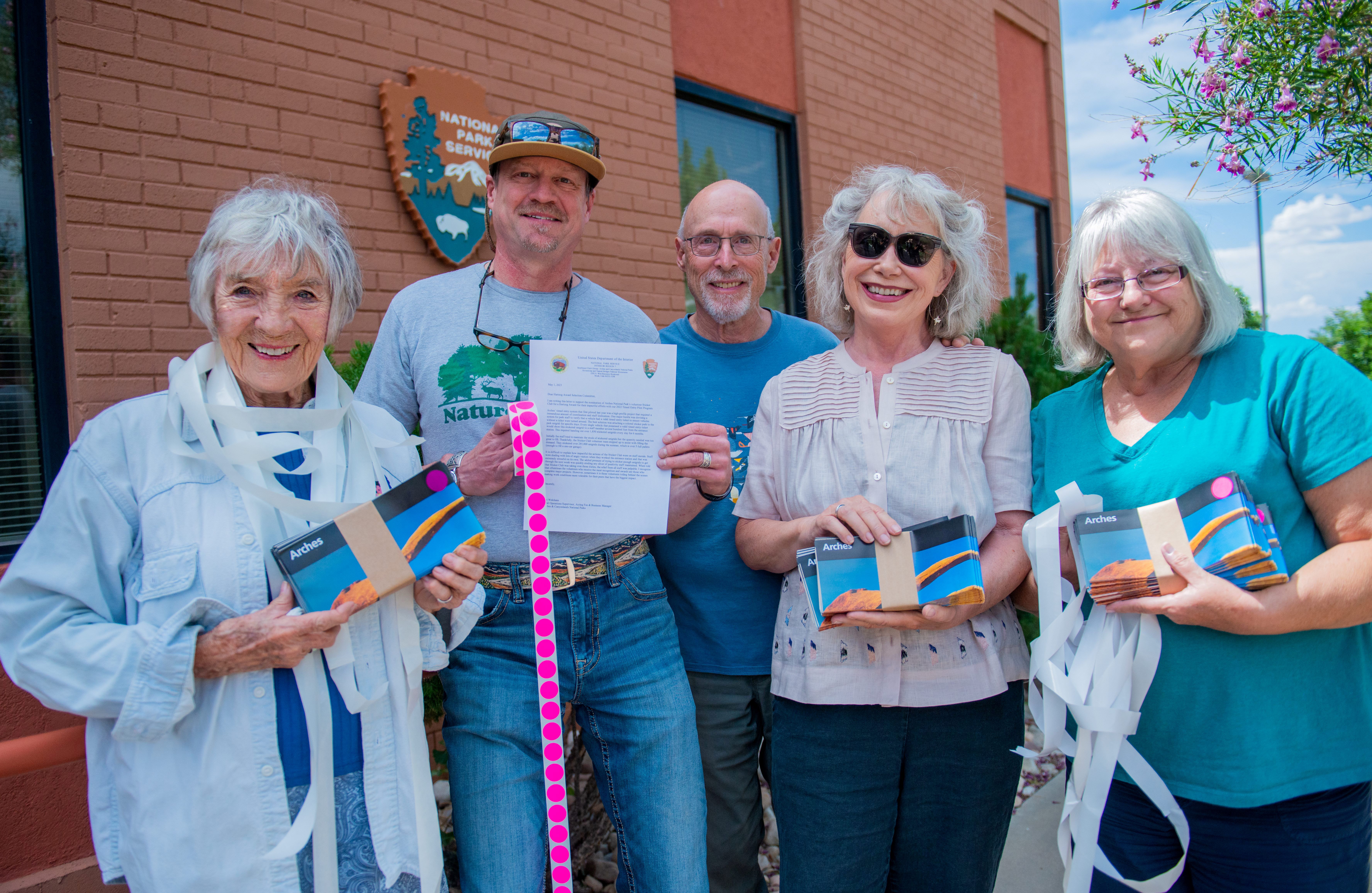 News Release Date:
July 18, 2023
Moab, Utah – Arches National Park congratulates our local volunteer Sticker Club for receiving a Regional 2022 George and Helen Hartzog Award for Outstanding Volunteer Team Service.
The volunteer Sticker Club consists of Moab residents who gather weekly to put colored stickers on the park maps distributed at Arches' entrance stations. The stickers are part of the park's Timed Entry reservation system, which first piloted in 2022. Over the course of last year's six-month pilot, Sticker Club volunteers prepared over 285,000 maps—five pallets worth, or enough to fill a one-car garage. And they're back at it again this year.
While an action as small as applying a sticker seems minor, the collective impact of this task adds up quickly. Having dedicated volunteers who maintain a supply of pre-stickered maps frees up park staff to focus on providing visitor services, roving trails, giving ranger-led programs, and more. It also helps keep the entrance booth lines moving as smoothly as possible.
In her nomination letter for this award, Acting Program Manager for Interpretation, Education, and Visitor Services Jori Welchans wrote, "It is difficult to explain how impactful the actions of the Sticker Club were on staff morale. ...(O)ftentimes the volunteers who receive the most recognition and awards are those who complete major projects. However, sometimes it is those volunteers toiling behind the scenes making work conditions more tolerable for their peers that have the biggest impact."
The George and Helen Hartzog Awards for Outstanding Volunteer Service are given annually to recognize the exemplary contributions National Park Service volunteers make to their parks and to their communities. George B. Hartzog, Jr. created the Volunteers-In-Parks (VIP) program in 1970 while serving as Director of the National Park Service. After retiring, he and his wife, Helen, established the award program to honor volunteers' contributions.
Arches National Park is part of Regions 6, 7, and 8 of the National Park Service, which includes 85 park units in Texas, Oklahoma, New Mexico, Colorado, Utah, Wyoming, Arizona, and parts of Montana. The full list of this year's Hartzog Award Regional winners from parks across the country can be read here: 2022 George and Helen Hartzog Awards for Outstanding Volunteer Service (U.S. National Park Service) (nps.gov).
To learn about volunteer opportunities at national parks and other public lands, please visit www.volunteer.gov.
Last updated: July 18, 2023