Temporary Devils Garden Road & Trail Closure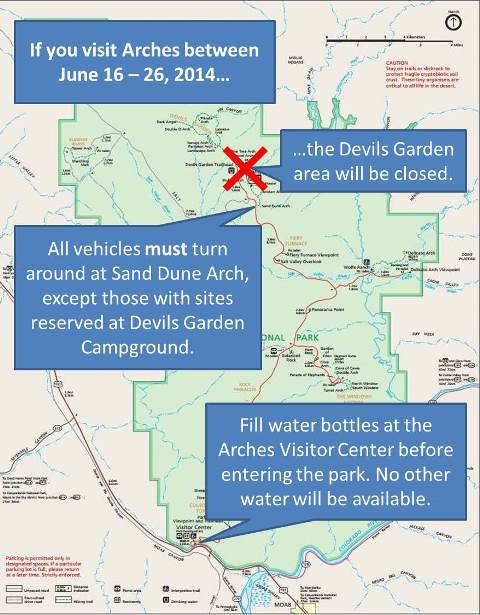 News Release Date:
May 23, 2014
Contact: John Lewis, 435-719-2150
Devils Garden Loop Road and Trailhead Temporarily Closed for Construction
The Devils Garden Loop Road and Trailhead in Arches National Park will be closed from Monday, June 16th through Thursday, June 26th for completion of a major renovation project.
This trailhead located at the end of the park's 18-mile main road, is the access point for features such as Landscape Arch, Double O Arch, Dark Angel, and the Primitive Loop Trail. All trails from this location will be closed during this project.
Visitors traveling the park road during this period will need to turn around at the Sand Dune Arch Trailhead parking lot.
The Devils Garden Campground will remain open only to campers with reservations.
Water will not be available at Devils Garden Trailhead during construction, so visitors will need to fill water bottles at the Arches Visitor Center prior to driving into the park.
The road and trailhead closure will allow the park to re-align the road in order to create more efficient angled parking, and construct a dedicated tour bus and large RV parking area.
The public is strongly encouraged to visit the park either before or after this closure period since available parking will be limited. Early morning or evening travel into the park is highly recommended.
Last updated: February 24, 2015