Art Display by Chad Niehaus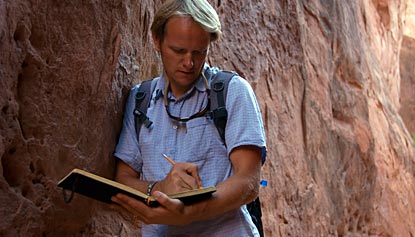 News Release Date:
March 10, 2010
Contact: Nancy Holman, 435-719-2240
Local artist Chad Niehaus will be displaying some of the work he created during his tenure as 2009 Community Artist in the Parks at Arches and Canyonlands National Parks. From June to December, 2009, Niehaus carved dozens of linoleum blocks used in printmaking and created several pastel drawings, all en plein air. He interacted with hundreds of visitors from around the globe and discussed the power of wild places as a source of artistic inspiration.
The display will be hung in the theatre entranceway at the Arches National Park Visitor Center and will be available for viewing until May 1st. Prints by Chad Niehaus are available for purchase at the Canyonlands Natural History Association (CNHA) bookstore. In addition, Chad Niehaus will be giving a presentation on his experience as Community Artist in the Parks at the Moab Information Center (MIC) on Thursday, April 29th at 7:00 pm as part of the MIC's Thursday Lecture Series.
Last updated: February 24, 2015