News Release
Salt Valley Road to be Temporarily Closed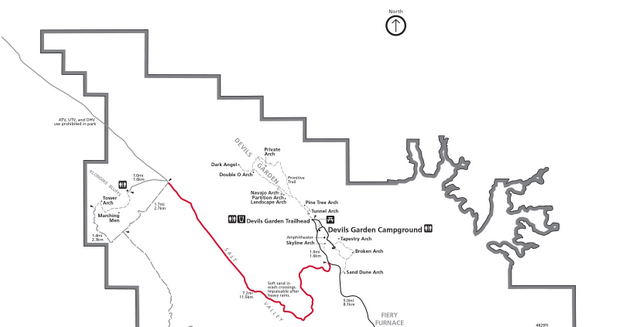 News Release Date:
February 16, 2018
Contact: Amy Tendick, 435-719-2103
The National Park Service will temporarily close Salt Valley Road in Arches National Park starting Monday, March 5, 2018, in order to accommodate routine maintenance needs.
Salt Valley Road is an unpaved, two-wheel-drive road that leaves the park's main paved road near Devils Garden, passes through Salt Valley, and exits at the north end of the park. In order to conduct inspections and routine maintenance, Northwest Pipeline LLC will be excavating a natural gas pipeline that passes under Salt Valley Road at mile marker 165.6. Due to the narrowness of the road in this area, it is not possible to create passing lanes or alternate routes, making it necessary to close the road while the work is in process.
The closure will extend from the junction of Salt Valley Road and the 4WD road to Klondike Bluffs / Herdina Park to the junction of Salt Valley Road and the park's main paved road. During the closure, there will be no direct access to Salt Valley Road or Tower Arch from the main park road during the closure. Visitors wishing to see Tower Arch will need to access the area via the north end of Salt Valley Road.
Work on the Northwest project is expected to begin on Monday, March 5 and is anticipated to last two to three weeks.
Last updated: February 22, 2018