Nature & Science
Natural forces created the landscape of Arches, which contains the greatest density of natural arches in the world. Rock layers tell a story of deposition, erosion, and other geologic events. Arches is in a "high desert" environment, with hot summer temperatures, cool winters, and infrequent precipitation. Desert conditions determine the kind of life forms that live here. We can witness natural process and conditions thanks to the park's isolation from major urban areas.

Explore the links below to learn more about the nature of Arches.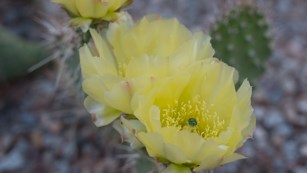 Explore Biodiversity
Have you ever taken a picture of a flower, or butterfly, or an unusual mushroom? You can also keep track of the biodiversity you see when you are in a national park, or where ever you go, with iNaturalist. Learn more about how you can help document the various life forms in our national parks. Explore Biodiversity.
Check out the Arches iNaturalist project.


Last updated: July 29, 2021