News Release
Storm Damage at Devils Island Light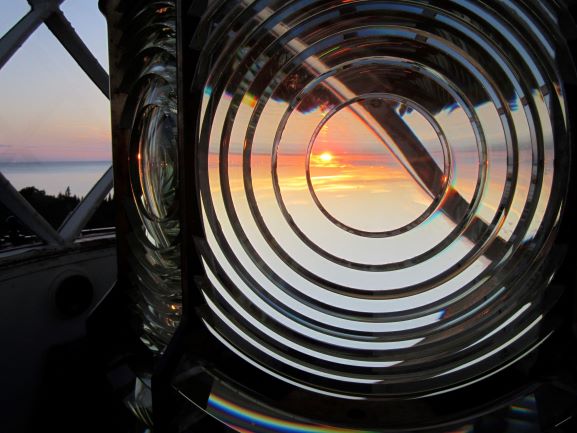 News Release Date:
November 19, 2019
Contact: David Cooper, 715-779-9123
Contact: Julie Van Stappen, 715-779-9119
Bayfield, WI
On October 25, 2019 Apostle Islands National Lakeshore staff discovered apparent storm damage at the Devils Island light tower. "An approximately two foot diameter section of the historic Fresnel lens had become dislodged from its mounting and fallen onto the deck of the tower lantern, shattering into multiple pieces," said park superintendent, Lynne Dominy. Lakeshore staff believe that the damage was caused by the northeast gale on October 21, 2019.
"With the extreme weather conditions on Lake Superior, we must check on the condition of all park shoreline resources following big storms," added Dominy. "Heavy winds, big waves, and ice constantly damage our docks, buildings, and shorelines. Having this type of damage to our only in situ Fresnel lens is heartbreaking and we are working on ways to address this damage."
Lakeshore staff returned to Devils Island Monday October 28 to install temporary supports and padding to prevent additional damage to the historic lens over the winter season and are working with museum experts to determine the next steps in stabilizing and repairing the historic lens, while preventing additional damage. A response plan will be developed this winter in consultation with glass conservation experts and the local historic preservation community.
Fresnel lenses use a complex series of prisms to refract light over long distances, and were extensively used in historic lighthouses. The Devils Island Third Order Fresnel lens is of unique importance as it is the only original Fresnel lens still in place in an Apostle Islands lighthouse, where it has resided for all but three of its 118 years.
The lens was manufactured in Paris, France by the Henry-Lepaute Clock and Lens Works. It was installed in the Devils Island Light Tower in 1901 where it remained in use until 1989. That year, the lens was removed from the tower as part of a modernization project converting to a smaller beacon powered by solar panels.
Through the efforts of concerned local citizens and The National Trust for Historic Preservation the lens was returned to the Devils Island Light Tower in 1992. National Park Service conservators completed extensive repairs to the lens to correct damage sustained during the 1989 solar panel installation. Later the same year Lakeshore staff partnered with the U.S. Army National Guard to return the Fresnel to Devils Island and reinstall it in the tower. In following years, conservation projects have been undertaken to care for the lens, most notably in 2010 when the light tower lantern was extensively renovated and the lens was treated by a conservator specializing in historic Fresnel lenses.
Apostle Islands National Lakeshore is located on the southern shoreline of Lake Superior and at the top of Wisconsin near Bayfield, WI. The park is popular for hiking, boating, camping, fishing and exploring the beauty, nature, and history of these islands. For more information about Apostle Islands National Lakeshore, visit
our website
.