For Kids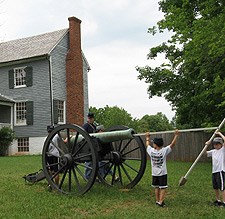 Junior Ranger Program
A family visit to Appomattox Court House National Historic Park provides kids with a realistic view of an American past unlike anything they are likely to experience in any amusement park. From our museum's fascinating collection of artifacts and Civil War relics to the rolling hills and wide lanes, this park is truly kid-friendly. Be sure to explore the Junior Ranger program for kids 6-13, and the Civil War trading cards for kids of all ages.
2019 Summer Camps
Camp for 8-10 year olds will be on June 18-19
Camp for 11-13 year olds will be on June 20-21

Participants will meet at the American Civil War Museum - Appomattox on the first day of the camp. On the second day they will meet at the flagpole at the main Appomattox Court House NHP parking lot. All camps run from 9:00 a.m. - 2:30 p.m. Bring water, bag lunch, sunscreen, insect repellent, and walking shoes.
The cost for each camp will be posted in the near future.

Registration forms will be available online in the near future. If you have any questions call Brandon Chamberlain at 434-352-8987 ext. 231.


Last updated: April 12, 2019